Photos I shot on a flight on September 4, 2021 illustrate what United Nations Secretary-General António Guterres meant last month when he described the latest Intergovernmental Panel on Climate Change (IPCC) report as a "code red" for human-driven global heating.
On a flight provided by Southwings, a non-profit that connects volunteer pilots with media, educational institutions, and conservation groups, I flew over many of the hardest hit areas in southern Louisiana, including Lafitte, Grand Isle, and Terrebonne Parish, where Isle de Jean Charles is located. 
In the wetlands, I spotted numerous oil slicks, most appearing to come from the many oil and gas wells that are located throughout the southern coastal area. And along the Mississippi River, from Baton Rouge to New Orleans, I photographed flooded industrial sites, many that have been flaring since the storm first hit on August 29.   
Isle de Jean Charles sits about 80 miles southwest of New Orleans, where sea level rise and coastal erosion are intensified by oil and gas canals and climate change, and the island took a major hit from Hurricane Ida.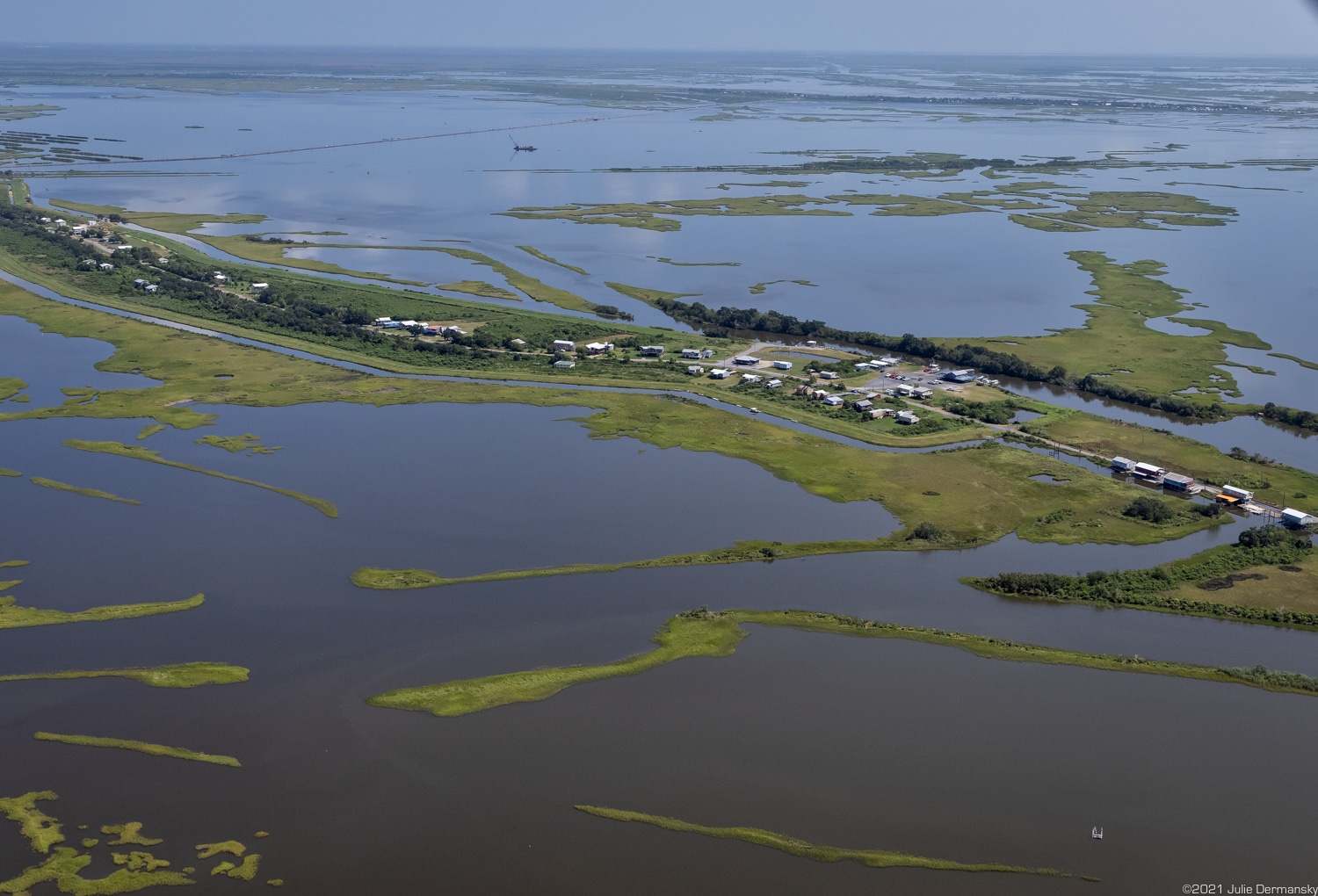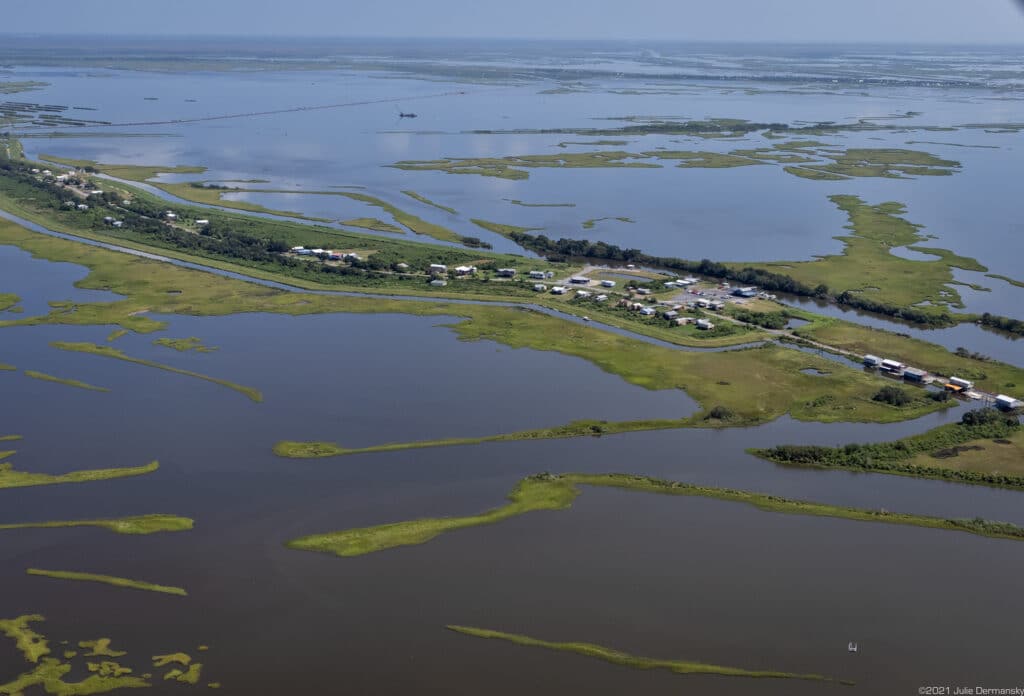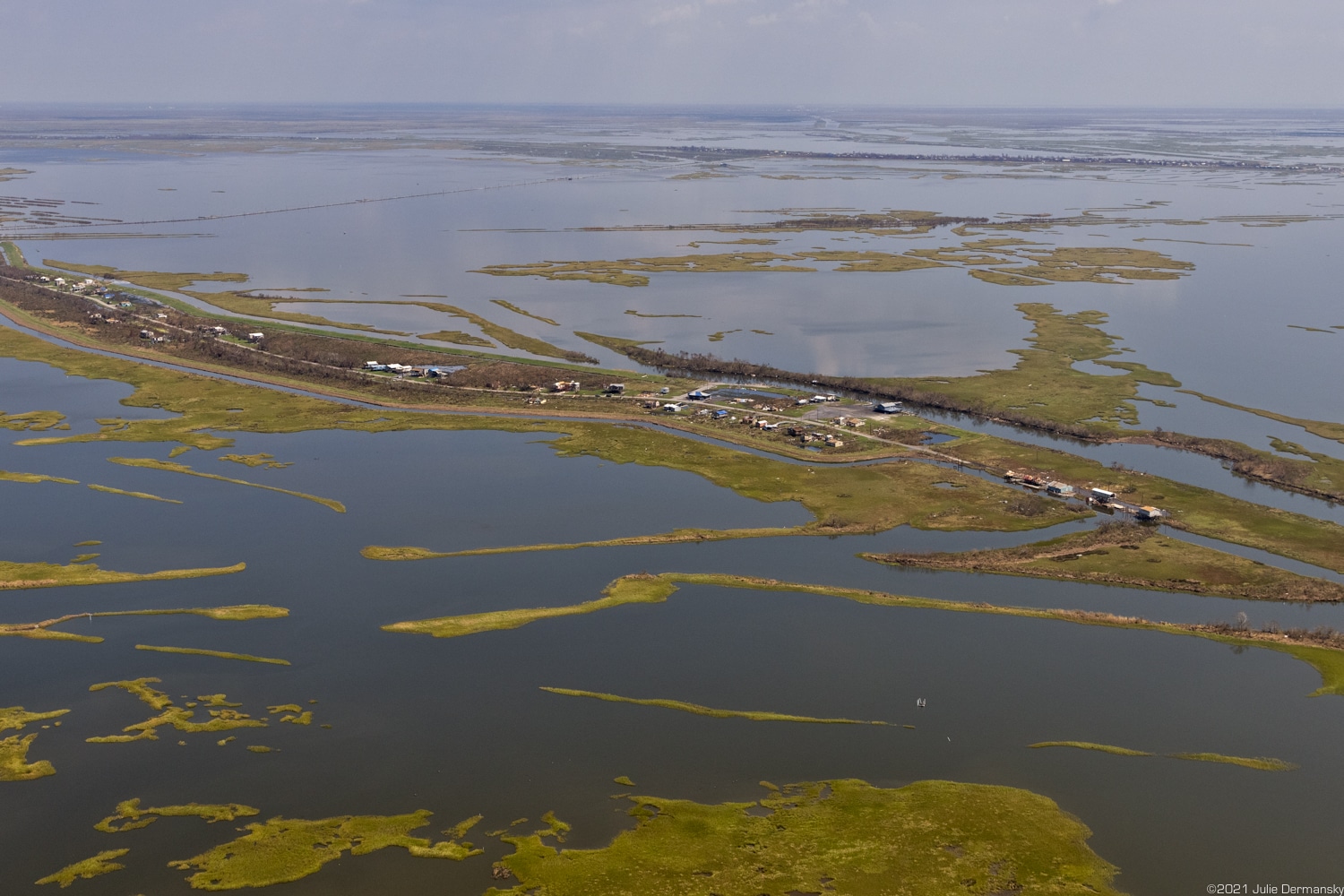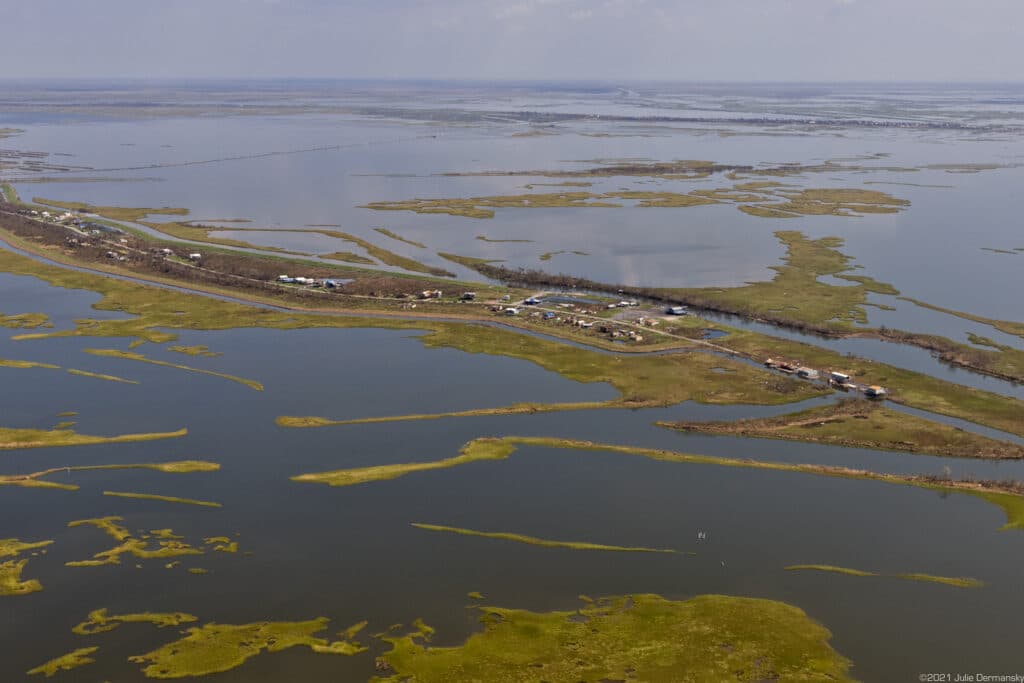 In 2016, the Isle de Jean Charles Biloxi-Chitimacha-Choctaw (IDJC) Tribe helped the State of Louisiana secure a $48 million federal grant to resettle island residents, who face increasing danger with each hurricane season. The project has been mired in controversy after the state modified the original grant proposal. Chief Albert Nauquin withdrew the Tribe's support of the project but encouraged tribe members who live on the island to accept the state's offer and move off the island after Hurricane Barry severely flooded the island in 2019.
The resettlement project is meant to serve as a roadmap for other coastal communities that will have to relocate due to climate change impacts.
None of the new houses in the state's resettlement community for the Isle de Jean Charles residents have been completed to date, though construction did begin at the site secured for the project in a sugarcane field in Schriever, Louisiana, 40 miles north of the island.
Schriever itself was hit hard by Ida — but not nearly as hard as Isle de Jean Charles.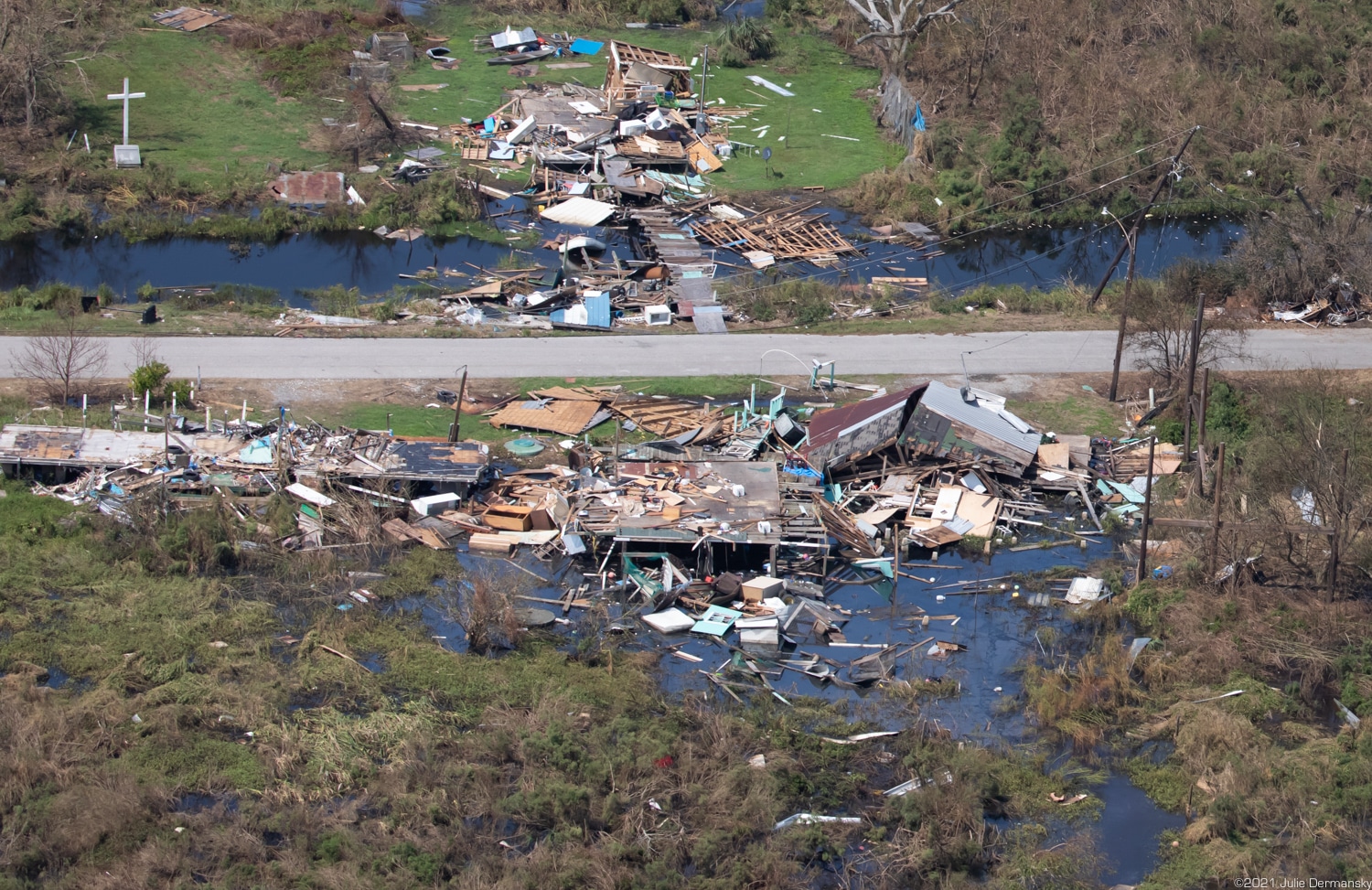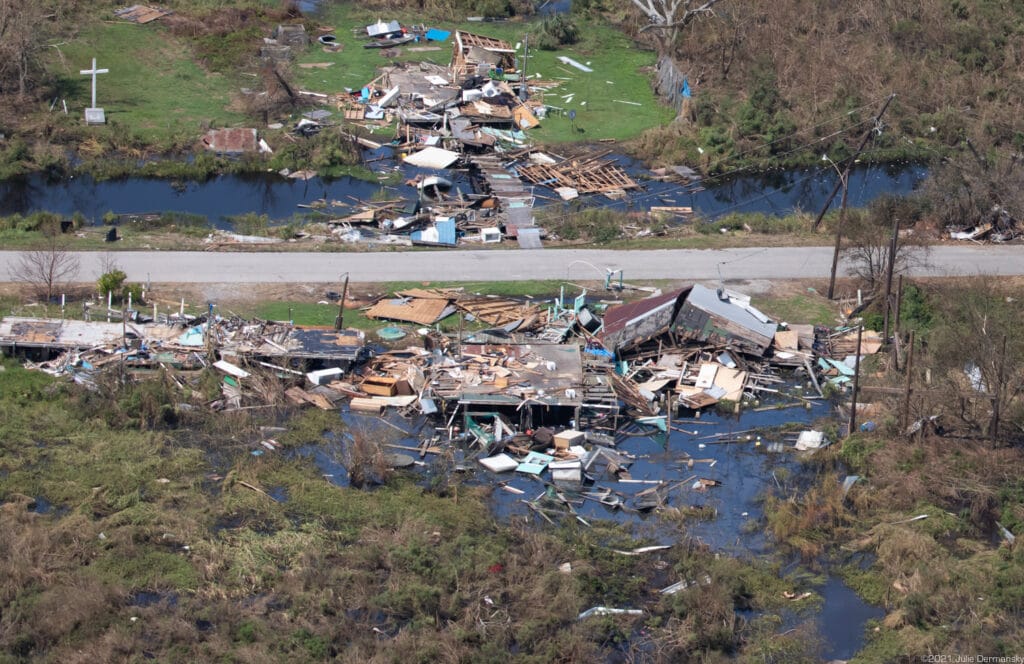 Satellite images posted by the National Oceanic and Atmospheric Administration (NOAA) show swaths of flooding in Ida's wake.
Last year brought a record-shattering hurricane season, with 30 named storms — including, for example, Hurricanes Laura, Sally, Delta, and Zeta, which some Gulf Coast residents are still recovering from.
"In its assessment of the 2020 storm season, the National Oceanic and Atmospheric Administration (NOAA) noted that 'this historic hurricane season saw record water levels in several locations, including the Gulf Coast where Hurricane Sally brought the highest observed water levels since Hurricane Katrina in 2005 to Pensacola, Florida,'" I reported last year. "That's in line with the 2018 National Climate Assessment, which described the southeast's coastal plain as 'highly vulnerable to climate change impacts,' including 'the combined effects of changing extreme rainfall events and sea level rise.'"
This year, July 2021 was the hottest month recorded in human history, according to NOAA. "In this case, first place is the worst place to be," NOAA Administrator Rick Spinrad said in an August 13 statement about July's extreme heat.
It was quickly apparent that Ida bore the hallmarks of climate change caused primarily by fossil fuels, climate scientists observed. "Those warm ocean temperatures are the fuel for these big tropical storms," Jonathan Overpeck, dean of the University of Michigan's School for Environment and Sustainability, told The Hill last week. "So with Ida you saw it intensify rapidly to a Category 4 storm, and that's a real classic climate change signal."
Ida took the lives of at least 68 people, CBS Evening News reported last night, including more than 50 people in northeastern states, where Ida brought tornadoes and historic flooding.
Over 400,000 Entergy customers in Louisiana remain without electrical power on the morning of September 6, eight days after the storm.
An editorial published today by the editors of the New England Journal of Medicine, the British Medical Journal, The Lancet, and over 200 other medical journals calls climate change the "greatest threat to global public health," even given the ongoing COVID-19 pandemic and calls for "fundamental changes" to address the growing threat. "The consequences of the environmental crisis fall disproportionately on those countries and communities that have contributed least to the problem and are least able to mitigate the harms," the editorial says. "Yet no country, no matter how wealthy, can shield itself from these impacts."
Scientists continue to warn that warmer ocean waters caused by climate change can make hurricanes stronger and cause them to intensify more rapidly. My photos are a visual testimony to that fact.  
Reporting contributed by Sharon Kelly.