American Future Fund
Background
The American Future Found (AFF) is a 501(c)(4) nonprofit that describes itself as a "multi- state issues advocacy group designed to effectively communicate conservative and free market ideals," according to its website. [1]
AFF was founded in 2007 by Nick Ryan, a former advisor to U.S. Rep. Jim Nussle (R-Iowa) and to Rick Santorum's 2012 presidential campaign. It was founded with reported seed funding from Bruce Rastetter, a co-founder and the chief executive of Hawkeye Energy Holdings, a large ethanol company in the United States. It started with the broad mission to "to provide Americans with a conservative and free market viewpoint." Its first president was Nicole Schlinger, former finance director of the Republican Party of Iowa. [2], [13]
AFF launched television ads supporting U.S. Sen. Norm Coleman (R-MN) in March 2008. As NPR reported in 2008: "American Future Fund advocates free-market policies. It supports an energy agenda that includes drilling offshore and in the Alaska National Wildlife Refuge; more oil exploration and refineries; and the development of nuclear and alternative sources of energy." [2]
American Future Fund Political Action
The related but separate group called American Future Fund Political Action is AFF's PAC. According to the American Future Fund website, American Future Fund Political Action "primarily helps members elect candidates who reflect our values through a variety of activities aimed at influencing the outcome of the next election." [1]
Fined by
FEC
The New York Times reported in 2016 that the American Future Fund was one of three nonprofit groups working in the Koch network that were fined by the Federal Election Commission (FEC). The FEC found that Sean Noble, who worked with the Kochs, had closely directed expenditures by the organizations in question, including picking which races individual ads would be run. [4]
"That violated federal rules requiring organizations to identity [sic] the source of any money earmarked for a political expenditure, the commission determined," wrote the New York Times.[4]
The three groups agreed to pay over $200,000 in fines to settle the investigation but did not concede that they had broken any laws. [4]
Citizens for Responsibility And Ethics in Washington (CREW) had initially filed a complaint against the Koch nonprofit groups in 2014. As part of its conciliation agreement with the FEC, the American Future Fund agreed to pay $140,000. [5]
"These rules provide some of the only windows into the funding of dark money groups, but the FEC almost never penalizes groups that break them," said Noah Bookbinder, CREW's executive director. "It is hard to overstate how significant this is." [5]
Koch Ties
As part of its in-depth investigation into the Koch network, The Washington Post previously reported on AFF's role, describing it as "a Des Moines-based nonprofit that poured more than $25 million into ads against Obama and congressional Democrats in 2012." [4], [6]
The New York Times reported in 2016 that the Koch brothers had cut ties with the American Future Fund.
Election Spending
The table below is based on campaign finance data exported from the Federal Election Commission for American Future Fund and American Future Fund Political Action. Note that while efforts have been made to ensure accuracy, there may be discrepancies in original report filings and differences between unprocessed and processed FEC data.
* Note: Original campaign filings for Julia Brownley, as well as for Donald Trump (here and here) include funds checked to "support" both of those candidates. It is unclear if this is a filing error, given AFF's historic opposition of both candidates.
Stance on Climate Change
AFF does not appear to have made any official statements on climate change.
Funding
As a 501(c)(4) organization, the American Future fund's donors are able to remain anonymous. Investigative reporting found that AFF was founded with seed money from Bruce Rastetter, co-founder of Hawkeye Energy Holdings and a player in Republican politics, The New York Times reported in October 2010: [3]
"Mr. Rastetter had long been mentioned as a likely backer of the group, and he has now acknowledged through his lawyer that he indeed provided financial support at its inception roughly two years ago. The lawyer, Daniel L. Stockdale, said Mr. Rastetter had not given since, adding, 'He does not feel that he should reveal the size of prior contributions.'" [3]
The New York Times added:
"Bradley A. Blakeman, a longtime Republican operative and a senior aide in the Bush White House, said, 'Donors are the usual suspects that have helped Bush, as well as some fresh faces.'"[3]
Note that the "Donate" button on the American Future Fund website redirects to a page to support American Future Fund Political Action. [7]
The below is based on data archived at the Conservative Transparency project, combined with original 990 research by DeSmog.
Also, see the attached spreadsheet of American Future Fund funding by year (.xlsx).
American Future Fund as Recipient
American Future Fund as Donor
990 Forms
Key People
Other People
According to a 2008 profile at NPR, AFF leadership has included: Nicole Schlinger, Tim Albrecht, Lisa Lisker, Jan Van Lohuizen, Ed Tobin, Ben Ginsberg, Larry McCarthy, and Phil Musser. [2] Iowa Republican state senator Sandra Greiner also was president of the group. According to most recently available tax forms, Allison Kleis served as the group's president and secretary. [3]
Actions
February 2, 2011
Citizens for Responsibility and Ethics in Washington (CREW) filed a complaint with the Internal Revenue Service (IRS), suggesting that the American Future Fund (AFF) has violated tax law. Groups organized under section 501(c)(4) of the tax code must not make it their "primary purpose" to support or oppose political candidates. [8]
"There is nothing wrong with working to elect Republicans, but you can't violate the law to do it," said then-CREW Executive Director Melanie Sloan. "Given the amount of money the American Future Fund spent on ads in the 2010 congressional elections, it seems clear the primary – if not only – goal of the group is to elect Republicans to Congress." [9]
"Despite the fact that AFF repeatedly told the IRS it had not and did not plan to support or oppose candidates for office or spend any money attempting to influence elections, AFF did exactly that through the 2010 campaign cycle," the original CREW letter alleged. "Because of the serious nature of the tax law violations, the IRS should consider revoking the AFF's tax-exempt status and/or impose appropriate excise taxes and penalties on the organization. [10]
October 18, 2008
NPR, reporting as part of its "Secret Money" series documenting spending on 2008 elections, highlighted the AFF's ongoing ad campaign against Democratic Senate candidate Mark Udall in Colorado: [11]
"The ad implies Udall is bad on education, needs a 'reality check,' and then – curiously – urges him to support Senate bill 12," NPR reported. [11]
"First of all, the bill was introduced by Senate Minority Leader Mitch McConnell (R-KY) in February and hasn't gone anywhere since. Second, the bill's only education provision is an 'enhanced charitable deducation for corporate contributions of computer equipment for educational purposes.' Third and perhaps most important, Udall is a member of the House of Representatives, not the Senate. He wouldn't be able to vote for S. 12 unless he gets elected, an ambition the American Future Fund hopes to thwart." [11]
Related Organizations
American Future Fund Political Action — AFF's PAC. [1]
Contact
&

Address

According to the AFF website: [12]
American Future Fund
6750 Westown Pkwy. #200 – 156
West Des Moines, IA 50266
[email protected]
According to a 2010 article at The New York Times, when Representative Bruce Braley, a Democrat of Iowa went searching for AFF's official address he found only a UPS store. A search of that address in Google Maps suggests that is accurate: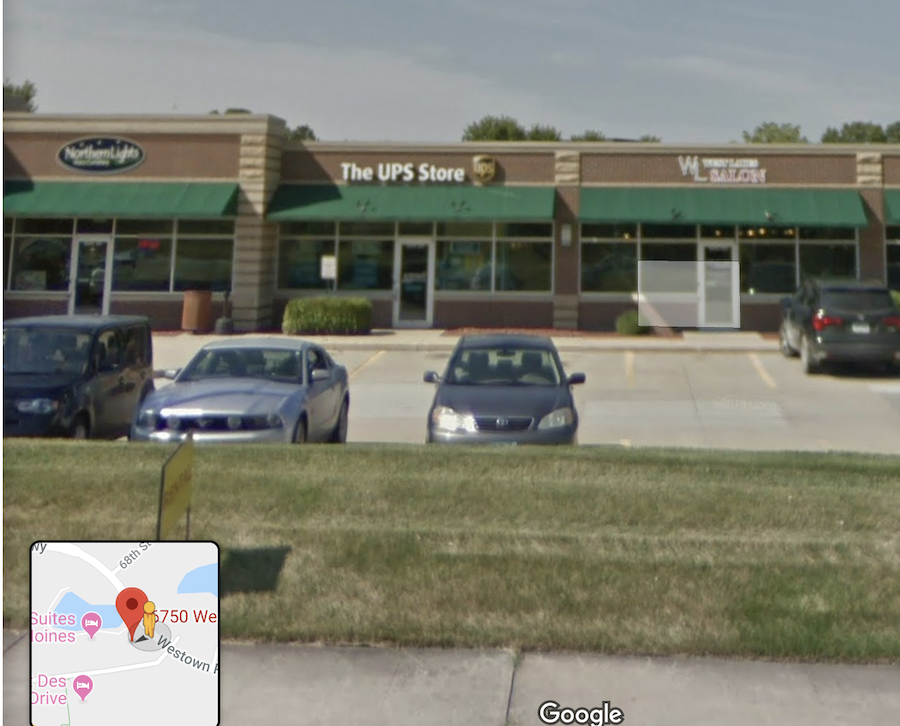 Social Media
Resources
Other Resources