Your Energy America (
YEA

)
Background
Your Energy America (YEA) is a front group created in May 2017 by the American Gas Association (AGA) to promote natural gas use and undermine environmental advocacy campaigns against new natural gas pipelines and infrastructure. [1], [2]
According to Your Energy's website, "Your Energy was created to speak out against a misguided movement that assaults our way of life. This movement is based on the simplistic belief that keeping our natural resources in the ground is the only solution to climate change. This isn't just false — it's dangerous to our quality of life, economy and energy security." [2]
HuffPost reported that Your Energy has positioned itself as a grassroots organization in support of natural gas. The only indication that Your Energy is a public relations campaign paid for by industry is apparent on its Privace Policy Page, which openly states that they are "supported by the American Gas Association, and Related Organizations." Promotion of such "fake grassroots" campaigns is sometimes referred to as an "astroturfing." [3], [4], [5]
Your Energy 's "About Us" pages reinforces their image as a movement with the American people's interests at heart (emphasis added):
"When you join Your Energy, you'll keep our nation strong by speaking up for natural gas, your families and your communities. This is your movement. Natural gas helps make your modern life possible. We have to fight back against those who want to deprive us of clean, affordable energy." [2]
Paul Galuszka, writing for the Washington Post, notes that the move by the AGA is risky and puzzling given how easy it is to trace the group's roots: [10]
"With the political climate increasingly dicey, one wonders why Virginia's fossil fuel establishment would take a chance with a phony grassroots group," he wrote. "Let's hope it's just a passing phase during the Trump era when honesty, accuracy and transparency temporarily fell off the rails."
Democracy, Data
&

Communications (

DDC

)

DeSmog found evidence that the PR firm Democracy, Data & Communications, DDC. According to WHOIS records, both YourEnergyAmerica.com and YourEnergyVirginia.com are registered to DDC. A source who attended the Virginia Chamber of Commerce's 2017 Energy and Sustainability Conference told DeSmog that he saw Ryan Lowry, DDC's Vice President of Client Relations, wearing a Your Energy Virginia name badge at the event. [26]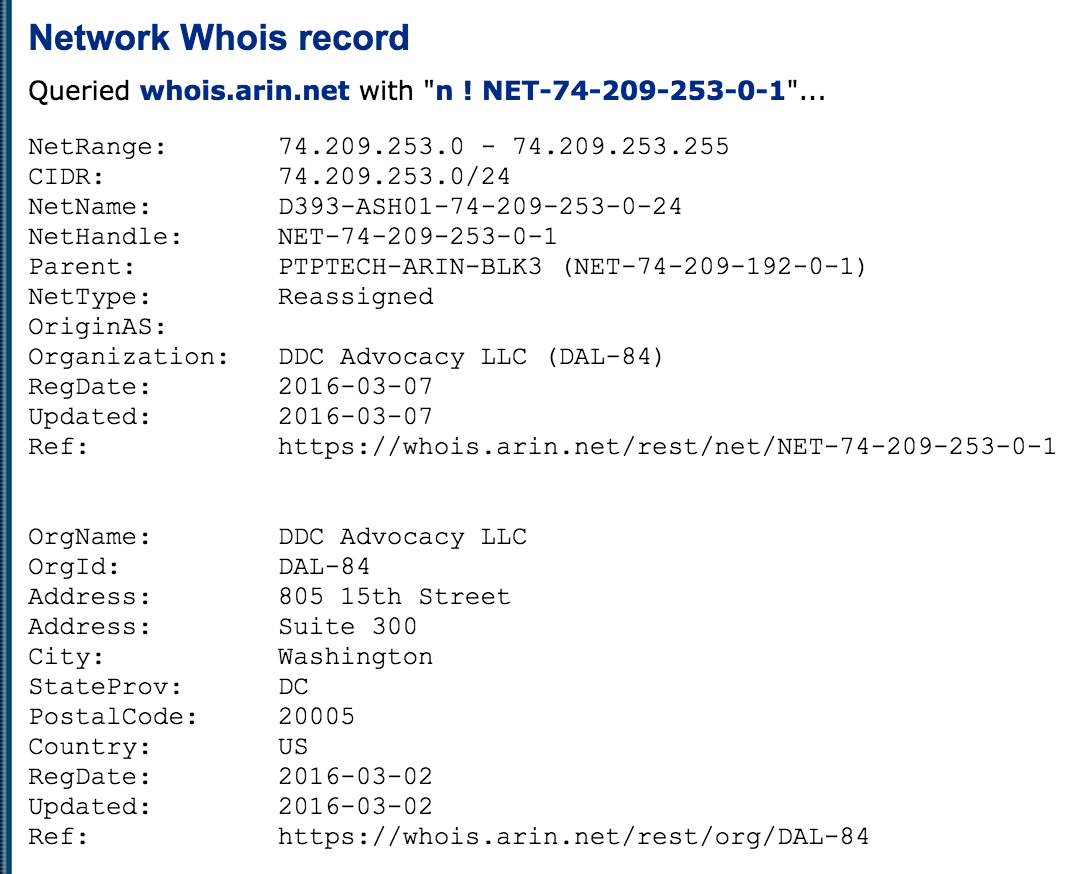 Credit: CentralOps.net
DDC has played a pioneering role in pushing web-centric "grassroots" campaigns. For example, in a 2010 interview, the firm's president Jim Gianiny said "The firm was among the first to try to use technology for grassroots advocacy. The firm built up a consulting and grassroots advocacy practice around its technology to become the full-service issue advocacy firm that we are today." [27]
DDC is an Associate Member of Edison Electric Institute (EEI), a group that lobbies for the energy industry, and paid DDC over $1.8 million to do public relations work since 2012, according to U.S. Internal Revenue Services (IRS) tax forms. [28]
DDC's 2007 client list also includes companies such as BP, Dominion, Edison Electric, Southern California Edison, the U.S. Chamber of Commerce, San Diego Gas & Electric, News Corp (owner of Fox News), and others. DDC also claims credit for the digital work for the American Petroleum Institute's Energy Citizens campaign to promote hydraulic fracturing ("fracking") in the Marcellus Shale. [29]
AGA

Strategy

The Amercian Gas Association (AGA) is a trade group that regularly lobbies for pro-gas regulation, spending $1,406,000 in 2016 alone. AGA rolled out their Your Energy America campaign at a pivotal time to influence the narrative around natural gas and pipelines, with the Virginia effort launching ahead of November gubernatorial elections that has been described as a "referendum on pipelines." [6], [7]

The AGA is a leading voice for continued and increased use of fracking, and construction of natural gas infrastructure and power plants. While the AGA claims to represent "more than 200 local energy companies" across the United States, they also represent several large and multinational methane gas companies. Founded in 1918, the AGA maintains 501(C)(6) status and lobbies for pro-methane gas legislation. [2]

Your Energy has set up campaigns in multiple states including Connecticut, Virginia, New Jersey, and Ohio—all states where pipelines are a current and contentious issue. Note their respective websites below, with the New Jersey and Ohio domains currently purchased as placeholders but without live websites: [8]

The Weather Channel also weighed in on the formation of the new "fake 'grassroots' organization," noting that Your Energy Virginia's launch comes before a key November gubernatorial election. "Similar groups have also been formed by the industry to fight opposition to pipeline proposals in New Jersey, Ohio and New England," the article notes. [25]

Prior to the implementation of a new natural gas pipeline project, the AGA's campaign is designed to persuade the public into believing that the continued extraction of natural gas is the only way to: [8]
Allow the

US

to remain an energy leader
Reduce carbon emissions
Enable the economic viability of renewable energy solutions
Employ and create jobs in the energy sector
Save households money
Dominion Energy Connection
Diane Leopold, president and chief executive officer of the Dominion Gas Infrastructure Group, is a board member of AGA. [9]
The Washington Post notes that, in Virginia, the AGA's "phantom organization" emerged at the same time the $5 billion Atlantic Coast Pipeline is at the center of attention. The pipeline would take natural gas extracted from hydraulic fracturing ("fracking") in West Virginia and over environmentally sensitive areas. "At the heart of most of it is Dominion Energy, the powerful, Richmond-based utility that has handed out $425,000 to Democrats and $356,000 in the past year," Peter Galuszka writes at the Post. [10]
Thomas Farrell, the head of Dominion Energy, has called the the Atlantic Coast Pipeline (ACP) "one of the largest and most important projects" ever initiated by the company. The project would be led by Dominion as a joint venture with Duke Energy, Piedmont Natural Gas and Southern Company Gas. In a letter, Farrel urged voters to "review" the positions of candidates before voting in the Virginia primary on June 13. Republican candidates Ed Gillespie and state Senator Frank Wagner, who endorsed the pipelines, both took donations from Dominion, notes the Washington Post. [11], [12]
While Kert Davies of Greenpeace, speaking with ThinkProgress, noted that there is no other clear connection between Dominion and Your Energy Virginia, apart from Dominion's financial stakes in natural gas production in the state. [24]
"It's overtly against activists," Davies told ThinkProgress. "It's basically saying there is this other movement that wants to ruin everything, and you need to be the movement that is pro-natural gas because it's a climate solution." [24]
Davies described Your Energy's goals of having an appearance of a "grassroots" movement: [24]
"The fossil fuel industry craves its own grassroots movement, and they really are having a hard time not appearing to be the thugs that they are," he said. "In most cases, our communities are an obstacle for these companies to get through so that they can make money." [24]
Stance on Climate Change
Your Energy America portrays natural gas as a solution to climate change that would "work for the environment and help you improve your quality of life," as opposed to "radical solutions" proposed by their "vocal opposition." [13]
"Despite what the opposition says, studies show natural gas is helping to make the planet a healthier place for our families," Your Energy declares. [13]

They describe natural gas as "renewable energy's best friend," adding that "Solar, wind and hydropower need help. They can't produce energy that is available around the clock." [13]
Funding
Your Energy America's Privace Policy Page states that the group is "supported by the American Gas Association, and Related Organizations." [4]
As of 2017, AGA listed over 200 member companies and international affiliates including large companies such as Southern Company, Consolidated Edison, Dominion Energy, Duke Energy Corporation, NiSource, and many others. AGA also lists over 400 associate companies, many in the manufacturing industry. [14]
View a full list of AGA members and associates here (.xlsx). [14]
Key People
Your Energy America
While Your Energy America doesn't publicly outline its staff, the following people have been observed at the "2017 Energy & Sustainability Conference" in Virginia where the group debuted as a conference co-sponsor. [15]
American Gas Association (

AGA

)
As of June, 2017, the American Gas Association (AGA) listed the following among their "Leadership": [9]
Directors [9]
Craig L. Adams — President

&

CEO

,

PECO

, An Exelon Co.
William J. Ackley — President, Gas Operations, Eversource Energy
Frank Almaraz —

SVP

, Corporate Strategy

&

Commercial Ops,

CPS

Energy
David H. Anderson — President

&

CEO

,

NW

Natural
Robert F. Beard — President

&

CEO

,

UGI

Utilities, Inc.
Lonnie E. Bellar —

SVP

, Operations,

LG&E

–

KU

Carl L. Chapman — Chairman, President

&

CEO

, Vectren Corp.
John S. D'Orazio — President

&

CEO

,

RGC

Resources, Inc.
Laurence M. Downes (Ex-officio) — Chairman

&

CEO

, New Jersey Resources
Jeffrey E. DuBois —

EVP

&

COO

, South Jersey Industries, Inc.
David R. Emery — Chairman

&

CEO

, Black Hills Corp.
Andrew Evans — Chairman, President

&

CEO

, Southern Company Gas
William J. Fehrman — President

&

CEO

, MidAmerican Energy Co.
Kevin Fletcher — President,

WE

Energies

&

Wisconsin Public Service
Gordon L. Gillette — President, Tampa Electric and Peoples Gas
Michael E. Haefner — President

&

COO

, Atmos Energy Corp.
Jeffrey Harrison — President

&

CEO

, Citizens Energy Group
John P. Hester — President

&

CEO

, Southwest Gas Corp.
Glenn R. Jennings — Chairman, President

&

CEO

, Delta Natural Gas Co.
Patricia L. Kampling — Chairman, President

&

CEO

, Alliant Energy
Nicole A. Kivisto — President

&

CEO

, Montana-Dakota Utilities Co.
J. Bret Lane — President

&

COO

, Southern California Gas Co.
Kent T. Larson —

EVP

&

Group President, Operations, Xcel Energy Inc.
James P. Laurito —

EVP

, Business Development, Fortis Inc.
Diane Leopold — President, Dominion Energy
Richard J. Mark — Chairman

&

President, Ameren Illinois
Kevin Marsh — Chairman

&

CEO

,

SCANA

Corp.
John McAvoy — Chairman, President

&

CEO

, Consolidated Edison
Terry D. McCallister — Chairman

&

CEO

,

WGL

Holdings, Inc.
Michael P. McMasters — President

&

CEO

, Chesapeake Utilities Corp.
Scott L. Morris — Chairman, President

&

CEO

, Avista Corp.
Jerry Norcia — President

&

CEO

,

DTE

Energy
Morgan K. O'Brien — President

&

CEO

, Peoples Natural Gas Co.
Patricia Kessler Poppe — President

&

CEO

,

CMS

Energy Corp.
Scott M. Prochazka — President

&

CEO

, CenterPoint Energy
Ian Robertson —

CEO

, Algonquin Power

&

Utilities Corp.
Robert C. Rowe — President

&

CEO

, NorthWestern Energy
Suzanne Sitherwood — President

&

CEO

, Spire Inc.
Nick Stavropoulos — President

&

COO

, Pacific Gas and Electric Co.
Ronald J. Tanski — President

&

CEO

, National Fuel Gas Co.
James P. Torgerson — President

&

CEO

,

AVANGRID

Inc.
Ross W. Turrini —

SVP

, Gas Processing

&

Engineering, National Grid
Craig E. White — President

&

CEO

, Philadelphia Gas Works
Frank M. Yoho —

EVP

&

President, Natural Gas Business, Duke Energy Corp.
Michael Mulcahy — President

&

CEO

, FortisBC Energy Inc.
Actions
November 29, 2017
The Washington Post reported that Dominion Energy, along with partner companies and the American Gas Association, funded both Your Energy Virginia and EnergySure to create what it described as a grassroots "campaign to elect a pipeline" to support its proposed natural gas pipeline. [30]
An industry presentation not intended for the public but briefly visible on the Amercan Gas Association's website, published here by The Washington Post, showed the scope of the effort, including a "supporter database" of more than 23,000 names, 150 letters to the editor, more than 9,000 cards and mailers to regulators and elected officials, as and over 11,000 calls to Virginia U.S. senators. [31]
Bruce McKay, senior energy policy director for Dominion, said in an interview:
"We cannot just sit back and hope for the best and hope that the merit of our project will sell itself. Nowadays [regulators] are being bombarded by general citizenry, by elected officials who have asked to insert themselves into the process, and this debate swirls around." [31]
May 24, 2017
Your Energy debuted as a co-sponsor of the "2017 Energy & Sustainability Conference" in Virginia. HuffPost reported that Jim Cheng, former secretary of commerce under former Virginia Governor Bob McDonnel, spoke on the group's behalf: [15], [19]
"I am here today assisting a new organization, called Your Energy Virginia, that was created to raise the energy IQ of Virginians about the many benefits of natural gas," said Cheng, according to audio obtained by HuffPost. "And to try to follow on these radical and uniformed elements within your communities that try to intimidate or shut down pro-energy supporters." [19]
The Washington Post notes that, "the 'radical and uniformed elements' are, in many cases, landowners whose property is targeted by pipeline firms and electric utilities for surveying and perhaps takeover by eminent domain. In some cases, the property has been in the owners' families for decades if not centuries. Some are working farms; others are retirement havens for older residents." [10]
May 1, 2017
Your Energy released a pro-natural-gas ad on YouTube (now listed as "private" on YouTube) and featured prominently on the group's website. "Stopping natural gas stops progress," reads the text, while the narrator describes natural gas as "the friend that's always been there." [20]
Related Organizations
Contact
&

Address

Your Energy America does not provide a physical address on its website. WHOIS registration details and addresses for Your Energy websites have also been blocked from the public. [23]
Social Media
Resources
Other Resources