American Legislative Exchange Council (
ALEC

)
Background
The American Legislative Exchange Council (ALEC) is an organization designed to link state legislators with corporations and create templates for state legislation. Some corporations ALEC has worked with include ExxonMobil, Koch Industries, Peabody Energy, and Reynolds Tobacco. [1], [77], [78]
ALEC describes its mission as to "advance limited government, free markets, and federalism at the state level through a nonpartisan public-private partnership of America's state legislators, members of the private sector and the general public." [2]
An investigation by the Center for Media and Democracy (CMD), hosted at ALECExposed.org, offers the following description of the organization:
"ALEC is not a lobby; it is not a front group. It is much more powerful than that. Through ALEC, behind closed doors, corporations hand state legislators the changes to the law they desire that directly benefit their bottom line. Along with legislators, corporations have membership in ALEC. Corporations sit on all nine ALEC task forces and vote with legislators to approve 'model' bills.
They have their own corporate governing board which meets jointly with the legislative board. (ALEC says that corporations do not vote on the board.) Corporations fund almost all of ALEC's operations. Participating legislators, overwhelmingly conservative Republicans, then bring those proposals home and introduce them in statehouses across the land as their own brilliant ideas and important public policy innovations—without disclosing that corporations crafted and voted on the bills." [1]
ALEC was initially formed in September, 1973 by a group of state legislators including Henry Hyde, Paul Weyrich, and Lou Barnett, among others. Weyrich helped found the Heritage Foundation in the same year, and also went on to found a range of other conservative think tanks including the Free Congress Foundation. [80], [84]
According to a former ALEC task force head Dennis Bartlett, members join "for the purpose of having a seat at the table. That's just what we do, that's the service we offer." He added that "The organization is supported by money from the corporate sector, and, by paying to be members, corporations are allowed the opportunity to sit down at the table and discuss the issues that they have an interest in." [81]
ALEC is closely related to the State Policy Network (SPN), CMD's PR Watch reported, describing SPN as an ALEC "sister organization." The predecessor to SPN, the Madison Group, was introduced by ALEC in the 1980s through the Heritage Foundation, where ALEC was also housed. SPN was formally created in 1992 as an "umbrella organization" of "mini-Heritage Foundations" in the states, PR Watch reported. [79]
ALEC maintains "Task Forces" in the following areas: [3]
Civil Justice
Commerce, Insurance, and Economic Development
Communications and Technology
Education and Workforce Development
Energy, Environment and Agriculture
Federalism and International Relations
Health and Human Services
Justice Performance Project
Tax and Fiscal Policy
*Public Safety and Elections task force (since disbanded) [4]
ALEC

Bills

A Brookings Institution study looked at a sample of 132 ALEC model bills that were introduced during the 2012 legislative season. Republicans sponsored over 90 percent of them. Their study found that the ALEC bills' likelihood of passing was "strikingly high compared to the dismal rate at which all other bills are enacted into law." [5]

In 2013, the CMD found at least 77 ALEC bills that year opposing renewable energy standards, supporting fracking and the controversial Keystone XL pipeline, or otherwise undermining environmental laws. [54]

ALEC also has a history of working with tobacco companies, and has helped provide tobacco-industry representatives face-to-face access to federal elected officials. [6]
Stance on Climate Change
January, 2017
The following is taken from ALEC's model bill for "Energy Principles," introduced January 1, 2002 and last amended January 12, 2017. [8] , [76]
Global Climate Change is Inevitable. Climate change is a historical phenomenon and the debate will continue on the significance of natural and anthropogenic contributions. ALEC will continue to monitor the issue and support the use of sound science. Regardless, the economy is becoming more energy efficient. Each year we emit less carbon dioxide per dollar of economic output. In fact, carbon dioxide emissions per dollar of GDP declined 41.3 percent between 1981 and 2005. This impressive improvement has taken place without greenhouse gas emissions regulations or taxes.
In an official position statement on renewables and climate change, ALEC attempts to counter the claim that "ALEC is a 'climate denier' organization": [7]
"The EEA Task Force understands all discussions about energy policy are inextricably linked with discussions about climate and man's impact on the planet. In regard to climate change, the Task Force has adopted the following language in ALEC's Energy Principles, one of the Task Force's guiding documents:

"Climate change is a historical phenomenon and the debate will continue on the significance of natural and anthropogenic contributions. ALEC will continue to monitor the issue and support the use of sound science to guide policy, but ALEC will also incorporate economic and political realism. Unilateral efforts by the United States or regions within the United States will not significantly decrease carbon emissions globally, and international efforts to decrease emissions have proven politically infeasible and unenforceable. Policymakers in most cases are not willing to inflict economic harm on their citizens with no real benefit. ALEC discourages impractical visionary goals that ignore economic reality, and that will not be met without serious consequences for worldwide standard of living.

"Further recognizing the fact that "[h]uman activity has and will continue to alter the atmosphere of the planet" and that "[s]uch activity may lead to demonstrable changes in climate, including a warming of the planetary mean temperature," ALEC developed the Interstate Research Commission on Climactic Change Act in the mid-1990s. This policy was designed to address the scientific and economic aspects of the issue of climate change through the development of a multistate research commission with a strong emphasis on basic and applied research.

"ALEC has also been accused of promoting model policy that advocates for the teaching of "climate denial" in schools. The model Environmental Literacy Improvement Act seeks to ensure schools use sound science and provide for balanced discussion on issues pertaining to the environment and climate change. It does not deny climate change or direct educators to teach the denial of climate change." [7]
2015
After Google parted ways with ALEC due to its inaction on climate change, the group refuted allegations that it denies climate change, saying: "ALEC recognizes that climate change is an important issue," and "no ALEC model policy denies climate change." [10], [11]
January 21, 2004
Sandy Liddy Bourne, representing ALEC, said in 2004: "Carbon dioxide, the inescapable by-product of burning fossil fuels, is beneficial to plant and human life alike. The effort to regulate it as a greenhouse gas is an attempt to tax energy." [9]
ALEC

Conferences
ALEC hosts conferences three times a year where they frequently invite prominent climate change skeptics. Here are a few sample statements made at ALEC conferences or by ALEC board members highlighted by AlecClimateChangeDenial.org, a joint project of the Centre for Media and Democracy, Forecast the Facts, and the Energy and Public Policy Institute: [48]
Joe Bast: "There is no scientific consensus on the human role in climate change."

ALEC

Annual Meeting, Dallas, Texas August, 2014
Craig Idso: "

CO2

is not a pollutant. It is a benefit. It is the very elixir of life."

ALEC

Conference, December 2014
Marc Morano: "The idea that there is a "scientific consensus" [on climate change] does not hold up."

ALEC

Annual Meeting, Dallas, Texas August, 2014
Christopher Monckton: "The science [of climate change] is bad, the consensus is wrong."

ALEC

Annual Meeting, Atlanta, Georgia July, 2009
Lisa Nelson (

ALEC

CEO

): Asked if she accepts

CO2

emissions are the primary driver of climate change: "I don't know the science on that." Interview with National Journal, published October 2, 2014.
Phil King (

ALEC

Board member): "I think the global warming theory is bad science."

TX

House of Representatives Website, January, 2007.
John Piscopo (

ALEC

Board member): "The public has been hoodwinked…I have serious doubts about whether [climate change] is man made." Connecticut Post, March, 2010.
Funding
The Centre for Media and Democracy (CMD) notes that since the 2011 launch of the website ALECExposed.org, many corporations have left and publicly distanced themselves from ALEC, including General Motors, Walgreens, Johnson & Johnson, Wal-Mart, Amazon, McDonald's, Coca-Cola, and GE. [4]
Since CMD launched their ALEC Exposed investigation in 2011, 108 corporations and 19 non-profits have left ALEC, including BP, Shell, Visa, Coca-Cola, Microsoft, McDonald's, and Google (now Alphabet). Documents obtained by CMD found that ALEC had received at least $504,700 from Koch Industries between 1995 and 1998, adding up to nearly $1 million from Koch-Controlled Foundations between 1998 and 2012. CMD additionally found that the tobacco conglomerate Philip Morris/Altria gave ALEC $1,426,700 between 1995 and 2010. [56], [61]
While ALEC does not publicly disclose its funding sources, public 990 records and data collected by the Conservative Transparency project reveal some of its funding sources. Note that not all of the below funding values have been verified by DeSmog.
See the attached spreadsheet for additional information on ALEC funding by year (.xlsx). [57]
ALEC

as Recipient
Donor
Total
Charles G. Koch Charitable Foundation
$2,544,531
Allegheny Foundation
$2,080,000
Exxon Mobil
$1,798,200
Searle Freedom Trust
$1,599,500
The Lynde and Harry Bradley Foundation
$1,593,000
DonorsTrust
$1,484,100
PhRMA
$1,257,717
Claude R. Lambe Charitable Foundation
$720,000
Donors Capital Fund
$651,500
Castle Rock Foundation
$650,000
Jaquelin Hume Foundation
$270,000
Friedman Foundation For Educational Choice
$248,000
John M. Olin Foundation
$215,000
Charles Koch Institute
$171,089

JM

Foundation
$135,000
Edison Electric Institute
$93,000
American Petroleum Institute
$88,000
Armstrong Foundation
$82,500
The Randolph Foundation
$75,000
The Samuel Roberts Noble Foundation
$75,000

CIGNA

Foundation
$55,000
Scaife Family Foundation
$50,000
The Roe Foundation
$30,500
The Vernon K. Krieble Foundation
$28,500
Holman Foundation
$25,000
Joyce and Donald Rumsfeld Foundation
$17,000
eBay
$12,000
MyWireless.org
$10,000
The Dabney Point Fund
$10,000
The Shelby Cullom Davis Foundation
$7,000
Schwab Charitable Fund
$5,250
Dodge Jones Foundation
$5,000
American Chemistry Council
$2,500
Wodecroft Foundation
$1,000
John P and Kathryn G Evans Foundation
$750
Grand Total
$16,090,637
ALEC

as Donor
ExxonMobil Funding
According to data from Greenpeace's ExxonSecrets, ALEC has received $1,619,700 from ExxonMobil since 1998. [12]
Koch Funding
Greenpeace investigations found ALEC received a grand total of $3,241,620 from Koch-related foundations between 1997 and 2017. [13]
*Note that original tax forms prior to 1997 are no longer available for verification. If you include a $60,000 donation from 1993.
| | | | | |
| --- | --- | --- | --- | --- |
| Year | Charles Koch Foundation | Charles Koch Institute | Claude R. Lambe Charitable Foundation | Grand Total |
| 1993* | | | $60,000 | $60,000 |
| 1997 | $30,000 | | $30,000 | $60,000 |
| 1998 | $70,000 | | | $70,000 |
| 1999 | $13,000 | | | $13,000 |
| 2000 | $85,000 | | | $85,000 |
| 2001 | $75,000 | | | $75,000 |
| 2002 | | | $30,000 | $30,000 |
| 2007 | | | $75,000 | $75,000 |
| 2009 | $75,858 | | $125,000 | $200,858 |
| 2010 | | | $100,000 | $100,000 |
| 2011 | | | $150,000 | $150,000 |
| 2012 | $71,100 | | $150,000 | $221,100 |
| 2014 | $280,640 | $35,889 | | $316,529 |
| 2015 | $449,114 | $37,089 | | $486,203 |
| Grand Total | $1,149,712 | $72,978 | $720,000 | $1,942,690 |
*Original tax forms for data before 1997 is not available for verification.
Alpha Natural Resources Creditor
Alpha Natural Resources, one of the largest coal companies in the U.S., filed for bankruptcy in August of 2015. The American Legislative Exchange Council was among the Alpha Natural Resources creditors revealed in the bankruptcy documents. Others included organizations active in climate change denial such as the Heartland Institute, U.S. Chamber of Commerce, and the Energy & Environmental Legal Institute (E&E Legal). [60]
Nonprofit Status
While ALEC is registered as a 501(c)(3) nonprofit with the IRS, making donations tax-deductible, Common Cause, Clergy Voice, the Voters Legislative Transparency Project, and the Center for Media and Democracy/Progressive Inc. (CMD) have alleged that ALEC repeatedly violated federal law and should have its nonprofit status revoked. [56]
In 2013, ALEC began adding a disclaimer to the bottom of all its documents stating: "Because this is an internal ALEC document, ALEC believes it is not subject to disclosure under any state Freedom of Information or Public Records Act," which CMD speculated could be an attempt to sidestep state public records laws. [4]
ALEC dropped this disclaimer after CMD's successful open records lawsuit against its national board member and Wisconsin State Senator Leah Vukmir. [55]
"The case shows that legislators who deny open records requests and seek refuge behind improbable claims of immunity will be held accountable by the public, the media and the legal system," said Brendan Fischer, General Counsel for the Center for Media and Democracy.
990 Forms
Key People
Board Members
Board of Scholars
Private Enterprise Advisory Council
Staff
Name
2011
2012[24]
2015
2016[70]
2017
2018
Description
Amy Kjose Anderson
Y
Y
Y
Y
Y
Y
Director, Civil Justice Task Force
Jonathan Williams
Y
Y
Y
Y
Y
Y
Vice President, Center for State Fiscal Reform
Karla Jones
Y
Y
Y
Y
Y
Y
Director, International Relations and Federalism Task Force
Michael Bowman
Y
Y
Y
Y
Y
Y
Vice President, Policy
Genneya Briscoe
Y
Y
Y
Y
Y
Director of Employee Relations, Finance and Administration
Jose Fernandez
Y
Y
Y
Y
Y
Office Manager
Lisa Bowen
Y
Y
Y
Y
Y
Vice President, Finance and Administration
Ashley Varner
Y
Y
Y
Y
Senior Director, Strategic Communications
Bartlett Cleland
Y
Y
Y
Y
Vice President, Center for Innovation and Technology
Bill Meierling
Y
Y
Y
Y
Vice President, Public Affairs
Christine Phipps
Y
Y
Y
Y
Director, Art and Creative
Courtney Cook
Y
Y
Y
Y
Director, Events
Jeff Lambert
Y
Y
Y
Y
Vice President, Member Relations
Jon Russell
Y
Y
Y
Y
Director, American City County Exchange
Jonathon Hauenschild
Y
Y
Y
Y
Director, Communications and Technology Task Force
Lisa B. Nelson
Y
Y
Y
Y
Chief Executive Officer. Former lobbyist for

VISA

and

AOL

Time Warner. Also worked for Newt Gingrich and

GOPAC

. [20], [21]
Marie Vulaj
Y
Y
Y
Y
Senior Director, Membership and Development
Bob Williams
Y
Y
Y
Inez Feltscher Stepman
Y
Y
Y
Director, Education and Workforce Development Task Force
Lacey White
Y
Y
Y
Policy Manager
Ronald J. Lampard
Y
Y
Y
Director, Criminal Justice Task Force
Wes Fisher
Y
Y
Y
Manager, Membership and Development
Christine Smith
Y
Y
Manager, Center for State Fiscal Reform
Elliot Young
Y
Y
Research Analyst, Center for State Fiscal Reform
Jason Bethke
Y
Y
Salesforce Administrator and Developer
Joel Griffith
Y
Y
Director, Tax and Fiscal Policy Task Force
Mason Hunt
Y
Y
Coordinator, Events
Robert Ordway
Y
Y
Director, Commerce, Insurance and Economic Development Task Force
Sarah Spaulding
Y
Y
Executive Assistant to the

CEO

Shelby Emmett
Y
Y
Director, Center to Protect Free Speech
Thurston Powers
Y
Y
Legislative Analyst, Center for State Fiscal Reform
Tom McLaughlin
Y
Y
Project Coordinator, Public Affairs
Victoria Eberlein
Y
Y
Manager, Corporate and Nonprofit Relations
Anna Tarnawski
Y
Director
Brooklyn Roberts
Y
Director, Health and Human Services Task Force
Grant Kidwell
Y
Director, Energy, Environment and Agriculture Task Force
Joe Goetz
Y
Director, Development
Matthew Lipina
Y
Coordinator, Development
Mike Slabinski
Y
Legislative Analyst
Nicole Murphy
Y
Coordinator, Public Affairs
Daniel Turner
Y
Y
Y
Research Analyst, Center to Protect Free Speech
Mia Heck
Y
Y
Director, Health and Human Services Task Force
Alyssa Hackbarth
Y
Manager, Public Affairs and Digital Strategy
Caden G. Rosenbaum
Y
Accountant
Erica York
Y
Legislative Analyst
Jay Hamilton
Y
Public Affairs

&

Media Relations
Sarah Hunt
Y
Director, Center for Innovation and Technology
Kati Siconolfi
Y
Y
Y
Y
Legislative Manager, Center for State Fiscal Reform
Ben Wilterdink
Y
Y
Director, Commerce, Insurance and Economic Development
Brian Hawkins
Y
Y
Policy Coordinator
John Eick
Y
Y
Director, Energy, Environment, and Agriculture Task Force
Laurel Buckley
Y
Y
Director, Development
Rek LeCounte
Y
Y
Manager, Digital Media
Shana Sally
Y
Y
Coordinator, Media and Public Affairs
Spencer Chretien
Y
Y
Coordinator, Membership
Theodore Lafferty
Y
Y
Legal Research Analyst, Tax and Fiscal Policy
Joe Horvath
Y
Analyst, Tax and Fiscal Policy
Molly Drenkard
Y
Director, Media Relations and Public Affairs
Montana Hyde
Y
Executive Assistant, Office of the

CEO

Nathan Brinkman
Y
Communications Coordinator, Center for State Fiscal Reform
Michael Hough
Y
Y
Y
Director, Task Force on Commerce, Insurance and Economic Development and Justice Performance Project
Seth Cooper
Y
Y
Y
Amicus Counsel
Alex McGee
Y
Development Coordinator
Jimmy Wall
Y
Executive Assistant to the

CEO

Lindsay Russell
Y
Director, Task Force on Education
Molly Fuhs
Y
Director, Media and Public Relations
Sarah McManamon
Y
Director, Events
William Freeland
Y
Research Analyst, Task Force on Tax and Fiscal Policy
Bryan Weynand
Y
Y
Legislative Analyst, Civil Justice

&

Energy, Environment, and Agriculture Task Forces.
Christie Herrera
Y
Y
Director, Health and Human Services Task Force.
Courtney O'Brien
Y
Y
Director, Commerce, Insurance, and Economic Development

&

Public Safety and Elections Task Forces.
David Myslinski
Y
Y
Director, Education Task Force.
John Stephenson
Y
Y
Director, Telecommunications and Information Technology Task Force.
Ron Scheberle
Y
Y
Executive Director since January, 2010.
Stephanie Linn
Y
Y
Policy and Intern Manager.
Cara Sullivan
Y
Legislative Analyst, Public Safety and Elections Task Force.
Christine Harbin
Y
Research Manager, Tax and Fiscal Policy Task Force.
Kailee Tkacz
Y
Research Analyst, Tax and Fiscal Policy Task Force.
Meaghan Archer
Y
Research Analyst, Tax and Fiscal Policy Task Force.
Sean Riley
Y
Legislative Analyst, Health and Human Services Task Force.
Todd Wynn
Y
Director, Energy, Environment and Agriculture Task Force.
Briana Mulder
Y
Board Liaison and Donor Relations Coordinator
Chaz Cirame
Y
Senior Director, Membership and Development
Clint Woods
Y
Director, Energy, Environment, and Agriculture Task Force
Jonathan Moody
Y
Director, Donor Relations
Kaitlyn Buss
Y
Web and New Media Manager
Laura Elliott
Y
Director of State Programs
Monica Mastracco
Y
Legislative Assistant, Education

&

Health and Human Services Task Forces
Ngan Nguyen
Y
Legislative Study, Registration Account Specialist
Raegan Weber
Y
Senior Director, Public Affairs
Rob Shrum
Y
Director, Corporate and NonProfit Relations
Other People (2004)
Media Coverage on
ALEC
May 21 2015 edition of WXIA–TV's 11 Alive News Tonight
11 Alive investigators examined ALEC's status as a nonprofit versus what a former ALEC member describes as a "corporate bill mill." Video below. [46], [47]
United States of ALEC — A Viewers Guide (June, 2014)
The Moyers and Company television program aired on public television stations, relying heavily on research by the Center for Media and Democracy's ALEC Exposed project, as well as first-hand interviews. [49], [50]
Video below. (View transcript here).
United States of ALEC: A Follow-Up from BillMoyers.com on Vimeo.
Actions
April 12, 2021
Call records obtained and reported on by Grist revealed ALEC was working behind the scenes to oppose President Biden's plans to combat climate change. [106]
In the ALEC call former Utah state representative Ken Ivory commented on Biden's January executive order on climate change: "We're seeing something that they're identifying as a new age in climate federalism," Ivory said. [106]
The call was the first of two as part of ALEC's new "Functional Federalism Working Group." [106]
"What's the reasoning or the exact strategy for them in creating this secretive working group, we still don't know," said David Armiak, a research director with the Center for Media and Democracy. CMD provided Grist with a verbatim record of the two recent calls. Armiak added: "Fossil fuel and pharmaceutical companies do still play leadership roles and very active roles in sponsor meetings, and they're worried about some of these executive actions." [106]
Grist reported that, while ALEC's overall plan remained unclear, Ivory had brought up three ways to combat Biden's plans on climate: "nullification, or passing state legislation to invalidate federal actions that states believe are unconstitutional; the initiation of a constitutional convention that would pass amendments giving states more power; and the passage of non-binding resolutions reaffirming the U.S. Constitution's Tenth Amendment, which declares that powers not explicitly granted to the federal government belong to the states, in state legislatures," Grist noted. [106]
"The states have to be able to speak with one voice," Ivory said. "As John Adams said, 'The clocks all have to strike at one'," Ivory said in the audio. [106]
April 6, 2020
ALEC, represented by Lisa B. Nelson, and ALEC Action, represented by Michael Bowman, were signatory to an American Energy Alliance letter to President Donald Trump supporting the Safer Affordable Fuel-Efficient (SAFE) Vehicles Rule which would scrap federal fuel economy mandates under the Corporate Average Fuel Economy (CAFE) program. [105]
Describing CAFE, the letter contends: "Those families and individuals who prefer or need trucks, SUVs, and crossovers pay more to subsidize those who buy smaller vehicles or electric vehicles under the existing mandate. This significant, needless, and unjust cost is a very real regressive tax on American families that has made our country worse off." [105]
June 6, 2019
An ALEC membership list obtained by watchdog group Documented revealed the names of dozens of state lawmakers not previously listed as members of the lobbying organization. The list included 173 legislators registered with ALEC's Commerce, Insurance, and Economic Development (CIED) task force, 49 of whom were not previously known to be associated with ALEC. The document was received via a public records request in the state of Ohio. [101], [102]
Many of the newly listed legislators have taken public and controversial positions on labor issues and reproductive rights, and some have been convicted of crimes or forced to resign their positions after allegations of wrongdoing. [103], [104]
April 10, 2019
In an op-ed for USA Today, ALEC CEO Lisa Nelson compared ALEC's "model policies" for legislators across the country to the influence of the Rosetta Stone, the Magna Carta, and the U.S. Constitution:
"Model policy helps large groups of people with a shared focus but unique contexts understand a concept. History is full of examples: the Rosetta stone allowed people from diverse geographies to understand common ideas. The Magna Carta was a model for the Bill of Rights, and the U.S. Constitution has served as a model for many constitutions across Latin America," Nelson wrote. [100]
According to Nelson, ALEC exists because "government is complicated":
"If expanding opportunity and individual freedom for every American was as easy as borrowing a cup of sugar, groups like ALEC wouldn't need to exist. It's precisely because government is complicated that we do. While founded on a simple idea — freedom — America is not a simple place." [100]
November 28, 2018
A report by the Climate Investigations Center revealed that ALEC has lost the financial support of dozens of S&P 500 companies since 2011. The CIC estimated the combined market value of companies that have disassociated themselves from ALEC to be more than $7 trillion. [96]
Corporations such as Google, Amazon, WalMart, and Exxon discontinued their support of ALEC presumably in response to unfavorable publicity generated by the think tank's policy positions on everything from gun violence to climate change science denial. [96]
The findings were revealed as ALEC held its annual "State & Nation Policy Summit" at the Grand Hyatt in Washington D.C. from November 28–30. According to ALEC, these summits attract "hundreds of state legislators" and "policy experts" with a shared "commitment to Jeffersonian policies." [97]
One scheduled workshop featured speaker Grant Kidwell, director of ALEC's Task Force on Energy, Environment, and Agriculture. Topics of discussion included carbon dioxide pipeline corridors, right to farm legislation, and a resolution "to oppose federal intervention in competitive electricity markets." [98]
September 18, 2018
UK Treasury minister Liz Truss met with representatives from ALEC during a visit to Washington DC, Greenpeace's investigative unit, Unearthed, found. The taxpayer-funded trip also included meetings with the Cato Institute, the American Enterprise Institute, Americans for Tax Reform, and the Heritage Foundation. [99]
July 18, 2018
ALEC Action, represented by Lisa B. Nelson, was among signatories of a letter supporting an anti-carbon tax resolution from House Majority Whip Steve Scalise (R-La.) and Rep. David McKinley (R-W.Va. [93]
"We oppose any carbon tax. We oppose a carbon tax because it would lead to less income and fewer jobs for American families," the letter read. "We support the House Concurrent Resolution in opposition to a job-killing carbon tax and urge members to co-sponsor and support this effort." [93]
The resolution would call a carbon tax "detrimental to the United States economy."E&E News reported it was similar to a measure that passed the House in 2016. Rep. Carlos Curbelo of Florida, co-chairman of the Climate Solutions Caucus, said he would not vote for the resolution. [94]
"Protecting our environment and economic growth are not mutually exclusive," he said in a statement. "The resolution presents a false choice." [94]
The Citizens' Climate Lobby (CCL) issued a point-by-point rebuttal of the measure when it was first introduced. [95]
July 12, 2018
Oil giant ExxonMobil would not be renewing its membership in ALEC due to disagreement over climate change policy, Bloomberg reported. Late in 2017, Exxon, Chevron, and Honywell International inc. were among companies that objected to ALEC's push for the Environmental Protection Agency to rescind climate change legislation from the Obama administration. [91]
The measure had been supported by the Heartland Institute, as well as the Competitive Enterprise Institute and the James Madison Institute among others. [92]
"It was corporate blackmail," Steve Milloy said of the corporate departures. Milloy is a policy advisor to the Heartland Institute. "They basically said, 'We're going to leave.'"
April 23, 2018
The American Legislative Exchange Council (ALEC), represented by Lisa B. Nelson, was among 22 groups signed on to an open letter asking President Trump to ignore recent criticism of EPA Administrator Scott Pruitt. [89]
In a speech to the U.S. Senate, a group of Democratic senators identified the organizations as front groups for the Koch Brothers and other wealthy donors, nicknamed the "Web of Deceit." The senators outlined how, in addition to funding from the Koch network, many of the groups use untraceable "dark money" funneled through groups like Donors Capital Fund and Donors Trust to influence legislation, particularly with regards to climate and pollution.
Senator Whitehouse outlined it as "a web of deceit conceived and bankrolled by the Koch brothers and other self-interested billionaires to advocate for very selfish and unpatriotic policies." Whitehouse added: "This web of deceit has infiltrated and populated the Trump administration, and it is swamping the interests of everyday Americans. [90]
The full list of pro-Pruitt signatories and their respective organizations is as follows:
September 21, 2017
The Center for Media and Democracy's PR Watch reported, using information from a newly available database of corporate violations data titled "Violations Tracker," that eight ALEC member companies had been penalized with more than $6.2 billion in federal fines due to misconduct or federal crimes since 2000. The companies examined pay to sit on the "Private Enterprise Advisory Council" of ALEC. Members leading in penalties included: [87]
July 19–21, 2017
ALEC hosed a meeting in Denver featuring Republican legislators and representatives from corporate groups including Koch Industries, ExxonMobil, K12 Inc., Peabody Energy, and PhRMA. CMD reported that among those present included Secretary Betsy DeVos, Labor Secretary Alexander Acosta, Secretary of the Interior Ryan Zinke, Newt Gingrich, and other "Trump loyalists." [88]
One of the items on the agenda was a model bill to repeal the 17th Amendment. The "Draft Resolution Recommending Constitutional Amendment Restoring Election Of U.S. Senators To The Legislatures Of The Sovereign States" would be debated by ALEC's Federalism and International Relations Task Force. [88]
CMD notes that repeal of the 17th amendment, which established the popular election of United States Senators in 1913, would allow Republicans to take 17 U.S. Senate seats from Democrats with state legislatures given the right to pick Senators. [88]
Part of the resolution excerpted below:
"Section 1. The seventeenth article of amendment to the Constitution of the United States is hereby repealed.

"Section 2. Senators shall be elected exclusively by the State legislature, upon a majority vote of legislators present and voting in a joint session. If a vacancy shall exist for more than one hundred-eighty days, then the Governor shall appoint the Senator to serve the remainder of the vacant term. This procedure may not be modified by state initiative or referendum." [88]
February 22–25, 2017
ALEC was a Supporting Sponsor of the 2017 Conservative Political Action Conference (CPAC), among a range of other conservative and pro-industry groups. [75]
July 29, 2016
As reported by Greenpeace, ALEC's 2016 annual meeting in Indianapolis, Indiana attracted a range of corporate sponsors including companies like ExxonMobil, Koch Industries, and Peabody Energy. The Center for Media and Democracy (CMD) reported that ExxonMobil was a top sponsor at the meeting, alongside the State Policy Network (SPN), Texas Public Policy Foundation (TPPF), and others. View the sponsors list here. [85], [86]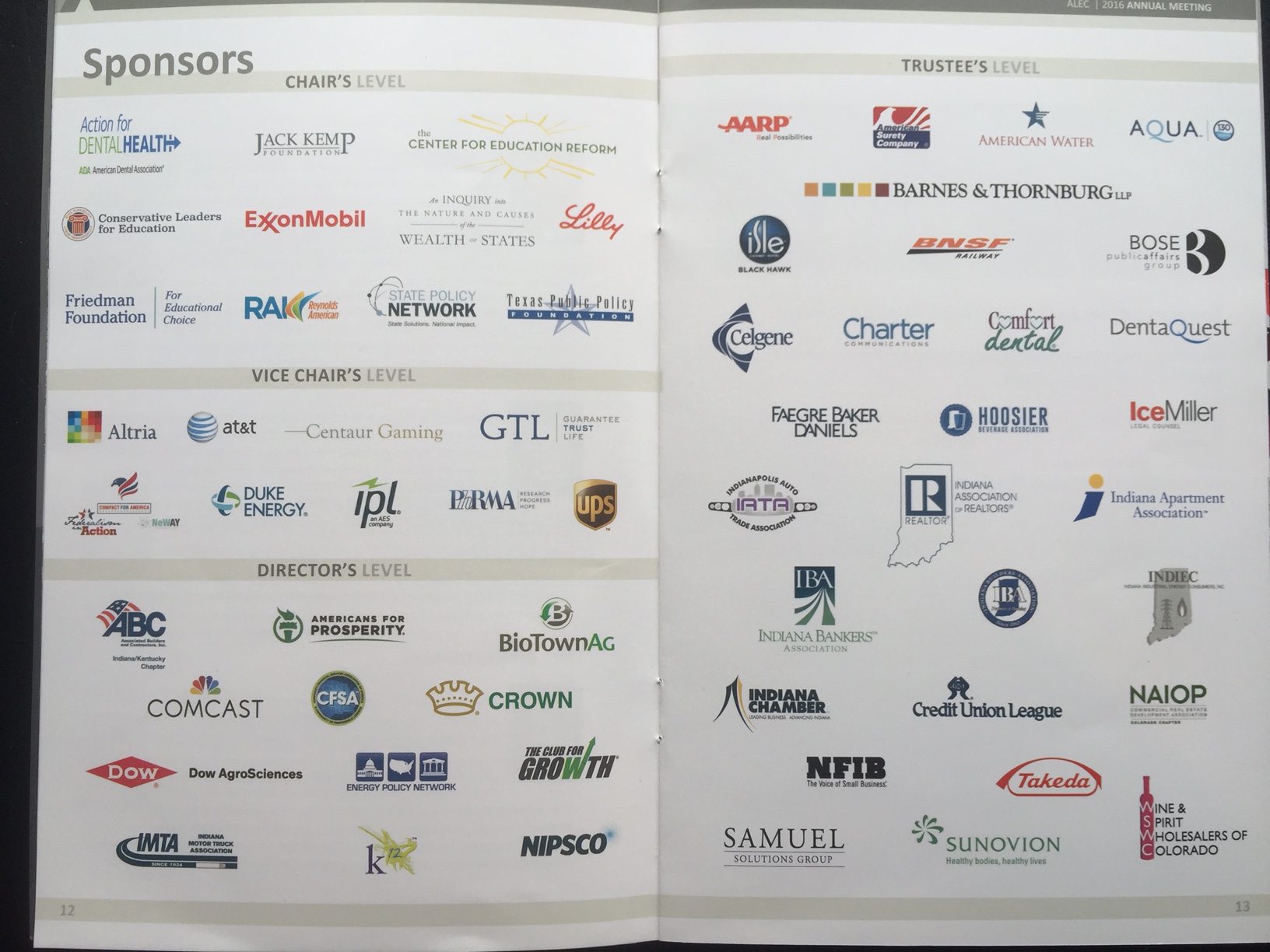 ALEC Indianapolis 2016 sponsors, via Greenpeace
Greenpeace noted that Americans for Prosperity, a "Director-Level" sponsor, as well as exhibitors including The Charles Koch Institute, The Heritage Foundation, The Heartland Institute, and the Mercatus Center were all members of the State Policy Network (SPN), which was itself a "Chair-Level" sponsor. Each of the SPN groups represented at the conference had received support from Koch-controlled foundations.[85]
July 12, 2016
The American Legislative Exchange Council (ALEC), represented by Lisa B. Nelson, was among 22 groups represented in a "Coalition" open letter pushing back against what the Heartland Institute describes as an "affront to free speech." The groups are responding to the recent Web of Denial Resolution brought up in the Senate, calling out fossil fuel industry-funded groups denying climate change. [71]
According to the Climate Investigations Center, all but one of the open letter's signatory organizations have taken money (totalling at least $92 million since 1997) from the "climate denial web" including Koch Brothers' various foundations, ExxonMobil, and two "Dark Money" organizations, Donors Trust and Donors Capital Fund. [74]
Championed by Senators Whitehouse, Markey, Schatz, Boxer, Merkley, Warren, Sanders, and Franken, the resolution condemns what they are calling the #WebOfDenial — "interconnected groups – funded by the Koch brothers, major fossil fuel companies like ExxonMobil and Peabody Coal, identity-scrubbing groups like Donors Trust and Donors Capital, and their allies – developed and executed a massive campaign to deceive the public about climate change to halt climate action and protect their bottom lines." [72]
The open letter addresses the senators, calling them "tyrants":
"We hear you. Your threat is clear: There is a heavy and inconvenient cost to disagreeing with you. Calls for debate will be met with political retribution. That's called tyranny. And, we reject it." [73]
The full list of signatories and their respective organizations is as follows:
June 13, 2016
The Center for Media and Democracy (CMD/PRWatch) reports the American Legislative Exchange Council (ALEC) was named as a creditor in Peabody Energy's recent bankruptcy filings. Additionally, the documents list funding a number of ALEC events including the following: [63]
ALEC

Arkansas State Scholarship Fund

ALEC

Colorado State Scholarship Fund

ALEC

Illinois State Scholarship Fund

ALEC

Indiana State Scholarship Fund

ALEC

Missouri State Scholarship Fund

ALEC

Montana State Scholarship Fund

ALEC

New Mexico State Scholarship Fund

ALEC

Scholarship Fund-Arizona

ALEC

Texas State Scholarship

ALEC

Wyoming Scholarship Fund

ALEC

–

MO

Night
While the available bankruptcy documents do not list the scale or dates of funding, they outline Peabody Energy's financial ties to a large network of groups promoting climate change denial. [64]
Prominent individuals appearing in the documents include climate deniers Willie Soon, Richard Lindzen, Roy Spencer and Richard Berman. The long list of organizations also includes groups such as Americans for Prosperity, American Legislative Exchange Council, CFACT, Institute for Energy Research, State Policy Network, the U.S. Chamber of Commerce and dozens more. [65]
The Guardian also analysed and reported on the Peabody bankruptcy findings: [66]
"These groups collectively are the heart and soul of climate denial," said Kert Davies, founder of the Climate Investigation Center, who has spent 20 years tracking funding for climate denial. "It's the broadest list I have seen of one company funding so many nodes in the denial machine."

The company's filings reveal funding for a range of organisations which have fought Barack Obama's plans to cut greenhouse gas emissions, and denied the very existence of climate change. […]

Among Peabody's beneficiaries, the Center for the Study of Carbon Dioxide and Global Change has insisted – wrongly – that carbon emissions are not a threat but "the elixir of life" while the American Legislative Exchange Council is trying to overturn Environmental Protection Agency rules cutting emissions from power plants. Meanwhile, Americans for Prosperity campaigns against carbon pricing. The Oklahoma chapter was on the list. […]

"The breadth of the groups with financial ties to Peabody is extraordinary. Thinktanks, litigation groups, climate scientists, political organisations, dozens of organisations blocking action on climate all receiving funding from the coal industry," said Nick Surgey, director of research for the Center for Media and Democracy.

"We expected to see some denial money, but it looks like Peabody is the treasury for a very substantial part of the climate denial movement."
Notable organizations listed in the initial documents include:
Notable individuals named in the initial documents include the following:
June 2016
The American Legislative Exchange Council (ALEC) was among organizations named in a Massachusetts subpoena looking for communications between ExxonMobil and organizations denying climate change, reports The Washington Times. [67]
Organizations named in the Massachusetts subpoena include the following: [67]
This latest inquiry by Massachusetts Attorney General Maura Healey is one in a series of investigations into what ExxonMobil knew about climate change and when, started by a coalition of attorneys general in the US. [68]
March 24, 2016
The Sierra Club Virginia Chapter and Center for Media and Democracy released a report detailing ALEC's attempts to delay action on climate change in Virginia. The report, "AMERICAN LEGISLATIVE EXCHANGE COUNCIL (ALEC) EXPOSED: Corporate Polluters Undermining Clean Power in Virginia" (PDF) details how ALEC and its political allies have worked to combat state climate and clean energy policy. [58], [59]
The report focuses on ALEC's attempts to stop the Clean Power Plan, which set out to cut carbon emissions from power plants by 32% over 2005 levels. [58]
"I was pleased that during the 2016 General Assembly session we were able—at least so far—to fend off ALEC's attempt to derail Virginia's plan to curb emissions and comply with the Clean Power Plan," said Virginia Delegate Rip Sullivan (D-48). "It is disappointing and troubling, though, that ALEC-inspired HB2 and SB21 passed the General Assembly–thankfully not by veto-proof majorities. Virginia should be leading the way on clean energy, but sadly, we lag far behind. I will continue to work hard to push for meaningful progress, moving Virginia toward a new clean energy economy."[58]
Seth Heald, chair of the Seirra Club Virginia Chapter, notes that corporations "simply cannot be serious about reducing carbon pollution and addressing climate change while also supporting ALEC." [58]
August 2015
Royal Dutch Shell announced it would sever ties with ALEC due to the group's "continued denial of the science of climate change," The Guardian reported.
Shell released a statement, saying that "Alec advocates for specific economic growth initiatives, but its stance on climate change is clearly inconsistent with our own." [26]
In a previous interview with the Guardian in May, a Shell spokesman said: "We have long recognized both the importance of the climate challenge and the critical role energy has in determining quality of life for people across the world. As part of an ongoing review of memberships and affiliations, we will be letting our association with Alec lapse when the current contracted term ends early next year." [27]
Shell isn't the first oil company to sever its ALEC ties. British Petroleum (BP) also joined the list of companies leaving ALEC's ranks, severing ties in May 2015. Other companies to leave ALEC since 2014 include Google, Yahoo, Facebook, eBay and Yelp — all in the face of criticism over ALEC's climate change views.
BP's exit came a few months after Occidental Petroleum (Oxy) announced it would depart from ALEC, and a year after ConocoPhillips, an American multinational energy corporation, did the same. Shell is the fourth to leave ALEC. [28]
July 2015
At a July 2015 meeting in San Diego, ALEC's energy committee — which includes Mr. Mike Duncan, the president of the American Coalition for Clean Coal Electricity (One of the nation's top coal lobbying groups) — enacted a model bill designed to directly support state attorneys general who legally challenge President Obama's climate change plan.
The bill would allow states to create funds, which could be funded by corporate donations, to support legal challenges to the climate change rules. In early 2014, shortly after Obama announced regulations at the White House, West Virginia's attorney general, Patrick Morrisey, announced that a group of at least 15 Republican state attorneys general were preparing a joint legal challenge to the proposal.
Opposition at the time came from a group headed in part by Roger R. Martella Jr., a top environmental official in the George W. Bush administration, and Peter Glaser, a prominent Washington lobbyist, as reported by the New York Times. The NY Times describes ALEC as an "Important Ally in the effort." [29]
May 13, 2015
The Center for Media and Democracy (CMD) and Common Cause filed an 18-page supplemental complaint to the U.S. Internal Revenue Service (IRS) calling for the termination of the American Legislative Exchange Council (ALEC)'s status as a 501(c)(3) non-profit organization and requesting civil and criminal charges be brought against ALEC. [43]
The complaint included more than 220 pages of evidence demonstrating how ALEC operates more like a "corporate bill mill" than it does a 501(c)(3) organization. It was an update to an original complaint that Common Cause made in 2012, as well as a 2013 supplement added by CMD and Common Cause. [44]
Among the exhibits cited in the supplement are examples of corporations themselves admitting that ALEC serves as a useful lobbying tool. Those on the list of corporations include Chevron, BP, ExxonMobil, Duke Energy and Peabody Energy.
The IRS supplemental complaint also points to a Minnesota Campaign Finance and Public Disclosure Board investigation published in February 2015 concluding that ALEC's "primary purpose" is to bring together legislators and lobbyists. [45]
May 2015
As reported by the Center for Media and Democracy's (CMD) PR Watch, ALEC's 2015 annual meeting was supported primarily by energy companies and their supporters. [30]
Of the 54 identified corporate sponsors, twenty-two are energy related firms, their front groups, or firms representing energy interests.
On the agenda of ALEC's closed-door Energy, Environment, and Agriculture task force meeting is a model "Environmental Impact Litigation Act" that would allow companies to pay into a fund for the state to sue against environmental laws including the Clean Air Act.
The CMD listed financial underwriters of the ALEC event as the following (*Asterisks indicating membership on ALEC's corporate board of directors):
President's Level – $100,000
Chair's Level – $50,000
Vice Chair's Level – $25,000
Altria (Phillip Morris tobacco parent company)*
Encore Capital Group (subsidiary of Energy Future Holdings)*
Collaborative for Student Success
Texas Automobile Dealers Association (

TADA

)

UPS

*
Director's Level – $10,000
Breitling Energy
CenterPoint Energy
Crown Packaging
Excelsior College

K12

*
Oncor (subsidiary of Energy Future Holdings)*
Ryan (tax services company)
Trustee's Level – $5,000
Association of Bermuda Insurers

&

Reinsurers (

ABIR

)
Capelo Law Firm
The Graydon Group

LLC

Bright House Media Strategies
Piedmont Natural Gas
Renovate America
Sunovion Pharmaceuticals
Texas Alliance of Energy Producers
Texas Cable Association
Texas Medical Association
Texas Association of Builders
Texas Business Roundtable
Texas Oil and Gas Association (

TXOGA

)
Texans for Lawsuit Reform
The Schlueter Group
Texas Strategy Group
Texas Star Alliance Energy Solutions
April, 2015
Shortly after the loss of a number of high-profile sponsors, ALEC threatened legal action against groups that had accused it of denying climate change.
Attorneys for ALEC sent letters to Common Cause and the League of Conservation Voters asking them to immediately "cease making false statements" and "remove all false or misleading material" suggesting that ALEC does not believe in global warming, reports The Washington Post. [31]
While ALEC claims not to deny climate change, and says they will be making efforts to be more transparent and welcoming to divergent views, environmental groups still question the group's commitment:
"We don't think ALEC or organizations like it are done attacking progress on climate change," said Kert Davies, an environmental activist running the nonprofit Climate Investigations Center. "It is hard to imagine these organizations turning a corner and suddenly being open to an honest discussion of real environmental policy."
March, 2014
The Center for Media and Democracy's (CMD) obtained an internal tracking document from the American Legislative Exchange Council (ALEC), dated March 2014 (See .xls spreadsheet), that revealed ALEC tracking 131 bills that "amongst other things, roll back state renewable energy standards, increase costs for American households with solar, hype the Keystone XL pipeline, push back on proposed EPA coal regulations that protect human health, and create industry-friendly fracking rules despite growing national and international concerns about fracking." [52]
June, 2013
The Center for Media and Democracy's (CMD) PR Watch reports that the American Legislative Exchange Council (ALEC) adopted a "model" bill that would fight against regional low-carbon fuel standards (LCFS) in the states. [51]
CMD reports that the model bill, called "Restrictions on Participation in Low-Carbon Fuel Standards Programs," was sponsored at a November, 2012 ALEC conference in Washington by Steve Higley, a lobbyist from the U.S.-based industry group American Fuel and Petrochemical Manufacturers (AFPM). AFPM includes members from both Koch Industries and ExxonMobil, who are also represented on ALEC's Private Enterprise Advisory Council.
April, 2013
Huffington Post reports how Chevron and the American Legislative Exchange Council (ALEC) worked together to oppose the 1973 Endangered Species Act, and its supposed challenges to energy developers. [53]
Chevron sponsored a workshop as part of ALEC's policy summit in Washington, D.C. that covered how the law "often negatively impacts and stifles energy development of all kinds," according to a planning document (PDF).
July 13, 2011
The Center for Media Democracy (CMD) and The Nation published a leaked file that revealed over 800 examples of ALEC's model legislation. The Nation attributes the leak to Aliya Rahman, an Ohio-based activist who helped organize protests at ALEC's Spring Task Force meeting in Cincinnati. [32]
CMD now hosts the website "ALEC Exposed" which houses examples of ALEC's model legislation previously unavailable to the public. The website also provides tools to track politicians, corporations, and bills with ties to ALEC.
The Nation devoted a special edition of their magazine to the breaking story, and included the following articles published in the August 1-8 edition of the magazine, and online on July 12, 2011:
Around the same time, the Los Angeles Times reported that government watchdog Common Cause was challenging ALEC's nonprofit status, arguing "it spends most of its resources lobbying, in violation of the rules governing nonprofit organizations." [33]
ALEC responded with accusations that "Common Cause has distorted the facts, concealed critical details, and apparently attempted to mislead the news media and the public." [34]
OpenSecrets.org reports that the 23 companies represented on ALEC's private enterprise board spent large amounts lobbying the government on health and environmental measures such as bills that would block the EPA from regulating greenhouse gas emissions. [35]
June, 2011
ALEC orchestrated opposition against EPA regulations on greenhouse gasses with their model legislation, "Resolution in Opposition to EPA's Plan to Regulate Greenhouse Gases Under the Clean Air Act."
The model legislation opposes "EPA's endangerment finding and any regulation of greenhouse gases, citing the massive economic burden that would result and the global nature of climate emissions."
ALEC said it would "continue to support the efforts of state legislatures in resisting the EPA's regulatory agenda" and "urges Congress to take the concerns of these states seriously and stop this regulatory train wreck in order to avoid the enormous negative impacts the EPA's overreaching regulations will have." [36]
ALEC also offers a document titled "EPA's Regulatory Train Wreck: Strategies for State Legislators" that "outlines best practices for state legislators (including following the many states that are considering resolutions in 2011 to call for Congress to slow and stop this regulatory onslaught [by the EPA])."
ALEC has published materials downplaying the risks of global warming before, including "Climate Change Overview for State Legislators" (PDF) written by Daniel Simmons, previously associated with the Mercatus Institute (an organization founded and funded by Koch Industries).
September, 2010
Clint Woods of ALEC said that the Regional Greenhouse Gas Initiative (RGGI) and other cap-and-trade greenhouse gas reduction plans would become the "new battlefield" after federal climate legislation fell through. [37]
April 23, 2010
ALEC Drafted a resolution (PDF) resisting the EPA's efforts to classify coal ash as a hazardous material. [38]
Coal ash contains known neurotoxins and carcinogens such as arsenic, lead, and mercury. [39]
2009
ALEC drafted a resolution (PDF) designed to limit federal oversight of hydraulic fracturing for natural gas. [40]
January, 2004
ALEC launched opposition to "Son of Kyoto" legislation across the country.
"States should reject every form of Kyoto legislation for the very same reasons as our leaders in Washington, D.C.," said Alexandra Liddy Bourne. "The Kyoto Protocol is just another highly regressive energy tax on America's working families, with no measurable benefit to environmental or human health." [9]
1998
ALEC was mentioned in a leaked 1998 "Global Climate Science Communications Action Plan" by the American Petroleum Institute (API). As reported by the Climate Investigations Center, ALEC was named as a "Potential fund allocator" along with the Committee for a Construcive Tomorrow (CFACT), Competitive Enterprise Institute (CEI), Frontiers of Freedom (FoF), and the Marshall Institute. [82], [83]
According to the plan, "victory will be achieved when": [82]
Average citizens "understand" (recognize) uncertainties in climate science; recognition of uncertainties becomes part of the "conventional wisdom"
Media "understands" (recognizes) uncertainties in climate science
Media coverage reflects balance on climate science and recognition of the validity of viewpoints that challenge the current "conventional wisdom"
Industry senior leadership understands uncertainties in climate science, making them stronger ambassadors to those who shape climate policy
Those promoting the Kyoto treaty on the basis of extant science appear to be out of touch with reality."
Under the heading "Climate Reality," the document continues:
"Unless 'climate change' becomes a non-issue, meaning that the Kyoto proposal is defeated and there are no further initiatives to thwart the threat of climate change, there may be do moment when we can declare victory for our efforts. It will be necessary to establish measurements for the science effort to track progress toward achieving the goal and strategic success." [82]
American Legislative Exchange Council Contact

&

Location
As of May, 2016, ALEC's listed contact address and phone number were as follows: [62]
2900 Crystal Drive, 6th Floor
Arlington, VA 22202
Phone: 703-373-0933
Fax: 703-373-0927
Related Organizations
SourceWatch maintains a full list of organizations working behind-the-scenes with ALEC.
Social Media
Resources
Other Resources