FTI

 Consulting
Background
FTI Consulting (NYSE: FCN) describes itself as "an independent global business advisory firm dedicated to helping organizations manage change, mitigate risk and resolve disputes: financial, legal, operational, political & regulatory, reputational and transactional." [1]
FTI offers services for a wide range of industries. For example, its energy industry services offer "advisory services that address the strategic, financial, reputational, regulatory and legal needs of energy and utility clients involved in the production of crude oil, natural gas, refined products, chemicals, coal, electric power, emerging technologies and renewable energy" as well as "strategic communications services across all disciplines." [2]
FTI maintains an "Environmental Solutions Group" which focuses on "the resolution of complex contamination, toxic tort, products liability and insurance disputes." [3]
For the mining industry, they offer "a comprehensive range of corporate finance, economic consulting and strategic communications services." [4]
FTI Consulting is a public company. It began trading on the New York Stock Exchange under the symbol FCN in 2001. The group was initially known as Forensic Technologies International before changing its name to FTI Consulting in 1998, and initially went public under the name Forensic Technologies International (ticker symbol FTIC) in 1996. [5]
The group was founded in 1982 by Dan Luczak and Joseph Reynolds in Annapolis, Md. Its initial role would include providing courtroom evidence and computer models to help staff and jury members assess cases. In 1995, the company provided courtroom graphics and jury consultation to the O.J. Simpson trial. [5]
Energy In Depth
FTI Consulting (and Dittus Communications) helped launch the Energy In Depth campaign on behalf of the Independent Petroleum Association of America (IPAA), DeSmog found. One key element of the campaign was supporting unconventional drilling ("fracking") for natural gas in the Marcellus region in Pennsylvania, Ohio, New York, and neighboring states. [6]
DeSmog obtained a leaked memo in 2011 that revealed Energy In Depth "would not be possible without the early financial commitments" of major oil and gas interests including BP, Halliburton, Chevron, Shell, XTO Energy (now owned by ExxonMobil), and several other large oil and gas companies. [7]
In a October 2014 "Technical Paper," FTI Consulting outlined how it teamed up with the IPAA in 2009 to launch the program, which it describes as "a research, education and rapid response platform specifically focused on telling the story of unconventionals development." [8]
"Through our experience managing aboveground risks in the United States and around the world, we have learned that no matter what challenge a company, coalition or organization is facing – whether it is opposition to hydraulic fracking, widespread deception about oil sands and pipelines, or lack of awareness on LNG exports – all risks can be managed and eventually neutralized if addressed early on and with the right set of tools and tactics," the paper concludes. [8]
In addition to EID, FTI Consulting is behind other "shale gas advocacy initiatives" including the Energy Resource Information Centre in Australia, and Shale Gas Europe. [9]
"Communications Support" for Pro-Fracking, Pro-Oil Groups
FTI Consulting has been involved in shale industry communications and PR efforts internationally, with numerous other initiatives closely modeled on its Energy In Depth program. The following slide is from a 2015 presentation by FTI Consulting to the Tennessee Oil and Gas Association: [10]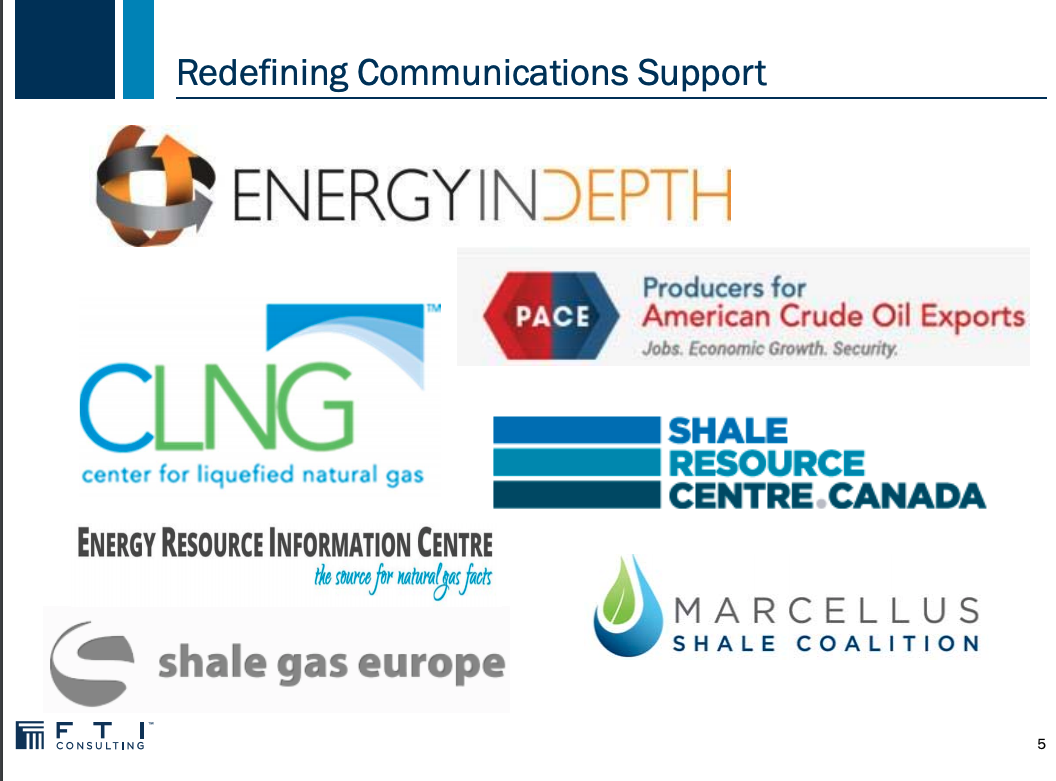 Note that many of FTI's communications efforts no longer appear to be in operation, and websites have closed down for many of these groups. [10]
Producers for American Crude Oil Exports (PACE)
PACE was formed in October 2014 with the stated mission of lifting the 1975 ban on crude oil exports from the United States. With the ban lifted, the PACE website is no longer updated but "remain accessible to the public for reference purposes only." [16]
PACE member companies included:
Anadarko Petroleum Corporation
Apache Corporation
Chesapeake Energy Corporation
Concho Resources, Inc.
ConocoPhillips Company
Devon Energy Corporation
Encana Corporation

EOG

Resources, Inc.

EP

Energy Corporation
Hess Corporation
Laredo Petroleum, Inc.
Marathon Oil Corporation
Noble Energy, Inc.
Occidental Petroleum Corporation
Pioneer Natural Resources Company

WPX

Energy, Inc.
Center for Liquified Natural Gas (CLNG)
The Center for Liquefied Natural Gas (CLNG) is a 501(c)(6) organization formed in 2007 with ties to the American Petroleum Institute and Natural Gas Supply Association (listed as the registrant for the CLNG website). It describes itself as "a committee of the Natural Gas Supply Association (NGSA)." [11]
According to an informational brochure, "The Center for Liquefied Natural Gas (CLNG) advocates for public policies that advance the use of liquefied natural gas (LNG) in the United States, and its export internationally." [12]
According to its website, CLNG's Members have included:
Marcellus Shale Coalition
FTI Consulting is listed as an "Associate Member" of the Marcellus Shale Coalition (MCS), a group founded in 2008 with the stated goal of providing "in-depth information to policymakers, regulators, media and other public stakeholders on the positive effects responsible natural gas production is having on families, businesses, and communities across the region." [13], [14]
Shale Resource Centre Canada

The following is from an archive of the now-defunct website for the Shale Resource Center: [15]
"Shale Resource Centre Canada (SRCC) is a not-for-profit corporation focused on providing factual information about the responsible development of Canadian natural gas and oil from shale.  Funded by industry and supported by the facts, the SRC is a clearing house for information from studies, scientists, economists and regulators so that anyone interested in understanding the promise and potential of shale development will have access to timely and factual information."
Shale Gas Europe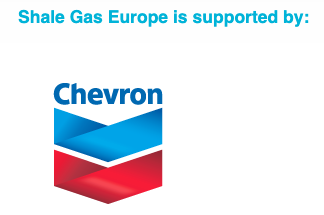 According to an archive of the group's now-defunct website, Shale Gas Europe was managed by FTI Consulting: [17]
"The shale gas debate in Europe is extremely important for the future of our energy supply. It is therefore essential that the debate is balanced, informative and engaging to allow the public to come to their own conclusions on the issue.

As a result, the industry decided to set-up a dedicated resource centre that is open to anyone who wants to understand more about shale gas, tight gas and coalbed methane. The secretariat of Shale Gas Europe is managed by FTI Consulting.

Launched in 2012, this platform will bring together industry, experts and academics to collect, share and communicate the interesting science and technology involved in shale gas exploration. It will also show the facts about the potential of responsibly developing Europe's onshore energy reserves of shale gas."
Energy Resource Information Centre (Australia)
According to an archive of the group's now-defunct website, the Energy Resource Information Centre "promotes the natural gas industry and provides a fact based, evidence led source of information about natural gas exploration and development." [18]
"We are funded by the natural gas industry, and make no secret of that fact.

"Our membership includes major exploration and production companies, along with companies that support the responsible development of Australia's natural gas industry. 

With support from industry participants, the Energy Resource Information Centre builds on the deep expertise of the US-based Energy In Depth campaign, the Shale Resource Centre Canada, and Shale Gas Europe."
The website notes that "Resourcing for the Centre is provided by FTI Consulting, a global business advisory company."
Western Wire & Exxon
Matt Dempsey, a strategist for FTI Consulting who works with Energy In Depth, was recorded attempting to get an interview for Western Wire with Marco Simons, general counsel for EarthRights International. EarthRights was representing the city and county of Boulder and the County of San Miguel in a lawsuit the communities filed in 2018 seeking climate damages from Exxon. [40]
Earthrights recorded and released the audio, in which Dempsey confirmed that the news site Western Wire was staffed primarily with representatives from FTI Consulting, and that FTI ran the site on a contract from the Western Energy Alliance. [40]
When asked if the Western Energy Alliance included membership from Exxon, and if they were acting in any way as representatives of Exxon (in which case Simons would be unable to conduct the interview), both Dempsey and fellow FTI strategist Michael Sandoval refused to answer directly. [40]
The Western Wire describes itself as "the go-to source for news, commentary and analysis on pro-growth, pro-development policies across the West." [41]
"Western Wire is a project of Western Energy Alliance, a non-profit regional oil and natural gas association based in Denver, Colo., and active across 13 states. The Alliance works closely with stakeholders in state and local government; academia; ranching; other industries; think tanks; and sportsmen's, civic, business, issue advocacy and other groups. These allies share an interest in a vibrant western economy with robust job creation"
Stance on Climate Change
2019
FTI Consulting's Energy In Depth campaign has consistently advocated for natural gas as a solution to reduce carbon emissions.  EID maintains its own subdomain, EnergyInDepth Climate and Environment (eidclimate.org), promoting the "Climate Benefits of Natural Gas": [19]
"You've probably heard environmental activists attack hydraulic fracturing (fracking) because they say it worsens climate change. But like so much of the anti-fossil fuel "Keep It In the Ground" campaign, what they are saying has no basis in science or evidence."

[…]

"By unlocking an abundant and low-cost fuel like natural gas, the fracking revolution has been a clear winner for the economy, our national security, and the climate."
Funding
Annual Reports
Key People
Board of Directors
Name
2005
2008
2011
2012
2013
2014
2015
2018
Description
Gerard E. Holthaus
Y
Y
Y
Y
Y
Y
Y
Y
Non-Executive Chairman of the Board of

FTI

Consulting, Inc. and Non-Executive Chairman of the Board of WillScot Corporation
Brenda J. Bacon
 
Y
Y
Y
Y
Y
Y
Y
President and Chief Executive Officer of Brandywine Senior Living

LLC

Claudio Costamagna
 
 
 
Y
Y
Y
Y
Y
Chairman of

CC

e Soci S.r.l.
Sir Vernon Ellis
 
 
 
Y
Y
Y
Y
Y
Former Chair of the Board of Trustees of the British Council
Nicholas C. Fanandakis
 
 
 
 
Y
Y
Y
Y
Executive Vice President of DowDuPont, Inc.
Steven H. Gunby
 
 
 
 
Y
Y
Y
Y
President and Chief Executive Officer
Mark S. Bartlett
 
 
 
 
 
Y
Y
Y
Former Partner at Ernst

&

Young,

LLP

Laureen E. Seeger
 
 
 
 
 
 
Y
Y
Chief Legal Officer of the American Express Company
James W. Crownover
 
Y
Y
Y
Y
Y
Y
 
Former Head of McKinsey and Company's Southwest Practice and Co-Head of McKinsey Worldwide Energy Practice
Marc L. Holtzman
 
 
 
Y
Y
Y
 
 
Former Chairman of Meridian Capital (

HK

) Limited
Denis J. Callaghan
Y
Y
Y
Y
Y
 
 
 
Retired Former Director of North American Equity Research for Deutsche Bank Alex. Brown
Dennis J. Shaughnessy
Y
Y
Y
Y
 
 
 
 
Chairman of the Board
George P. Stamas
Y
Y
Y
Y
 
 
 
 
Partner at Kirkland

&

Ellis

LLP

Jack B. Dunn,

IV

Y
Y
Y
Y
 
 
 
 
President and Chief Executive Officer
Henrique de Campos Meirelles
 
 
 
Y
 
 
 
 
Managing Partner and President of Henrique Meirelles e Associados
Mark H. Berey
Y
Y
Y
 
 
 
 
 
President of

MHB

Ventures

LLC

Matthew F. McHugh
Y
Y
Y
 
 
 
 
 
Retired Former Nine-Term United States Congressman
Gary C. Wendt
 
Y
 
 
 
 
 
 
Former

CEO

of Conseco Inc. and Chairman and

CEO

of

GE

Capital Services
James A. Flick, Jr.
Y
 
 
 
 
 
 
 
President and Chief Executive Officer, Winnow, Inc.
Peter F. O'Malley
Y
 
 
 
 
 
 
 
Of Counsel, O'Malley, Miles, Nylen

&

Gilmore
Business/Corporate Leadership/"Corporate Professionals"
Name
2005
2006
2007
2008
2009
2010
2011
2012
2013
2014
2015
2016
2017
2018
Description
Steven H. Gunby
 
 
 
 
 
 
 
 
Y
Y
Y
Y
Y
Y
President and Chief Executive Officer
Holly Paul
 
 
 
 
 
 
 
 
 
Y
Y
Y
Y
Y
Chief Human Resources Officer
Paul Linton
 
 
 
 
 
 
 
 
 
Y
Y
Y
Y
Y
Chief Strategy and Transformation Officer
Curtis Lu
 
 
 
 
 
 
 
 
 
 
Y
Y
Y
Y
General Counsel
Jeffrey S. Amling
 
 
 
 
 
 
 
 
 
 
Y
Y
Y
Y
Chief Marketing Officer and Head of Business Development
Matthew Pachman
 
 
 
 
 
 
 
 
 
Y
 
Y
Y
Y
Vice President−Chief Risk and Compliance Officer
Ajay Sabherwal
 
 
 
 
 
 
 
 
 
 
 
Y
Y
Y
Chief Financial Officer
Ronald Reno
 
 
 
 
 
 
 
 
Y
Y
 
 
Y
Y
Vice President and Corporate Treasurer
John A. MacColl
Y
Y
Y
Y
Y
Y
 
 
 
 
 
 
Y
Y
Senior Managing Director, Client Engagement and Conflict Resolution
Carlyn R. Taylor
 
 
 
 
 
 
 
 
 
 
 
 
Y
Y
Global Segment Co-Leader, Corporate Finance

&

Restructuring and

FTI

Consulting Industry Initiative Leader
Charles D. Overstreet
 
 
 
 
 
 
 
 
 
 
 
 
Y
Y
Global Practice Leader, Health Solutions
Heather Klink
 
 
 
 
 
 
 
 
 
 
 
 
Y
Y
Deputy General Counsel
Joanne Catanese
 
 
 
 
 
 
 
 
 
 
 
 
Y
Y
Associate General Counsel and Secretary
John Klick
 
 
 
 
 
 
 
 
 
 
 
 
Y
Y
Senior Vice President
Kevin Hewitt
 
 
 
 
 
 
 
 
 
 
 
 
Y
Y
Chairman of Europe, Middle East

&

Africa
Leslie H. Moeller
 
 
 
 
 
 
 
 
 
 
 
 
Y
Y
Chairman of North and South America
Mark McCall
 
 
 
 
 
 
 
 
 
 
 
 
Y
Y
Global Segment Leader, Strategic Communications
Michael C. Eisenband
 
 
 
 
 
 
 
 
 
 
 
 
Y
Y
Global Segment Co-Leader, Corporate Finance

&

Restructuring
Mollie Hawkes
 
 
 
 
 
 
 
 
 
 
 
 
Y
Y
Managing Director, Investor Relations and Communications
Paul S. Ficca
 
 
 
 
 
 
 
 
 
 
 
 
Y
Y
Global Segment Leader, Forensic and Litigation Consulting
Sophie Ross
 
 
 
 
 
 
 
 
 
 
 
 
Y
Y
Global Segment Leader, Technology
Brendan J. Keating
 
 
 
 
 
 
 
 
 
 
 
 
 
Y
Chief Accounting Officer and Controller
Catherine M. Freeman
 
 
Y
Y
Y
Y
Y
Y
Y
Y
Y
Y
Y
 
Senior Vice President, Controller and Chief Accounting Officer
Chris Osborne
 
 
 
 
 
 
 
 
 
 
 
 
Y
 
Global Segment Leader, Economic Consulting
Joanne F. Catanese
Y
Y
Y
Y
Y
Y
Y
Y
Y
Y
 
 
 
 
Associate General Counsel and Corporate Secretary
Adam S. Bendell
 
 
 
 
 
 
Y
Y
Y
Y
 
 
 
 
Chief Innovation Officer
David M. Johnson
 
 
 
 
 
 
 
 
 
Y
 
 
 
 
Chief Financial Officer
Heather A. Klink
 
 
 
 
 
 
 
 
 
Y
 
 
 
 
Acting General Counsel
David G. Bannister
Y
Y
Y
Y
Y
Y
Y
Y
Y
 
 
 
 
 
Executive Vice President and Chairman of the North America Region
Eric B. Miller
 
Y
Y
Y
Y
Y
Y
Y
Y
 
 
 
 
 
Executive Vice President, General Counsel and Chief Risk Officer
Roger D. Carlile
 
 
 
Y
Y
Y
Y
Y
Y
 
 
 
 
 
Executive Vice President and Chief Financial Officer
Jack B. Dunn,

IV

Y
Y
Y
Y
Y
Y
Y
Y
 
 
 
 
 
 
President and Chief Executive Officer
Denis J. Callaghan
 
 
 
 
 
 
 
Y
 
 
 
 
 
 
Retired Former Director of North American Equity Research for Deutsche Bank Alex. Brown
Dennis J. Shaughnessy
Y
Y
Y
Y
Y
Y
Y
 
 
 
 
 
 
 
Chairman of the Board
Liz Nickles
 
 
 
 
Y
Y
 
 
 
 
 
 
 
 
Senior Vice President and Chief Marketing Officer
Dominic DiNapoli
Y
Y
Y
Y
Y
 
 
 
 
 
 
 
 
 
Executive Vice President and Chief Operating Officer
Curt

A. H.

Jeschke, Jr.
Y
Y
Y
Y
 
 
 
 
 
 
 
 
 
 
Vice President – Internal Audit
Jorge A. Celaya
 
 
Y
Y
 
 
 
 
 
 
 
 
 
 
Executive Vice President and Chief Financial Officer
Declan M. Kelly
 
 
 
Y
 
 
 
 
 
 
 
 
 
 
Executive Vice President and Chief Integration Officer
Charles Boryenace
Y
Y
 
 
 
 
 
 
 
 
 
 
 
 
Vice President and Controller
Cheryl J. Meeks
Y
Y
 
 
 
 
 
 
 
 
 
 
 
 
Assistant Secretary
Greg Wills
Y
Y
 
 
 
 
 
 
 
 
 
 
 
 
Chief Information Officer
Theodore I. Pincus
Y
Y
 
 
 
 
 
 
 
 
 
 
 
 
Executive Vice President, Chief Financial Officer and Treasurer
Dianne R. Sagner
Y
 
 
 
 
 
 
 
 
 
 
 
 
 
Vice President and General Counsel
Sara Lacombe
Y
 
 
 
 
 
 
 
 
 
 
 
 
 
Senior Vice President, Human Resources
Energy In Depth
&

Related Entities

Some notable indivduals below with ties to FTI Consulting's pro-oil and fracking initiatives:

Mike Catanzaro — Former managing director.

Mike Catanzaro previously worked as a managing director at FTI Consulting before going to work as a top energy policy aide in the Trump administration from 2017 to 2018. [20]

Steve Everley — Managing Director of Strategic Communications. [21]

Everley is Senior Advisor to Energy In Depth and current spokesman for Texans for Natural Gas. He was also energy policy advisor to former Speaker of the House Newt Gingrich at the American Enterprise Institute and American Solutions. [21]

Dave Quast — Senior Director of Strategic Communications. [22]

Dave Quast is a California director of Energy In Depth. Quast formerly worked as director of public affairs at the Cato Institute. [22]

Steve Wright — Hired by FTI Consulting in Australia and worked as director of the pro-fracking Energy Resource Information Center. [23], [24]

Katie Brown — Director of Strategic Communications.

Katie Brown joined FTI Consulting in 2013, and as of 2015, she was a spokesperson for Energy In Depth. According to her profile in a 2015 FTI Consulting presentation to the oil industry, "in addition to a similar role played for the Shale Resource Centre (Canada's Energy In Depth program). She was also a spokesperson and primary writer for Oil Sands Fact Check, an education campaign on the Keystone XL pipeline." She previously served on staff for the Republican minority at the U.S. Senate Committee on Environment and Public Works. [10]

Chris Tucker — Managing director, Strategic Communications.

Tucker was listed as team lead for Energy In Depth, according to a 2013 profile, which notes "His primary areas of focus and expertise reside in the oil, natural gas and mining sectors." Tucker was a communications and energy advisor to U.S. Rep. John Peterson (Pa.) and Minority Whip Roy Blunt (Mo.) and also communications director to the House Energy Action Team. [25]

Jim Willis — Previously described as a "special correspondent" for Energy In Depth Marcellus (EID-M). DeSmog has reported that Willis runs Marcellus Drilling News (MDN), a website with commentary that "frequently carries overtones of religious and racial animus." [38], [39]
Other People
Note that FTI Consulting lists over 1,100 experts and staff on its website. View the attached spreadsheet for an analysis and complete listing of FTI Consulting experts and leadership (.xlsx) as of September 2019. 
Actions
November 11, 2020
The New York Times, in an article based on interviews with former FTI employees, internal FTI documents, and website registration information, found that FTI consulting had been involved in the operations of "at least 15 current and past influence campaigns promoting fossil-fuel interests in addition to its direct work for oil and gas clients." [44]
Hiroko Tabuchi wrote in the New York Times article that ExxonMobil may have had a larger role than previously advertised in FTI's Energy In Depth campaign: [44]
"Former employees familiar with Energy In Depth said the site's content had direction from Exxon Mobil, one of the major clients of the FTI division that worked on these oil and gas campaigns," Tabuchi wrote. "The Energy In Depth website notes its affiliation with an energy trade group that Exxon is a member of, though not Exxon's role in directing content that the site published."
While on the surface, FTI's campaigns appeared to "amplify local voices or speak up for regular people," on closer investigation, groups "were part of a network of corporate influence campaigns designed, staffed and at times run by FTI Consulting, which had been hired by some of the largest oil and gas companies in the world to help them promote fossil fuels." [44]
These included a 2018 push by FTI's project, the Main Street Investors Coalition warning "that climate activism doesn't help mom-and-pop investors in the stock market" and campaigns by Texans for Natural Gas and the Arctic Energy Center in 2017 to support fracking and advocate for on-shore and offshore drilling in Alaska. [44]
A spokesman for FTI claimed the group had always been transparent, commenting: "We hide behind no one." An Exxon spokesman would not comment, claiming the New York Times reporter was biased against the fossil fuel industry. [44]
Texans for Natural Gas describes itself as a local organization representing "citizens and officeholders, business owners and students" and is funded by oil and gas companies including Exxon subsidiary XTO Energy. Elizabeth Caldwell, listed as a "a spokeswoman for the grass-roots organization," is also a director at FTI. [44]
"Acting as Texans for Natural Gas representatives, FTI employees have launched pro-industry petitions, produced videos and reports on the importance of the Permian Basin oil field, and written opinion pieces for local newspapers supporting fossil fuels. The site features testimonials from three women, two of whom are represented with stock photos and one with a photo used without permission from the Flickr page of a photographer in the Philippines," Tabuchi reported. She added, "Texans for Natural Gas has also shared misleading information about greenhouse gas emissions. In 2018, it issued a study inaccurately claiming that emissions of methane had decreased significantly in the heart of Texas oil country at the height of the fracking boom." [44]
Other campaigns FTI was behind included: [44]
Citizens to Protect

PA

 Jobs
New Mexicans for Economic Prosperity
The Liberty Energy Project
The Arctic Energy Center
The Marcellus Shale Coalition
Tabuchi also uncovered how an FTI group called StratCom, short for Strategic Communications, had tracked the activities of environmental protesters on behalf of Apache Energy, who was seeking to drill near Balmorhea State Park in Texas. [44]
As part of those efforts, FTI also created a fake Facebook profile in the name of "Susan McDonald" to keep track of protestors. The account "was also intended to help FTI keep tabs on activists, former FTI employees said." While its friends list included one current and one former FTI employee. [44]
FTI spokesman Matthew Bashalany said, "A Facebook profile was created by a former employee to monitor social media anonymously. This was wrong, and it is against our policy."
Former StratCom employees also said the group had used strategies to influence public discourse. For example, an internal document dated November 20, 2015 laid out possible roles for communicators such as "The "Semantic Nitpicker," as the document explained, who "asks an endless series of questions." The "Dog Typing on a Keyboard" uses "very poor grammar, spelling and punctuation and posts frequently to clutter up the thread and make it hard to read." [44]
Bashalany claimed senior managers were never aware of the document and it "never informed any activities or approaches to social or digital media engagement of any kind."
Other strategies they employed included purchasing targeted social media ads leading to the since-shut-down Arctic Energy Center website that promoted drilling in Alaskan waters and in the Arctic National Wildlife refuge. Exxon was reportedly a backer of the Center. A 2016 FTI presentation included a draft budget showing Exxon scheduled to contribute $120,000 over six months on social media platforms. [44]
The New York Times also detailed FTI's involvement in Main Street Investors, a group claiming to represent small investors and created by industry groups including the National Association of Manufacturers (NAM). [44]
FTI worked with NAM on a study, written by employees of FTI's wholly owned subsidiary Compass Lexecon, that argued against environmental shareholder resolutions. [44]
FTI also worked with the Independent Petroleum Association of America (IPAA) to form DivestmentFacts.com, a website fighting against divestment from fossil fuels. Several papers published on the website were written by professors who also worked for Compass Lexecon. [44]
December 24, 2019
A HuffPost investigation revealed that FTI Consulting was hired by Energy in Depth (EID) to implement a disinformation campaign to discredit scientists who exposed the environmental consequences of fossil fuel extraction and consumption. [43]
EID received approximately $2 million per year in 2018 and 2019 from the Independent Petroleum Association of America, an industry trade organization that has received support from oil giants such as BP, Shell, Chevron, and Halliburton. The money was delivered in spite of many of IPAA's member organizations publicly calling for action on climate change. [43]
EID employed FTI consultants to engage in a campaign of "research, education and public outreach" to dispute factual claims made by scientists and environmentalists, such as dismissing the effects of hydraulic fracturing on water quality. [43]
September 2019
FTI Consulting was reportedly responsible for planting a freelance reporter, Sylvie Barak, at a trial of Monsanto alleging that the company's pesticide glyphosate causes cancer. Reporters told HuffPost that Barak had told others that she was a freelancer for the BBC. [42]
One reporter, speaking on the condition of anonymity with HuffPost, discussed events that happened at a party where Barak had invited other journalists who were covering the trial: [42]
"[Barak] would make suggestions about interesting parts of the testimony and then go on and on about certain points of testimony to try and get it into stories, and it was always bad for the plaintiffs." [42]
She suggested that Barak seemed to be fishing for reporters' views on Monsanto and the trial, HuffPost reported. When reporters looked into Barak's background, they found on LinkedIn that she worked for FTI Consulting—among whose clients included Monsanto. When the inquiring reporter contacted Bayer, Monsanto's parent company (and also a FTI client), Barack's LinkedIn changed to describe her as a freelancer.[42]
"Monsanto has also previously employed shadowy networks of consultants, PR firms, and front groups to spy on and influence reporters. And all of it appears to be part of a pattern at the company of using a variety of tactics to intimidate, mislead and discredit journalists and critics," HuffPost noted. [42]
January 2019
Matt Dempsey was one of two strategists employed by FTI Consulting who "posed as journalists in an attempt to interview an attorney representing Colorado communities that are suing Exxon for climate change-related damages," Climate Liability News reported. [40]
Dempsey and Michael Sandoval reportedly called Marco Simons, general counsel for EarthRights International, who was representing Colorado communities in a lawsuit seeking damages from Exxon. Their action "potentially runs afoul of ethics rules for both the legal and public relations industries, and appeared to be a fishing expedition for information about Simons' clients in that suit." [40]
In the call, recorded and released by EarthRights, Sandoval confirmed that Western Wire is run by FTI Consulting staff and run by FTI under a contract. According to Climate Liability News, "the two men pressed for an interview even though Simons quickly said he couldn't talk to them if they represented Exxon in any way. When they evaded the question, Simons refused to comment." [40]
Simons pressed the consultants about Exxon's representation on the board of WEA. Simons asked if Exxon is a Western Energy Alliance member, to which Sandoval responded:  "I'm not privy to the membership of, of the Western Energy Alliance." [40]
Simon pressed: "OK, well it does include an executive from Exxon on its board, right?" — he was referring to Greg Pulliam , a public and government affairs manager for XTO Energy and Exxon employee.

"Yes," Sandoval said.

"So, I'm just assuming that Exxon's one of its members," Simon said. "I guess I'm just concerned from a conflicts perspective if you're being funded by an organization that you don't know their members, how do you, I guess, ensure … lack of conflicts from a journalistic integrity point of view?"
Following this interchange, Sandoval put Matt Dempsey on the line to answer further questions. Dempsey asked Sandoval if he was inquiring on Exxon's membership as a lawyer representing Boulder, or for his personal information: [40]
"We're ready to proceed on an interview about the case, but if this is something else, we need to know that now," said Dempsey, adding that he contacted Simons at the request of the City of Boulder.

Simons reiterated his position.

"What I'm saying is that if you're representatives of Exxon in any fashion, I can't talk to you about the litigation as an ethical matter because Exxon is represented by counsel, and I can only talk to their counsel," Simons said.

Dempsey did not deny representing Exxon and instead questioned Simons' statement.

"You say you have a conflict in speaking with Western Wire, but that you do not have a conflict in speaking with InsideClimate News, or with Climate Liability News," Dempsey said.

Simons again said he had a conflict with Western Wire only if the organization was representing Exxon in any way, something neither Dempsey nor Sandoval denied.

Dempsey persisted in the same line of questioning and Simons repeatedly said he could not comment unless the two could confirm they were not Exxon representatives (which they did not).

"I cannot comment about this litigation unless you can tell me that you are not representatives in any way of Exxon," Simons said.

Dempsey declined to answer and then ended the phone call.
Hear the original audio below: [40]
May 2015
FTI presented to the Tennesse Oil and Gas Association on "The American Shale Boom." The presentation, made by Energy In Depth spokesperson Katie Brown, outlined how FTI was "redefining communications support" for shale gas through its initiatives like Energy in Depth and related "informational" websites and groups such as the Shale Resource Center of Canada, Energy Resource Information Centre in Australia, and Shale Gas Europe among others. [10]
FTI presented Energy In Depth as "Widely regarded as the industry's lead research and education initiative on all issues relating to onshore oil and gas development." [10]
Some of the successes FTI listed for Energy In Depth included a two-part initiative "Debunking Gasland," in which it worked to counter the award-winning 2010 documentary exposing issues with the fracking industry in the U.S. That initiative included launching the website "Truthland" by EID. [10]
Another success listed by FTI is the systematic discrediting of the Duke Methane Studies, in which EID promoted papers suggesting methane in drinking water in northeastern Pennsylvania posed no health risks. [10]
Another slide lists a side-by-side comparison of coverage by the Union of Concerned Scientists, Scientific American, and The Guardian outlining the dangers of methane produced by fracking to climate change, with Energy In Depth's reporting instead on a reduction in methane production over time from shale producers. [10]
February, 2015
FTI Consulting conducted a poll on behalf of Producers for American Crude Oil Exports (PACE) that showed a majority of Americans supported crude oil exports. [26]
According to the poll, "By a wide 69%‐25% margin, Americans support 'Allowing American oil producers to sell crude oil to customers in countries who are trading partners.'" [27]
September 2014
An issue of FTI Journal, co-authored by Steve Everley who leads the Energy In Depth program, outlines how a social media strategy is key for the oil industry—specifically fracking—in order to companies to shape public opinion: [28]
"Put succinctly: The demographic with which the oil and gas industry needs to improve its image also is the most active on social media, sharing content more frequently than any other group", the article notes." [28]
"The fact that users then will share this unadulterated information with their own networks means social media is the ultimate way to get ahead of the news and, in some cases, shape the tone of the ensuing coverage," the article notes (emphasis added). [28]
March 6, 2013
FTI released a "white paper" titled "The Rise of Environmental Activism in the Energy Sector." The paper describes activism as a "growing concern" and outlines strategies to counter activist shareholders without engaging them directly. [29]
"Environmental shareholder activism in the energy space continues to be a growing concern. These activists, under the guise of transparency and risk mitigation, continue to push for significant changes that would have far-reaching effects on corporate strategies and operations. During the 2012 proxy season, enviro-activists successfully used shareholder resolutions to spur action on sustainability hot-button issues such as hydraulic fracturing, water and air risks, and climate change. Expect more of the same in 2013," the report summary reads.
The full report (PDF) offers a strategy for "A successful approach to dealing with activist situations." Under a section titled "The Best Defense is a Good Offense," best practices listed include developing a communication strategy under the assumption that the environmental concerns are not in the best interest of the company: [30]
"In order to successfully fend off an environmental activist threat, a company must convince the investment community, and potentially the business media, that the resolution advocated by any activist is not in the best interest of the company and its stakeholders. Accordingly, the organization will need to formulate a communications strategy to ensure that all of its primary stakeholders clearly recognize the long-term implications related to the activist demands before the situation escalates publicly. Included in this strategy is the development of necessary collateral materials that contain compelling facts and figures that serve to debunk activist claims and also assist in further educating shareholders and the media. "
The plan also outlines how a company can counter environmentalist shareholders while avoiding dialogue entirely: [30]
"Now is the critical time to begin developing an engagement strategy in order to make sure that your company is prepared to achieve a majority 'no' vote and ensure that all of your key stakeholders fully understand the long-term implications of the activist demands before agreeing to any ongoing dialogue with potential activist investors."
June 27, 2013
Catanzaro co-authored a paper titled "Age of Abundance" (PDF), published by FTI Consulting and Sidley Austin LLP, supporting the export of U.S. crude oil. Authors included Mike Catanzaro, Casey O'She aand Jamie McInerney of FTI Consulting and Roger Martella of Sidley Austin. [31]
2013
Chris Tucker, a managing director for FTI Consulting's Energy & Natural Resources Sector—and then team lead for Energy In Depth presented at an event on "environmental issues affecting midstream and downstream oil and gas development" jointly hosted by Blank Rome LLP and Hull. Hull describes itself as "a project development and engineering consulting firm specializing in Environment, Energy and Infrastructure market." [32], [25]
Related Organizations
Energy Industry Clients
FTI Consulting has more than 1,000 clients worldwide. Below are some select samples they provide from the Energy Industry, in a 2013 presentation. [25]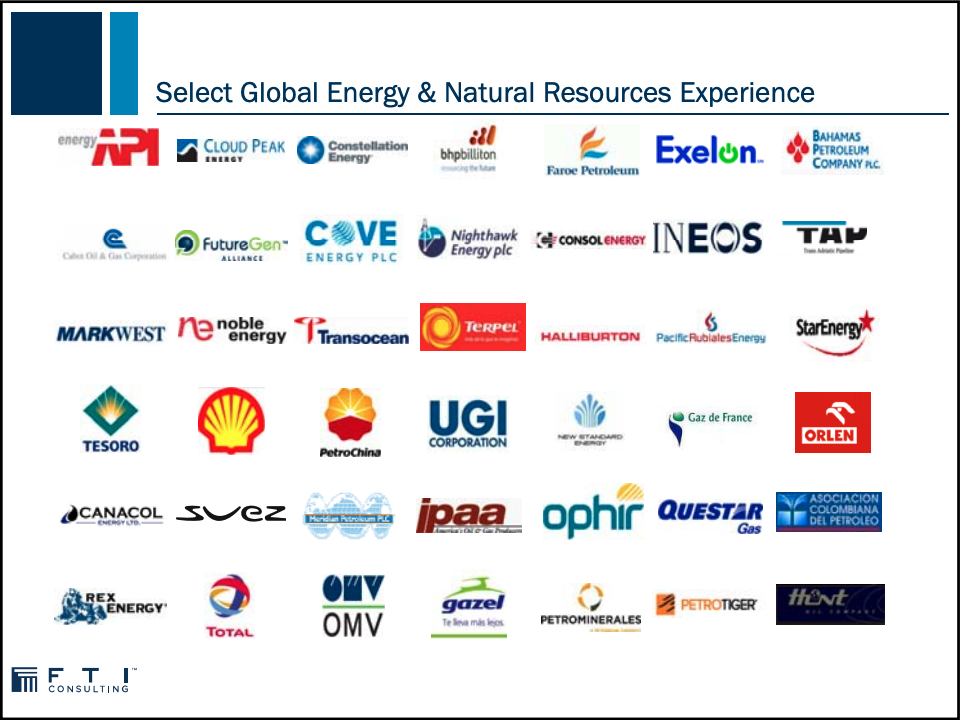 American Petroleum Institute
Cloud Peak Energy
Constellation Energy

BHP

 Billiton
Faroe Petroleum
Exelon
Bahamas Petroleum Company
Cabot Oil and Gas Corporation
FutureGen Alliance
Cove Energy
Nighthawk Energy

PLC

Consol Energy

INEOS

Trans Adriatic Pipeline
MarkWest
Noble Energy
Transocean
Terpel
Halliburton
Pacific Rubiales Energy
StarEnergy
Tesoro
Shell
PetroChina

UGO

 Corporation
New Standard Energy
Gaz de France

ORLEN

Canacol Energy

SUEZ

Meridian Petroleum

IPAA

OPHIR

Questar

GA

s
Asociacion Colombiana Del Petroleo
Rex Energy

TOTAL

OMV

Gazel
Petrominerales
PetroTiger
Hunt Oil Company
Peabody Energy (Helped with bankruptcy filings) [33]
Below is another slide of FTI clients, this from a 2015 presentation to the oil industry: [10]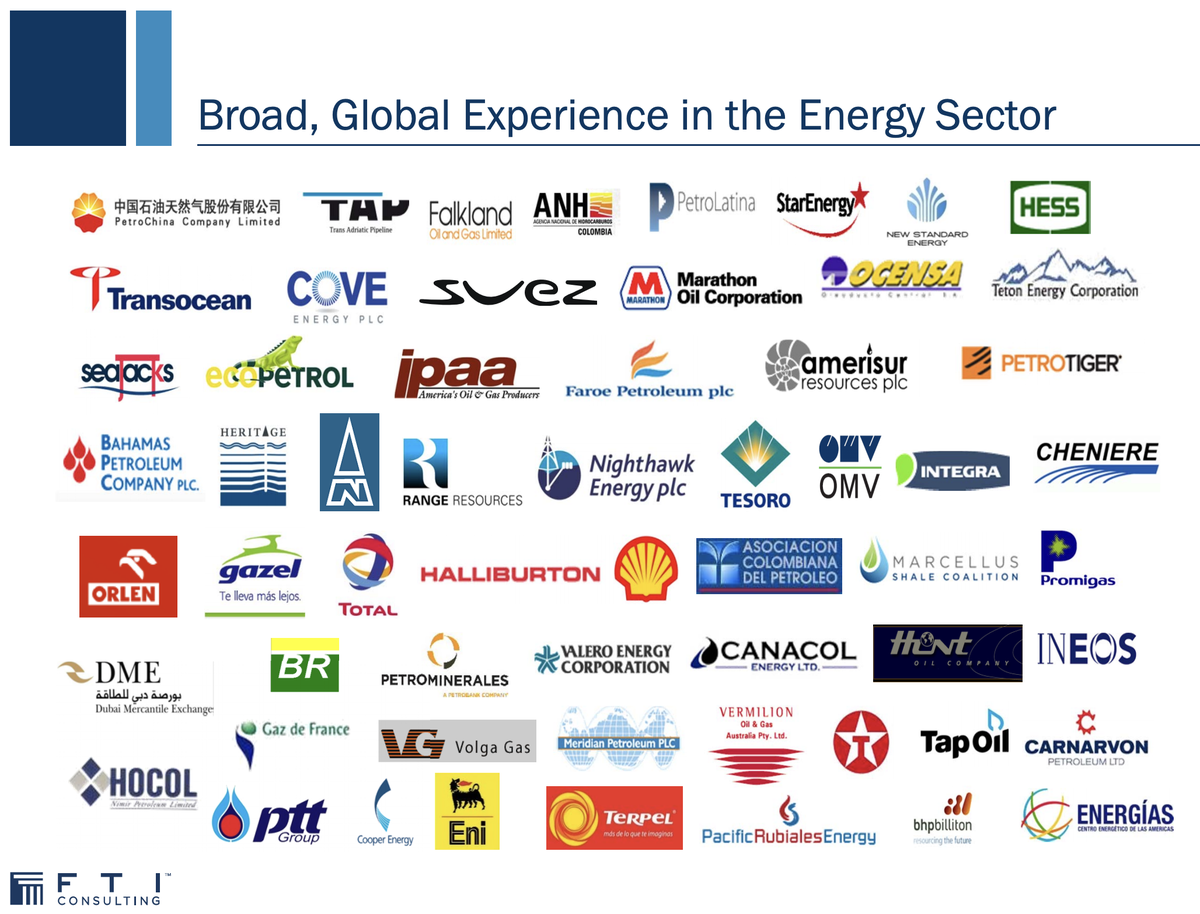 Additional groups listed in this graphic include:
Falkland Oil and Gas Limited
Agencia Nacional de Hidrocarburos (

ANH

)
Petrolatina

HESS

Marathon Oil Corporation
Ocensa
Teton Energy Corporation
Seatacks
EcoPetrol
Amerisur Resources
Heritage Oil
Northern Petroleum

PLC

Range Resources
Integra
Cheniere
Marcellus Shale Coalition
Promigas
Dubai Mercantile Exchange (

DME

)
Petrobas
Valero Energy Corporation

HOCOL

 Petroleum

PTT

 Group
Cooper Energy
Eni
Energias
Clients in the

EU
The following were listed on a profile of FTI at the Association of Accredited Public Policy Advocates to the European Union, as of June 2017: [34]
Oil, Gas, Mining, & Pipeline
International Group of Mining Companies
Fuels Europe (Formerly

EUROPIA

)
Landis+Gir — Software producer for the electricity and gas utility industry
Other Clients
Ad Hoc Committee of

HETA

Senior Noteholders 
American Chamber of Commerce to the European Union (AmChamEU)
Atlantis
International Animal Health Organisation 
Netflix

PATH

Petrolina
Prevezon*
Schroders

SITA

 OnAir

UCB

World Platinum
Xerox
Zalando
Zoetis 
*Prevezon has been on trial in the US for laundering funds. According to an article in the EU Observer, the company was not listed on FTI Consulting's entry in the European Commission transparency register, however FTI was responsible for arranging meetings between the company's lawyers and journalists. [35]
EU

Clients by Revenue

The European Commission transparency register lists the following companies for FTI Consulting Belgium for the 2018 financial year: [36]

With the revenue below 9,999 €:
BGI

 Group
Caymen Finance
European Aluminum Association (

EAA

)
European Automobile Manufacturers Association (

ACEA

)

JP

 Morgan
With the revenue of 10,000 € – 24,999 €:
Aeropuertos Españoles y Navegación Aérea (

AENA

)
Associação Nacional de Farmácias's (

ANF

)
European Foundation for Democracy
Glencore
Macquarie
Microsoft
Renewi
Sceye Inc.
Siemens
SolarPowerEurope
With the revenue of 25,000 € – 49,999 €:
Anglo American
Landis+Gyr
Highgate Capital
Lebanese American University
Sugar Industry Roundtable (

SIRT

)

WEEE

 Forum
With the revenue of 50,000 € – 99,999 €:

BIC

 Bio-based
Chemours
European Confederation of Pharmaceutical Entrepreneurs (

EUCOPE

)
European Principal Traders Association (

FIA

–

EPTA

)
Heineken

IG

 Group
Index Industry Association (

IIA

)
International Group of Mining Companies (

IGMC

)
Johnson&Johnson
LyondellBasell
Managed Funds Association (

MFA

)
McAfee
Organización Nacional de Ciegos Españoles (

ONCE

)

PATH

Samsung
Turquoise Hill
Wellington
With the revenue of 100,000 € – 199,999 €:
Allegro
Aon
Booking.com
Brazilian Sugarcane Industry Association (

UNICA

)
Bristol-Myers Squibb
Deutsche Börse
Emirates Global Aluminium
European Federation of Pharmaceutical Industries

&

Associations (

EFPIA

)
General Motors
Groupe

BPCE

GW

 Pharma
Harley-Davidson
Noble Energy
Red Bull
Schroders

TB

 Alliance
Trans Adriatic Pipeline (

TAP

)
Vanguard
With the revenue of 200,000 € – 299,999 €:
Amazon
Bank of New York Mellon
Bayer
Biogen
Facebook
Zalando
With the revenue of 300,000 € – 399,999 €:
Apex-Brasil
Citadel
Netflix
Novartis
With the revenue of 400,000 € – 499,999 €:
Fair Standards Alliance (

FSA

)
Hydrogen Council
With the revenue of 500,000 € – 599,999 €:
With the revenue of 600,000 € – 699,999 €:
With the revenue of 700,000 € – 799,999 €:
New clients not covered under financial estimate:
With the revenue below 9,999 €:
With the revenue of 10,000 € – 24,999 €:
With the revenue of 50,000 € – 99,999 €:
AstraZeneca
Principle Power
Free Now
Turkish Steel Producers Association (

TCUD

)
Takeda
With the revenue of 100,000 € – 199,999 €:
With the revenue of 200,000 € – 299,999 €:
Acquisitions
CDG

Group — Acquired in 2017. [5]

LECG

—

FTI

acquired numerous parts of

LECG

in 2011. [5]

FS

Asia Advisory — Acquired in 2010. [5]

CXO

,

LLC

— Acquired in 2009. [5]
Attenex Corporation — Acquired in 2008. [5]
Rubino

&

McGeehin Consulting Group — Acquired in 2008. [5]
Lexecon and Competition Policy Associates (Combined to form Compass Lexicon under

FTI

Consulting) — Acquired in 2008. [5]
Holder International — 2007. [5]
Financial Dynamics (

FD

) — 2006. [5]
International Risk, Ltd — 2006. [5]
Brower Kriz

&

Stynchcomb — 2006. [5]

G3

Ltd — 2006. [5]
Ringtail Solutions Group — 2005. [5]
Cambio Health Solutions — 2005. [5]
Stone Turn — 2005. [5]
Lexecon — 2003. [5]
Ten Eyck Associates — 2003. [5]
PricewaterhouseCoopers — 2002. [5]

LWG

— 1997. [5]
Contact
&

 Address

As of 2019, FTI Consulting listed that it had more than 4,900 employees and offices in 27 countries. [37]
Executive Headquarters
555 12th Street NW
Suite 700
Washington DC 20004
United States
TEL: +1 202 312 9100
FAX: +1 202 312 9101
Social Media
@

FTIC

onsulting/@

FTI

_SC on Twitter.
Resources
Other Resources