Judicial Crisis Network (
JCN

)
Background
The Judicial Crisis Network (JCN), formerly the Judicial Confirmation Network, is a 501(c)(4) "social welfare" organization that advocates on federal judicial appointments and elections. JCN was founded in 2004 by Gary Marx and renamed The Judicial Crisis Network (JCN) in February 2010. [1]
JCN describes itself as "dedicated to strengthening liberty and justice in America." The group spends millions of dollars supporting conservative federal, state, and local judges while blocking opposition. JCN spent $7 million to block the Supreme Court nomination of Merrick Garland and $10 million to support Neil Gorsuch. In 2018, JCN focused on confirming President Donald Trump's judicial nominees. [21], [22]
Gary Marx, vice president of Century Strategies and founder of Madison Strategies, worked as an executive in the PR industry while also leading JCN as its president until 2015. According to 990 forms, Daniel Casey took over as president in 2015, while Marx stayed on as secretary and treasurer. Carrie Severino, a former law clerk for Supreme Court Justice Clarence Thomas, serves as JCN's chief counsel and policy director. [2], [3]
OpenSecrets reported that lawyer Ann Corkery and California real estate mogul Robin Arkley II were key to getting JCN started, with Arkley providing seed funding and Corkery direction. The group's launch coincided with a dinner that featured prominent guests Supreme Court Justice Antonin Scalia, Leonard Leo of the Federalist Society, as well as Corkery and Arkley. [4]
Tom Carter, a former associate of Leo's at the U.S. Commission on International Religious Freedom, said "The JCN is Leonard Leo's PR organization – nothing more and nothing less." As to the Federalist Society connection, Carrie Severino "was working out of the Federalist Society office. Federalist Society staff babysat her kids as the JCN project was launched." [5]
Funding
As a 501(c)(4), the JCN is not required to reveal its funding sources. JCN has emerged as a funding pipeline for other conservative groups and has been a close partner and one of the largest funders of the Republican Attorneys General Association (RAGA).
The following is based on a combination of data collected from the Conservative Transparency project and via publicly available 990 forms. [6]
See the attached spreadsheet for details on the Judicial Crisis Network's funding (.xlsx).
Judicial Crisis Network as Recipient
Wellspring Committee as a Funding Conduit
The Wellspring Committee, a 501(c)(4) "dark money" nonprofit group that appears to operate out of a UPS mailbox, acts as a funding conduit for anonymous donors. [7]
"The group is a conduit," said law professor Donald Tobin of Ohio State University. "The web of transactions […] makes you question whether [Wellspring] is really engaged in a social welfare purpose or not."
The Maplight Foundation reported that in 2016, the Wellspring Foundation received $28,475,000 from a single donor. It went on to give $23,454,997 to JCN. [8]
Wellspring is closely tied to JCN. Neil Corkery, who was listed on JCN's 990 forms as treasurer until 2015, is married to Ann Corkery who served as Wellspring's president until Neil took over that role in 2016. [4]
The Wellspring Committee is also a major funder of The Federalist Society, while JCN and Wellspring together helped provide nearly 80% of the funding for the Rule of Law Project, a nonprofit that listed Leonard Leo as a director in its tax filings. [9]
Wellspring & Koch Network Overlap
OpenSecrets reported a number of groups funded by the Center to Protect Patient Rights (CPPR), a group with ties to the Koch network of nonprofit and political groups, also received funding from the JCN-tied Wellspring Committee with examples including the American Future Fund, the Independent Women's Voice (IWV), Americans for Job Security, Americans for Prosperity, and others totaling at least ten recipients. [7]
In 2015, IWV denied it was a "Koch entity" or that it had ever received direct Koch Funding (it claimed CPPR was not yet Koch-affiliated when it donated to them in 2009), but also said "We wouldn't mind receiving some." [10]
Robin Arkley

II
OpenSecrets reported Arkley was a "key underwriter of JCN's operations, to the tune of the high six or low seven figures" according to sources. [4]
Judicial Crisis Network as Donor
Independent Contractors
990 Forms
Key People
Directors
&

Trustees
Staff
Other People
Actions
September 21, 2018
Politico reported that CRC Public Relations and Greg Mueller had "guided [Ed] Whelan," president of the Ethics and Public Policy Center and closely associated with the Federalist Society, had through his Twitter pronouncements where he had suggested an alternate theory meant to discredit Christine Blasey Ford's sexual assault allegation against Justice Brett Kavanaugh. [29]
"The coordinated effort was a testament to the far-reaching but frenzied attempt among conservatives to save Kavanaugh, which appeared to have spun out of the White House's control," Politico wrote.
CRC Public Communications is the same firm hired by the Judicial Crisis Network to focus its pro-Kavanaugh campaign. When JCN launched its $10 million campaign to support Presidential Donald Trump's justice nominees, CRC President Greg Mueller was set to "spearhead communications and media strategy." [18]
On Friday, following Whelan's own admission that his decision to post photographs of Kavanaugh's high school classmate and suggest there was a mistake in identity by Ford was "an appalling an inexcusable mistake of judgment," CRC Public Relations organized a news conference with a number of women who dismissed Ford's allegations. [29]
Whelan was scheduled to speak at a Federalist Society event on "the battle over Judge Kavanaugh's nomination" on the same day the Politico article was released. The event appears to have been cancelled. [30]
September 2018
JCN launched a $1.5 million advertising campaign to defend Supreme Court nominee Brett Kavanaugh from sexual assault allegations. [11]
"We are not going to allow a last-minute smear campaign destroy a good and decent man who has an unblemished personal record," said a JCN spokeswoman. [11]
JCN's Carrie Severino also publicly defended Kavanaugh on Christian Broadcasting Network news. [12]
"Democrats seem to be using this woman's allegations as more of a partisan ploy, as a delay tactic, then even really taking it seriously," Severino claimed. [12]
Responding to questions on the purpose of the $1.5 million ad buy, she said "What it is, is illustrating the very purpose that we exist. Is to make sure that there are nominees in this kind of position […] getting a lot of attacks from the left, that there's someone there to be an advocate for them." [12]
JCN also promoted a range of articles, images, videos and tweets defending Kavanaugh against allegations across social media:
Patrick J. Smyth, a man allegedly at the party described by Kavanaugh's accuser, tells the Senate Judiciary Committee that he has "no knowledge of the party in question." Our chief counsel @JCNSeverino responds … pic.twitter.com/DeyGAU962E

— Judicial Network (@judicialnetwork) September 19, 2018
July 2018
JCN launched a campaign to confirm Brett Kavanaugh as Supreme Court Justice. As of July 23, JCN had spent $5.3 million supporting the nomination. JCN launched the website confirmkavanaugh.com shortly after Donald Trump announced his selection, The Wall Street Journal reported. [13]
Axios reported JCN spent $1.5 million on ad buys in its latest push in West Virginia, North Dakota, Indiana, and Alabama. [14]
Phase one of JCN's "Confirm Kavanaugh" campaign cost $1.4 million and launched on July 9, with a second $1.4 million ad buy announced July 16. [15], [16]
They launched an initial "#AnotherGreatJustice" campaign in June, promising to "will target vulnerable Democrat incumbents" while praising President Trump's nomination of Justice Neil Gorsuch. [17]
April 6, 2017
The Campaign Legal Center (CLC) accused JCN of mischaracterizing ads it had used to support Neil Gorsuch and asked for the Federal Communications Commission to review the JCN's filings. The Communications Act requires that broadcasters disclose information about the sources of any advertisements aired that concern "a message relating to any political matter of national importance." [23]
"Broadcasters have an obligation to ensure voters have relevant information about who is attempting to influence their views," said Brendan Fischer, director of federal and FEC reform at the Campaign Legal Center. "By broadcasters accepting at face value Judicial Crisis Network's claims that their ads did not pertain to any 'political matter of national importance,' the public was deprived of the important information that federal law and regulations require." [23]
While some stations did require JCN to amend their filings, CLC reported that many stations did not. [23]
January 2017
The Judicial Crisis Network launched a $10 million campaign to "preserve Justice Scalia's legacy" and support Neil Gorsuch, President Donald Trump's pick for justice. [18], [8]
JCN-allied groups and individuals heading the campaign included CRC Public Relations, Chris Jankowski, DDC, Tea Party Patriots, America Rising Squared, and SBA List. [18]
JCN launched the website ConfirmGorsuch.com moments after President Trump's announcement. JCN also hired a lobbyist from the law firm Covington & Burling, former Seneator Jon Kyl. "It's the first time the group has hired lobbyists to help with a Supreme Court confirmation," Politico reported. [24], [25]
February 2016
JCN launched its "Let the People Decide" campaign, which supported Republican Senators who were blocking all Supreme Court nominations by President Obama. Instead, the campaign suggested the seat left vacant by Justice Antonin Scalia's death should only be filled by the following president. View the Iowa version of the ad below: [19]
October 2012
JCN ran an ad falsely suggesting that Supreme Court candidate Bridget McCormack had "volunteered to help free a terrorist" when she had represented an individual held without charge in Guantanamo. [27]
The New York Times wrote in November 2012:
"An ad paid for by the group with undisclosed donations shamelessly exploits the tragedy of the death of a young soldier in Afghanistan, Joseph Johnson – with the help of his mother, Teri. 'My son is a hero and fought to protect us,' she says in the ad. 'Bridget McCormack volunteered to help free a terrorist. How could you?'" [28]
"That's easy to answer. She didn't," Andrew Rosenthal wrote at the NYT. "Ms. McCormack, a law professor at the University of Michigan, was part of a legal network called the Center for Constitutional rights, which coordinated efforts by American lawyers to represent Guantanamo detainees – most of whom were found to be improperly detained and released. Their goal was not to "'ree terrorists,' but to ensure that American prisoners were entitled to the rights and representation provided under international and American law. The Supreme Court affirmed those rights on more than one occasion." [28]
2012
A Michigan Campaign Finance Network report estimated that the Judicial Crisis Network and Americans for Job Security together sponsored $2 million worth of unreported television issue advertising, targeting trial courts. Reportedly, there was also a large direct mail campaign, although it was not possible to estimate that spending. [26]
"Such unaccountable spending has long been a part of Supreme Court campaigns, but it is new to have this anonymous spending in a trial court campaign," the report noted. [26]
According to OpenSecrets, this "unprecedented" funding on the lower courts was focused on removing an Oakland County Circuit Court judge. While it was unclear why JCN and Americans for Job Security were interested, OpenSecrets speculated that it could have been "a funder with an ax to grind."
While not confirmed, "pretty much everyone believed" it was linked to Manoj Bhargava , according to a Michigan lawyer familiar with the events, and separately by other attorneys and journalists in the state. [4]
2005/2006
Leonard Leo and the Federalist Society coordinated with JCN to push ads and grassroots efforts to support the confirmation of conservative justices. Leo helped coordinate JCN's expenditure of $17 million to support the confirmation of Justice Gorsuch and fight against Barack Obama's pick of Merrick Garland. [4]
February 2005
JCN launched a "drive to end obstructionism" as part of an effort to "halt blatantly partisan and personal attacks on many of the President's nominees to the Federal Courts." [20]
"Our message is simple, the people want the Senate to do its work and our petition will remind Senators that they have an obligation to bring these nominations to the floor for a fair vote," said Gary Marx, executive director of Judicial Confirmation Network. "The rhetoric we are already hearing from the left is divisive and unproductive to the confirmation process. The public sees through the liberal extremist groups' campaign to deny confirmation to highly qualified nominees – and will hold obstructionist Senators responsible. Middle America realizes that the fear and smear tactics leveled by some groups isn't helpful to a fair confirmation process," Marx added.
The petition read as follows: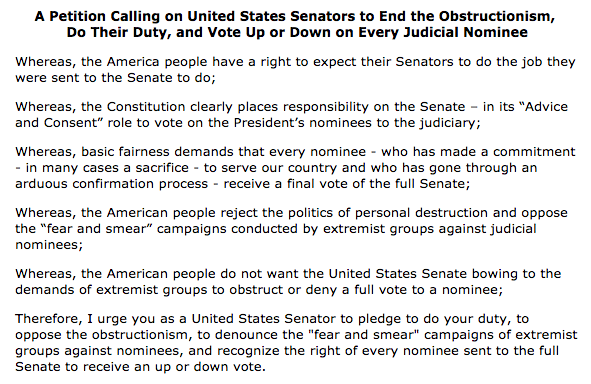 Related Organizations
Contact
&

Address

JCN was originally housed in the office of the American Center for Law and Justice, run by Jay Sekulow, The Wall Street Journal reported in 2005.

The following address was listed on the JCN website as of 2018:
1455 Pennsylvania Ave NW
Suite 400
Washington, D.C. 20004
[email protected]
Social Media
Resources
Other Resources