By Steve Horn and Curtis Waltman, MuckRock
Behind the scenes, as law enforcement officials tried to stem protests against the Dakota Access pipeline, alumni from the George W. Bush White House were leading a crisis communications effort to discredit pipeline protesters.
Emails show that the firms Delve and Off the Record Strategies, apparently working on contract with the National Sheriffs' Association, worked in secret on talking points, media outreach, and communications training for law enforcement dealing with Dakota Access opponents mobilized at the Standing Rock Sioux Reservation in Cannon Ball, North Dakota. This revelation comes from documents obtained via an open records request from the Laramie County Sheriff's Department in Wyoming.
As previously reported by DeSmog, the GOP-connected firm DCI Group led the forward-facing public relations efforts for Dakota Access via a front group called Midwest Alliance for Infrastructure Now (MAIN). Today MAIN has morphed into a national effort known as Grow America's Infrastructure Now (GAIN).
Delve is an opposition research firm run by Jeff Berkowitz, former Republican National Committee research director and official in the George W. Bush White House. His company led research efforts on behalf of the National Sheriffs' Association.
Off the Record Strategies, meanwhile, guided the sheriffs' behind-the-scenes communications strategy. Mark Pfeifle runs the secretive firm, Off the Record Strategies, and served as communications advisor in the George W. Bush administration, leading PR efforts for the wars in Iraq and Afghanistan.
The National Sheriffs' Association, a trade group for sheriffs, has been lobbying the federal government for additional surplus military gear from the Department of Defense under the auspices of its 1033 program. The association was also the central organizing vehicle which brought hundreds of out-of-state cops to Standing Rock via the Emergency Management Assistance Compact (EMAC).
Law enforcement present at Standing Rock under EMAC came under fire for a heavy-handed and overtly military-like response to pipeline protesters. 
'Guns, Knives, Etc.'
According to an October 4, 2016 email sent by Chelsea Rider, content strategist for the sheriffs' association, Pfeifle drafted the talking points used by law enforcement in an attempt to discredit the anti-Dakota Access movement. Representatives of that movement referred to themselves as "water protectors" because they opposed the pipeline crossing Lake Oahe and the Missouri River, a source of drinking water for the Standing Rock Sioux and others downriver.
The document attached to that email, according to its metadata, indicates it was indeed written by Pfeifle, and then given to the acting public information officer, Donnell Hushka of the North Dakota Association of Counties, who handled information related to the protests at Standing Rock.
The talking points purported that the movement was led by "out-of-state agitators" with gang and drug-dealing ties, had connections to "anarchists" and "Palestinian activists," used violence, and possessed "guns, knives, etc." In addition, the messaging included calls to "follow the money" in pursuit of potential funding support from liberal elites such as George Soros and Tom Steyer.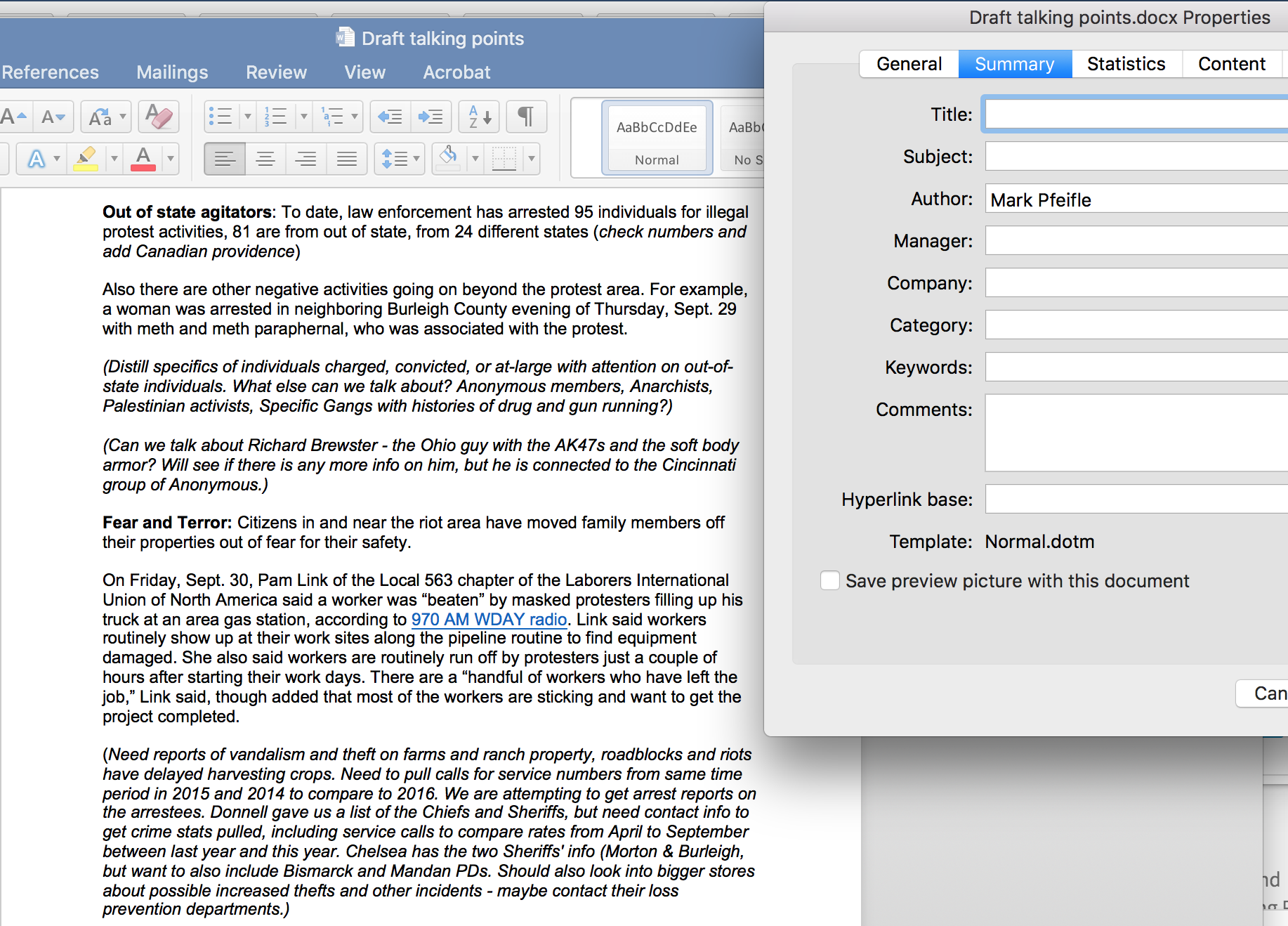 Credit: Laramie County Sheriffs' Department
On October 5, Pfeifle sent a follow-up email to Hushka and other sheriffs' association staff, including its executive director Jonathan Thompson, in response to an email sent by Thompson. Thompson's email recommended changes for a press conference script drafted by Hushka.
"Importantly, we need to make sure we are pushing the primary message before the actual press conference begins, we want questions asked about who is [sic] protesters," wrote Thompson in his email. "Must focus on the why this happening. This not for altruistic reasons, but nothing less than a desire to 'occupy, threaten and intimidate,' not peaceful protest. There those that want nothing more than using thug-like tactics, rumors and outright lights to distort what is really happening."
Pfeifle agreed in his email, and suggested following the press conference with outreach to friendly media outlets to amplify the message.


Credit: Laramie County Sheriffs' Department
One of those outlets was the Say Anything Blog, run by Rob Port, who the next day, October 6, ran a blog post featuring many of the themes found in the talking points: "Over 85 Percent of Arrested #NoDAPL Protesters Are From Outside of North Dakota."
In his email, Pfeifle had suggested reaching out to Port, who also hosts a radio show on WDAY AM-970 and regularly wrote blog posts in support of Dakota Access during the Standing Rock stand-off. When Port's piece went online, Pfeifle wrote an email that same day to the Delve team, sheriffs' association staff, Hushka, and others asking an association staffer to share the piece on social media.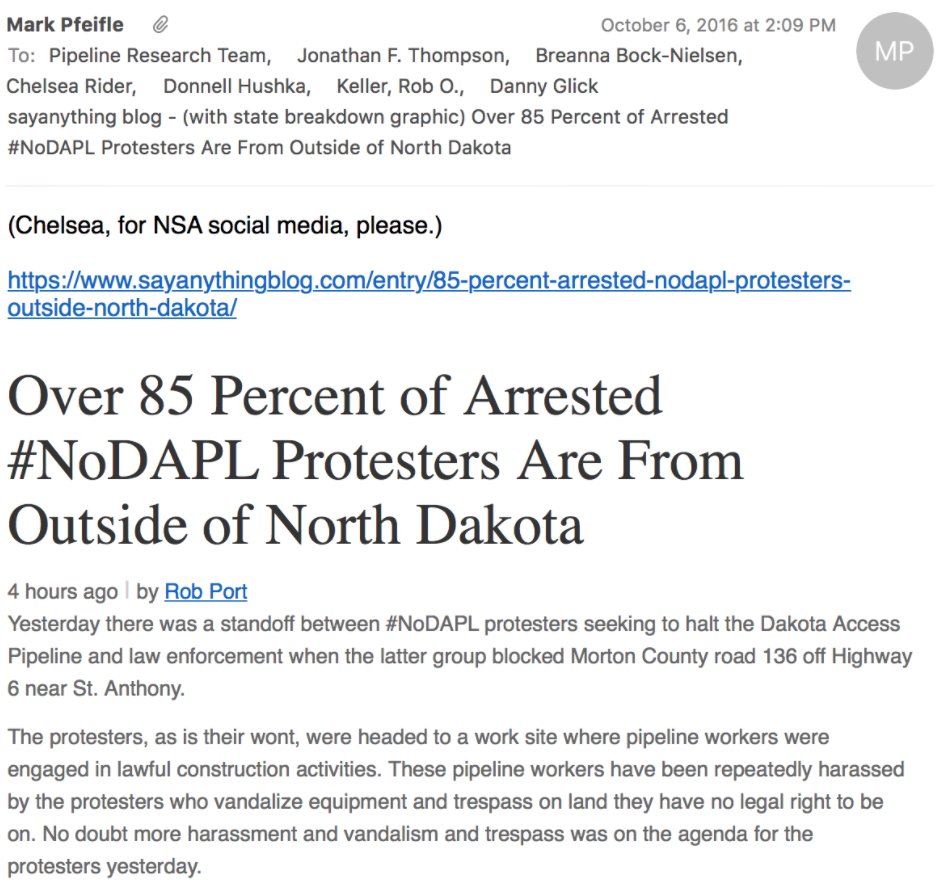 Credit: Laramie County Sheriffs' Department
Though since removed from his blog, the Web Archive shows that Port formerly served as a policy fellow for the North Dakota Policy Council, a defunct think-tank that was part of the conservative and corporate-funded State Policy Network (SPN). SPN, as reported in 2013 by DeSmog, was actually created as a message-force-multiplier by and for the American Legislative Exchange Council (ALEC), another conservative and corporate-backed group which produces model legislation that is disseminated to predominantly Republican state legislators nationwide.
Scott Hennen, another conservative radio show host Pfeifle suggested the sheriffs' association target for outreach, actually copied and pasted the association's memo into a Facebook post, which was then shared by the association. In prefacing the talking points, Hennen also posted a photo of a Palestinian flag which was on the protest site depicted.
"For those who still believe the #NoDAPL protests are all peaceful and prayerful…read this," read Hennen's Facebook post. "It will help you awaken to smell the coffee. And note the Palestine flag in the photo."
On October 7, Hennen also invited Morton County Sheriff Kyle Kirchmeier on his show to disseminate a similar set of talking points as those conveyed in Hennen's Facebook post.
Iraq War 'Damage Control'
Pfeifle, who heads Off the Record Strategies, specializes in "damage control," according to a 2005 Baltimore Sun story profiling the Bush White House communications strategy to fend off domestic critics of the Iraq War.
"Pfeifle's specialty is damage control. And at the moment, there is more than enough damage surrounding Bush," The Sun wrote of the campaign Pfeifle co-ran with the host of MSNBC's "Deadline: White House," Nicolle Wallace, who then was a top communications advisor to President Bush. "With public alarm about the war mounting and public trust of Bush plummeting, the White House has gone on the defensive with a public relations push designed to discredit his opponents. The operation has all the trappings of a political campaign — including rapid-response statements targeted at opponents, using carefully compiled research."
Pfeifle isn't the only person with ties to the Iraq War who did public relations for Dakota Access. James "Spider" Marks led intelligence-gathering for the 2003 "shock and awe" campaign for Operation Iraqi Liberation. Today, he serves as a consultant to Energy Transfer Partners and sits on the advisory board of TigerSwan, the company's private security firm and a funder of the National Sheriffs' Association.
With a tagline of "Private Council/Public Results," Off the Record Strategies does all of its business behind the scenes and rarely issues public comments.
"If we told you exactly what we do, we'd have to go on the record," reads its website. "We're strategic counselors with decades of high-level experience and a no-holds-barred approach to meeting — and exceeding — our client's needs through personal and confidential service."
Off the Record Strategies 
'Here to Help'
In a May 7 webinar convened by the sheriffs' association, Sheriff Laney and Pfeifle pointed to the October 2016 press conference as an instance of going on the offensive and turning the tables on the "North Dakota nice" attitude. Their webinar was titled "Protest on the Prairie: Law Enforcement Response and Lessons Learned."
Laney appears to be a prominent figure within the National Sheriffs' Association. He sits on its Board of Directors, formerly served on its Special Operations Committee, and won association awards in 2017 and 2012. Within his more than hour-long webinar speech last May, Laney also gave a 17-point "DAPL Lessons Learned" presentation.
On top of his other affiliations, Sheriff Laney is a member of the Board of Directors for the North Dakota Association of Counties, which received the talking points from Off the Record Strategies and the sheriffs' association in the October 4 email.
On October 10 last year, Morton County, North Dakota — center of the pipeline protests — sent out a request under EMAC for 40 additional law enforcement officers to come to Standing Rock. Laney, and not Morton County Sheriff Kyle Kirchmeier, is listed as the point of contact on that request. An October 13 article in the Billings Gazette, taking note of how little time Laney had been spending at home in Cass County, refers to Laney as the Dakota Access "operations chief" in Morton County.
The National Sheriffs' Association and Off the Record Strategies also show notable ties among personnel.
Patrick Royal, a media strategist who was director of media affairs for the Republican National Committee in the 2008 election, is actually listed as an employee by both the sheriffs' association and Off the Record Strategies. Further, Jonathan Thompson, executive director of the National Sheriffs' Association, formerly worked in the Bush White House with Pfeifle. They both went on to work together at a public relations firm named S4 Inc. P. Edward Leffler — listed on his LinkedIn page as the director of presidential transition project for the sheriffs' association — also lists himself as a communication and media relations specialist for Off the Record Strategies.
Royal, Thompson, and Pfeifle also worked together on a crisis communications reaction to the popular Netflix documentary series, Making a Murderer. According to an email obtained by USA Today, Manitowoc County Sheriff Rob Hermann consulted with the three of them on best practice response ideas to the hit 10-part series. Neither Royal, Thompson, nor Pfeifle responded to multiple requests for comment.
In an interview with Royal in May about the sheriffs' association's coordination of the Standing Rock law enforcement response, Royal responded, "I wouldn't quite characterize it that way [and] I would say that what we tried to do was work with the local sheriffs to coordinate for them, to get people who would make themselves available."
According to the sheriffs' association website, Royal was invited to speak alongside Pfeifle at the association's recent annual meeting held in Reno, Nevada, where they were slated to give two three-hour seminars titled, "Communicating in a Crisis." Eventually, the agenda changed and it appears the two did not end up speaking at the meeting, replaced instead by Sheriff Kirchmeier, Sheriff Laney, and a representative from TigerSwan in a seminar bearing the same title as the May one given by Laney and Pfeifle.
In his May 7 webinar presentation, Pfeifle told those listening to consider his firm a "resource" to be tapped if necessary during prospective future pipeline battles.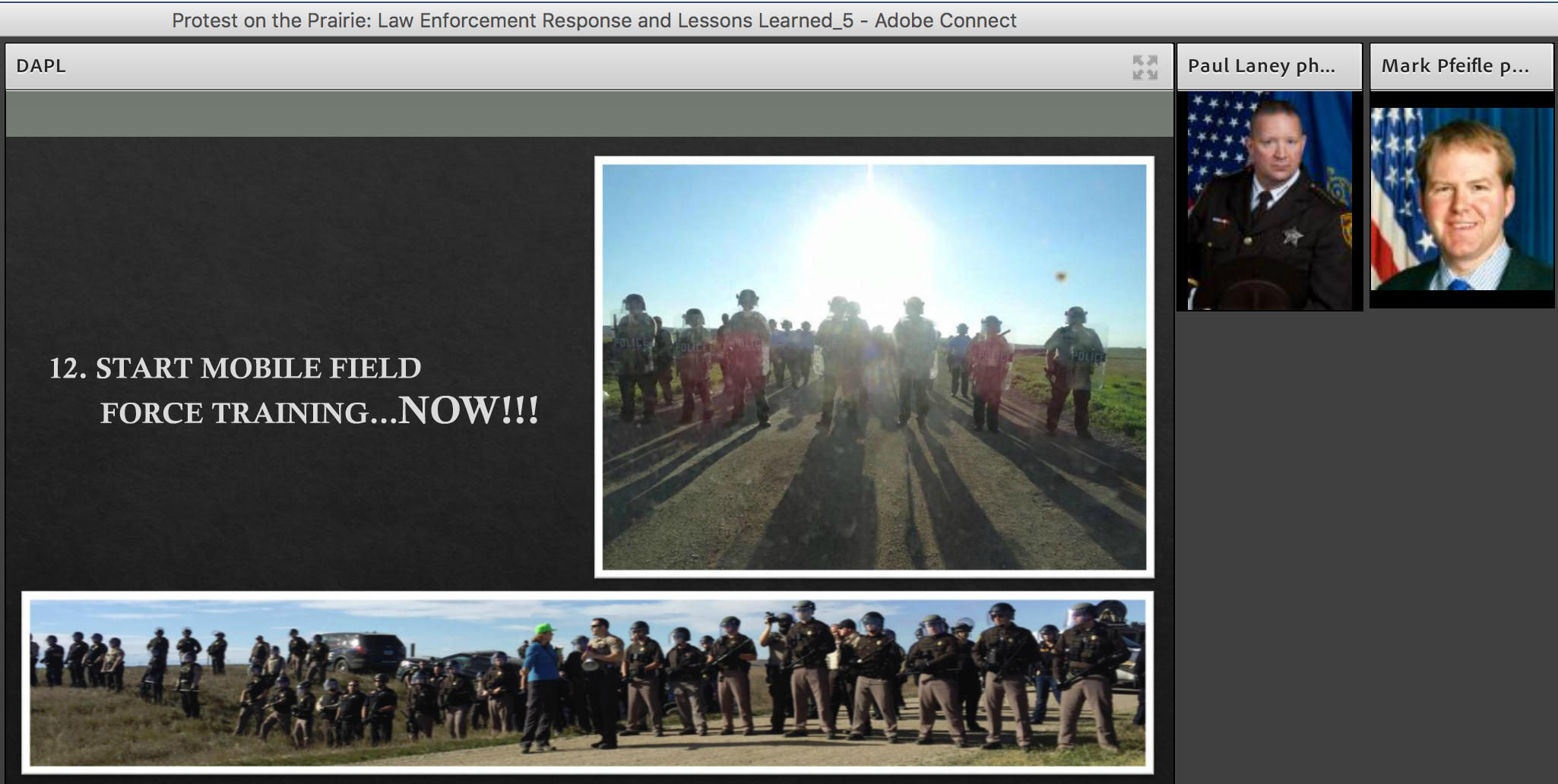 Credit: National Sheriffs' Association
"Consider us a resource of the National Sheriff's Association. This is not the end of our activities to help and support law enforcement in areas where the pipelines could be under protest attack in the next days, months and years. But it's a continuing activity that we will be available to support you in ways necessary and learn what we learned in North Dakota for areas that might be seeing protesters coming in doing much the same thing across the country," said Pfeifle. "So, use us as a resource. We're here to help."
Pfeifle, in fact, has remained a resource for other pipeline fights, including the long-contested Keystone XL. According to Laney's May 7 webinar presentation, he, Pfeifle, and Thompson all traveled to Lincoln, Nebraska, on April 14 to meet with the state's Attorney General, Doug Peterson. Keystone XL, if constructed, would pass through the Cornhusker State.
Research "Delve"
In the October 4 talking points email, several Delve employees were also included in the email chain, though it is unclear how or if they responded. The email only arose through the records request because it was forwarded to Laramie County Sheriff Danny Glick, who did not respond to a request for comment for this story.  
Delve principals in the email included Matt Moon, Jeff Berkowitz, Foster Morss, Lloyd Miller, and Dan Mintz. Moon is the former deputy research director for the Republican National Committee (RNC), where he worked with Berkowitz. Morss led the research and policy team for 2016 Republican Party presidential candidate, New Jersey Governor Chris Christie, and formerly served as deputy research director for the RNC under Berkowitz. Berkowitz and Morss also worked together on Rudy Giuliani's run for president during the 2008 election cycle.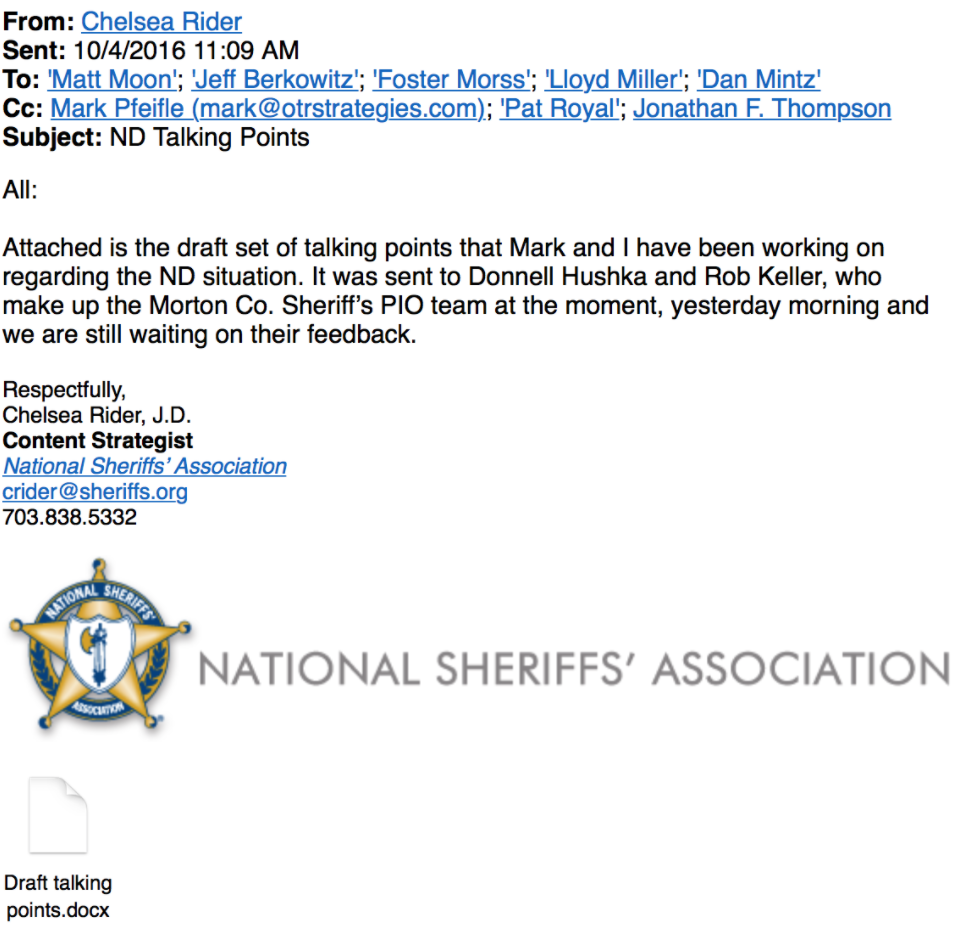 Credit: Laramie County Sheriffs' Department
Miller worked as a research consultant for the GOP Super-PAC American Crossroads, founded by former President George W. Bush's chief of staff Karl Rove, while Mintz has since transitioned into a new job and works as the speechwriter for U.S. Sen. Jeff Flake (R-AZ). The Daily Beast reported that Berkowitz also ghostwrote some of the campaign policy positions for Donald Trump's 2016 run for the White House, doing so through another firm he runs named JBC Research LLC.
"Delve provides breakthrough insights for winning causes through competitive intelligence, opposition research, media and subject monitoring, policy analysis, and issue management," Delve says on its website. "Our clients include fortune-listed corporations, major industry associations, Republican political campaigns, independent expenditure groups, and advocacy and educational groups."
For Delve's work on Dakota Access — which is owned by Energy Transfer Partners founder and CEO Kelcy Warren, a major Republican Party donor — the firm maintained a special email address, "[email protected]." Representatives from Delve did not respond to a request for comment for this story.
Delve's "delve" into helping the National Sheriffs' Association at Standing Rock appears to have paid off, though, at least according to Sheriff Laney's May webinar presentation.
"It wasn't until we had Mark and his people, Matt and Dan [of Delve] and Chelsea [of the National Sheriffs' Association], [who] all came [and] spent probably way more time than they thought they ever would in their lives in North Dakota, but they spent months with us," said Laney.
"And they were a godsend for us because we were finally about to fight them. You know, their professional media service we know was coming out of Seattle and it was highly funded. And to combat that with our own experts and I don't have the time to go into all of that, but I can tell you without them, we would've been in serious trouble."
Dakota Access, pending an ongoing federal court review of the U.S. Army Corps of Engineers' environmental review process for the pipeline's Missouri River crossing and potential spill impacts on the Standing Rock Tribe, is now open for business. Obtained from hydraulic fracturing ("fracking") from the Bakken Shale basin, the oil contained within Dakota Access is now moving at a rate of half of North Dakota's entire production supply chain to market.
 
Main image credit: Rob Wilson