Global Warming Policy Foundation (
GWPF

)
Background
The Global Warming Policy Foundation (GWPF) is a UK-based think tank founded by climate change denialist Nigel Lawson with the purpose of combating what the foundation describes as "extremely damaging and harmful policies" designed to mitigate climate change. The group was established on November 22, 2009, just three days after the first set of "Climategate" emails were released on the University of Tomsk's server. [1], [2]
Nigel Lawson described the GWPF as an "all-party and non-party think-tank and a registered educational charity which, while open-minded on the contested science of global warming, is deeply concerned about the costs and other implications of many of the policies currently being advocated." Although Lawson claims to be "open minded" on global warming, the GWPF website has a banner depicting a short-term temperature graph that suggests the world is not warming. [3]
In an interview with The Register, Nigel Lawson said that the Global Warming Policy Foundation "will certainly be actively involved in monitoring what is being said, in correcting errors where there are errors. The only thing we will not be actively engaged in is what are the causes of the temperature changes on the planet: how much is CO2, how much is solar radiation, how much is cosmic rays. We won't be getting into all that." The article also notes that the average age of the Trustees at the time of the group's formation was 74. [4]
Bob Ward, the policy and communications director at the Grantham Research Institute on Climate Change and the Environment at the London School of Economics said that "Some of those names [on the GWPF's Academic Advisory Council] are straight from the Who's Who of current climate change sceptics … To me, this is pretty much indistinguishable from the websites that are run by rightwing, free-market think tanks in the US. It's just going to be a way of pumping material into the debate that hasn't been through scrutiny," reports The Guardian. [5]
The Global Warming Policy Forum
The similarly-named Global Warming Policy Forum (thegwpf.com) describes itself as "a wholly-owned subsidiary of the Global Warming Policy Foundation" and a "London-based think tank which conducts campaigns and activities which do not fall squarely within the Global Warming Policy Foundation's remit as an educational charity." Its Director is Dr Benny Peiser, the same as the Global Warming Policy Foundation, and its Chairman is Neil Record, who also chairs the BP-funded pro-free market Institute of Economic Affairs. [6], [165], [166]
The reason for the formation of the Global Warming Policy Forum as a seperate entity can be traced to a report by the UK Charity Commission (PDF) that looked into the Global Warming Policy Foundation when "Concerns were raised with the commission that the charity was promoting views that were of a political rather than an educational nature." [7]
The Commision examined the GWPF's website, blog, and publications, and came to the conclusion that the GWPF lacked its claimed neutrality, as it "promoted a particular position on global warming." The Charity Commission also ruled that the GWPF did not constitute as an educational resource: "The [GWPF] website could not be regarded as a comprehensive and structured educational resource sufficient to demonstrate public benefit. In areas of controversy, education requires balance and neutrality with sufficient weight given to competing arguments. The promotion of a particular view or position would not equate to education." (Emphasis added). [7]
As an impact of the Charity Commision's involvement, the Global Warming Policy Foundation split off the Global Warming Policy Forum in September, 2014, as a non-charitable entity that would act as a "campaigning body fully able to promote the opinions and policy change." [7]
American Friends of the
GWPF
DeSmogUK reports that the GWPF set up a new 501(c)(3) fundraising arm titled the American Friends of the GWPF in April 2015 so as to "enable supporters in the USA to enjoy tax relief on donations." [71]
The new Friends of the GWPF was created after donations dropped significantly from £377,979 ($547,219) in 2014 to £207,019 ($299,711) in 2015. The GWPF's most recent Companies House filing shows that the average number of staff dropped from four to three, with membership fees down more than £3,500 ($5,067). [72]
Company details show that American Friends of the GWPF is represented by Los Angeles lawyer, Paul Tosetti, who has handled several mergers of large pharmaceutical companies. View related 990 tax filings below. [73], [74]
American Friends of the
GWPF

990 Forms
Stance on Climate Change
According to Benny Peiser, director of the GWPF, "We are certainly not taking a critical stance on the basic science of the greenhouse effect or the fact that CO2 emissions in the atmosphere are having an effect on the climate." He said the foundation exists to help restore a less "hysterical" and "emotional" debate on the subject and promote what he calls a more "flexible and long-term approach" to the problem. [8]
The following are excerpts from a 2015 GWPF "Report" on Climate Change by Andrew Montford:
"Policies to 'stop climate change' are based on climate models that completely failed to predict the lack of warming for the past two decades. Observational data show clearly that the predictions of unacceptable warming caused by more carbon dioxide are wrong. Economic discount rates aside, policies designed to save the planet from more carbon dioxide are based on failed computer models.

[…] Human emissions of carbon dioxide, a transparent, odorless, non-toxic gas, essential for plant growth and contained at about 40,000 parts per million (ppm) in our own breaths. Carbon dioxide has been mercilessly demonized as 'carbon pollution', when in fact it is a benefit to the planet. Agricultural production has increased substantially and the Earth is greener today with the 400 ppm current levels of carbon dioxide than it was with preindustrial levels of about 280 ppm. And two or three times higher levels would be even better. [9]
Funding
&

Membership

According to Companies House disclosures, the Global Warming Policy Foundation generated only £5,409 in income from membership feeds for the year ending September 30, 2016. As the Independent reported, this number was the lowest annual total in the history of the foundation. With membership fees of roughly £100 per year, per member, this would also suggest that the group has fewer than 60 members, however this is speculative considering GWPF does not publish details on its membership. [106], [107]

The Global Warming Policy Foundation is registered as a charity in the UK (Number 1131448), which gives it certain tax advantages. Below are its financial details at the UK Charity Commision (charitycommission.gov.uk) as of June 2018: [10]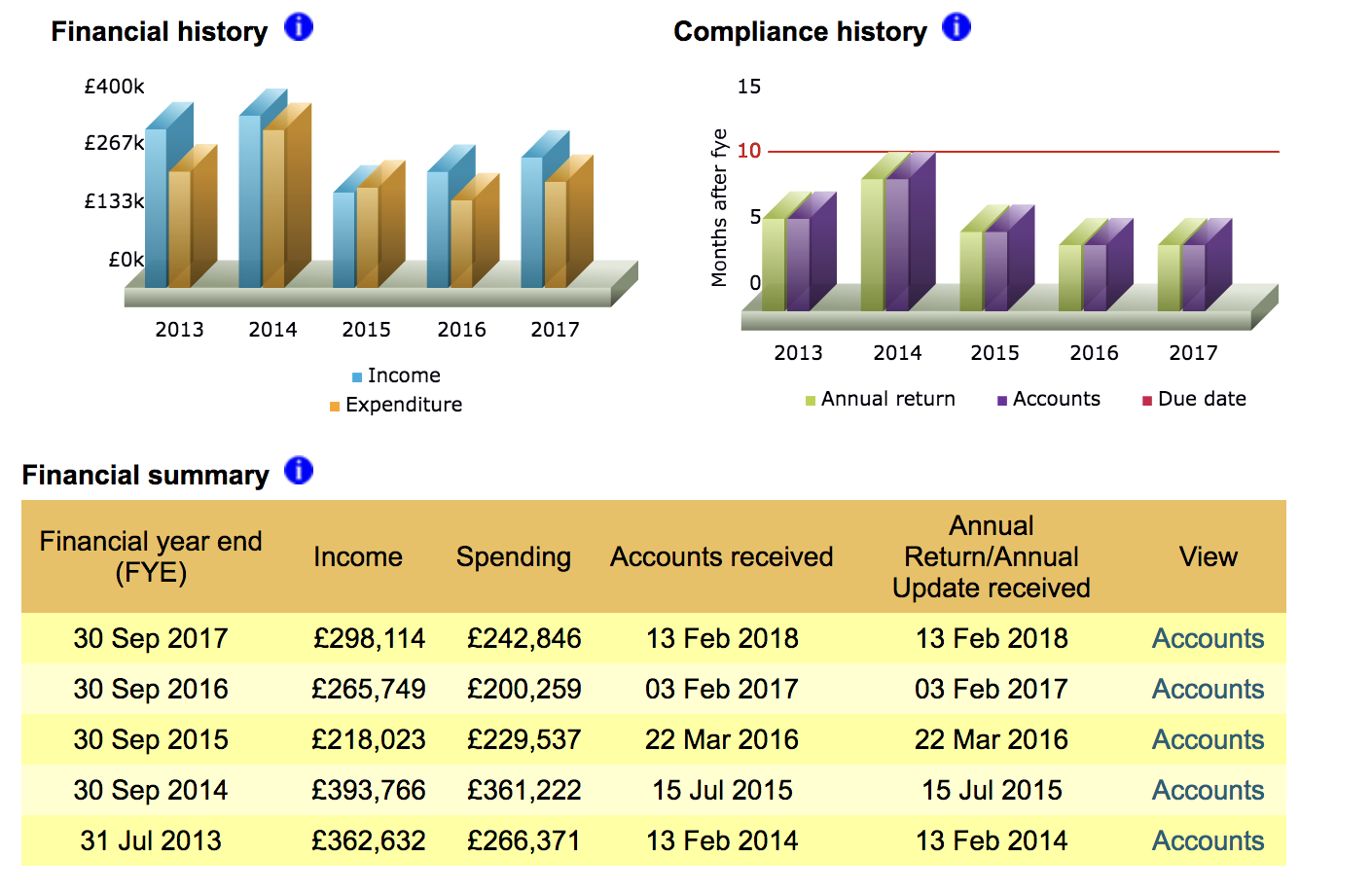 According to the GWPF, "We are funded entirely by voluntary donations from our Members and Supporters." They describe their members as "part of a growing international community of like-minded people who are helping to restore balance and accuracy to the climate debates." They suggest that by becoming a paying member, one can "actively help to inform and shape these debates." [11]
According to SourceWatch, The Global Warming Policy Foundation will not reveal its funding sources. Lord Lawson, when interviewed by BBC Radio 4, said that he relied on his friends who "tend to be richer than the average person and much more intelligent than the average person." [12], [13], [14]
The GWPF has rejected FoI (Freedom of Information) requests on at least four different occasions. Bob Ward of the Grantham Research Institute on climate Change and the Environment comments:
"These [FoI] documents expose once again the double standards promoted by…the GWPF, who demand absolute transparency from everybody except themselves…The GWPF was the most strident critic during the 'Climategate' row of the standards of transparency practised by the University of East Anglia, yet it simply refuses to disclose basic information about its own secretive operations, including the identity of its funders." [15]
GWPF has defended their funding secrecy, claiming that "the soil we till is highly controversial, and anyone who puts their head above the parapet has to be prepared to endure a degree of public vilification. For that reason we offer all our donors the protection of anonymity." According to a 2011 article in The Guardian, its total income for the period up to 31 July 2010 was £503,302, of which only £8,168 (or 1.6%) came from membership contributions. [16]
This leaves the question of who provides the rest of their funding. The foundation charges a minimum annual membership fee of £100. According to The Guardian, the foundation received £12,161 from membership fees in the year ending 31 July 2012. That would suggest a membership of 120 members at the most. The GWPF's main source of income remains donations, having received over £1m in the past three years. The Guardian investigated further, and found that one of the foundation's secret donors is Michael Hintze, a businessman who has also given large sums of money to the Conservative party. [17], [18]
In 2014, Neil Record, the founding chairman of his own specialist currency management company, and trustee of the free market Institute of Economic Affairs think tank, was named for the first time as a financial backer.[19]
Asked how much he gave to Lawson's charity, he replied this was "a private matter on which I am not prepared to comment further." DeSmog UK estimates the donations to be higher than £100,000. [19]
DeSmog UK also reported that Lord Vinson, who was instrumental in the rise to power of the late Margaret Thatcher, was also a backer of GWPF. He donated at least £15,000 to the Global Warming Policy Foundation in the first five years through his own charity, according to documents submitted to the Charity Commission. Between 2013 and 2017, the Nigel Vinson Charitable Trust donated a total of £45,000 to the GWPF. [19], [135]
Global Warming Policy Foundation Companies House
&

Research Docs
Global Warming Policy Forum Companies House Docs
Key People
Board of Trustees
*Stringer is the only currently-elected MP to be listed as a GWPF trustee. View DeSmog UK coverage here. [21]
Academic Advisory Council
| | | | | | | | | | |
| --- | --- | --- | --- | --- | --- | --- | --- | --- | --- |
| Name | 2010 | 2012 | 2013 | 2014 | 2015[22] | 2016 | 2017 | 2018 | 2019 |
| Christian Gerondeau | Y | Y | Y | Y | Y | Y | Y | Y | Y |
| David Henderson | Y | Y | Y | Y | Y | Y | Y | Y | |
| Freeman Dyson | Y | Y | Y | Y | Y | Y | Y | Y | Y |
| Ian Byatt | Y | Y | Y | Y | Y | Y | Y | Y | Y |
| Samuel Brittan | Y | Y | Y | Y | Y | Y | Y | Y | Y |
| Terence Kealey | Y | Y | Y | Y | Y | Y | Y | Y | Y |
| Vincent Courtillot | Y | Y | Y | Y | Y | Y | Y | Y | Y |
| Alan Rudge | | Y | Y | Y | Y | Y | Y | Y | Y |
| Deepak Lal* | | Y | Y | Y | Y | Y | Y | Y | Y |
| Ian Plimer | | Y | Y | Y | Y | Y | Y | Y | Y |
| Matt Ridley | | Y | Y | Y | Y | Y | Y | Y | Y |
| Paul Reiter | | Y | Y | Y | Y | Y | Y | Y | |
| Richard Lindzen | | Y | Y | Y | Y | Y | Y | Y | Y |
| Robert Mendelsohn | | Y | Y | Y | Y | Y | Y | Y | Y |
| Ross McKitrick | | Y | Y | Y | Y | Y | Y | Y | Y |
| William Happer | | Y | Y | Y | Y | Y | Y | Y | |
| Christopher Essex (Chairman) | | | | Y | Y | Y | Y | Y | |
| Henrik Svensmark | | | | Y | Y | Y | Y | Y | Y |
| Nir Shaviv | | | | Y | Y | Y | Y | Y | Y |
| Fritz Vahrenholt | | | | | Y | Y | Y | Y | Y |
| Anastasios Tsonis | | | | | | Y | Y | Y | Y |
| David Whitehouse | | Y | Y | Y | Y | | Y | Y | Y |
| Garth Paltridge | | | | | | | Y | Y | Y |
| John Constable | | | | | | | Y | Y | Y |
| Gwythian Prins | | Y | | | | | | Y | Y |
| Laurence Gould | | | | | | | | Y | Y |
| Ole Humlum | | | | | | | | Y | Y |
| William Kininmonth | | | | | | | | Y | Y |
| Philip Stott | | Y | Y | Y | Y | Y | Y | | |
| Richard Tol | | Y | Y | Y | Y | Y | Y | | |
| Indur Goklany | Y | Y | Y | Y | Y | Y | | | |
| Adrian Berry | Y | Y | Y | Y | Y | | | | |
| Robert Carter | | Y | Y | Y | Y | | | | |
| Alan Peacock | | Y | Y | Y | | | | | |
| Anthony Kelly | Y | Y | Y | | | | | | |
| B P Radhakrishna | | Y | | | | | | | |
| Hal Lewis | Y | | | | | | | | |
*Deepak Lal passed away on April 30, 2020. [189]
Location
The
GWPF
was
previously located
at 10 Upper Bank Street, London, and before this at
1 Carlton House Terrace, London,
in a room rented from the Institute of Materials, Minerals and Mining. According to
Companies House
, the organisation is currently based at
55 Tufton Street
, Westminster, an address it shares with several right-wing, pro free-market thinktanks:
[26]
,
[27]
,
[28]
,
[29]
,
[123]
55 Tufton Street
Westminster
London
SW1P 3QL
Actions
April 23, 2021
An article in the Global Warming Policy Forum written by research scientist Roy Spencer disputed the veracity of computer models predicting rising global temperatures. Arguing that: "Just about every climate claim made by politicians, and even many vocal scientists, has been either an exaggeration or a lie," Spencer claimed that official climate models had been "promoted for the purposes of implementing expensive, economically-damaging, and poverty-worsening energy policies." [272]
Elsewhere in the article, Spencer wrote: "It matters because there is no Climate Crisis. There is no Climate Emergency."
April 19, 2021
The Global Warming Policy Foundation published a press release criticising the government's decision to expand wind farm subsidies as part of a strategy to achieve net zero carbon emissions by 2050. The press release quoted the Foundation's former Chairman Lord Lawson, who said: "These multi-billion subsidies are not only a massive transfer of wealth from the poor to the rich, but are damaging the UK economy as a whole. This madness has to stop." [271]

It also quoted the Foundation's Director, Benny Peiser, who described the subsidies as an "obscenity," stating: "Every time a new wind farm comes on stream, the consumer is hit with a double whammy – a relentless increase in annual subsidy payments to wind farm operators and an annual bill for fixing the damage that is done to grid stability."
April 13, 2021
The Global Warming Policy Foundation published a paper written by Heartland Institute policy analyst and climate science denier William M. Briggs, which argued that existing models attributing incidents of extreme weather to human causes were inaccurate. He stated: "Models have too much mean prediction error, and unknown but presumably large prediction error of extreme events. They are thus not trustworthy." [269]
He also disputed the accuracy of observational studies intended to gauge the severity of extreme weather incidents by placing them within a historical context, stating: "The difficulty is that measurements of the past come with more uncertainty than measurements of the present, and often substantially more. This uncertainty must be carried through all levels of an attribution analysis, but isn't."
The press release accompanying the paper stated: "Attribution studies assume that the weather has been getting worse, yet empirical observations do not support this generic assumption." [270]
April 1, 2021
The Global Warming Policy Forum published a press release showing the results of a poll commissioned by the GWPF and carried out by market research consultancy Savanta ComRes, which measured public concern about climate change. The poll "revealed low levels of public awareness of key trends relating to climate change and international development," and found that "there is also a significant minority of the public who say they are 'not very' or 'not at all' concerned by climate change." [268]
March 16, 2021
The Global Warming Policy Foundation published a press release which called for scientific advisory policy to be reformed by including a plurality of perspectives, arguing that COVID-19 had undermined public trust in established scientific consensus. It stated: "Scientific modelling, warnings and predictions based on widely differing assumptions are now exposed as contradictory and flawed as never before. As a result, institutional science advice is haemorrhaging trust while facing the biggest crisis in modern history." [266]
The press release quoted the Foundation's Director, Benny Peiser, who said: "The introduction of institutional red teams into the way science is organised and funded in open societies should be the top priority of a scientific reformation after the end of the Covid-19 crisis." In another article for the Global Warming Policy Forum, cited by the press release, Peiser explained that this would entail a "scientific paradigm shift" intended to "help to ensure that free nations can avoid repeating similar catastrophic mistakes and disastrous policy decisions based on fallacious modelling and flawed predictions". [267]
March 15, 2021
The Global Warming Policy Foundation published a press release criticising BBC programme 'A Perfect Planet' which it said "contains multiple factual inaccuracies and gives an unchallenged platform to political activists". [263]
The press release quoted the Foundation's Head of Policy, Harry Wilkinson, who said: "The impression created by the documentary is of 'radical…out of control' increases in extreme weather, and this is clearly not supported by the scientific evidence." He added: "That the BBC are using activists to try and frighten people is deeply concerning."
The release also linked to a complaint made by the GWPF against the BBC, written by Wilkinson, which stated that the programme's fifth episode, entitled 'Humans,' featured "a consistent bias towards exaggerating the negative impacts of climate change and overstating extreme weather trends". Wilkinson also disputed the effectiveness of renewable energy sources, writing: "Wind and solar are not particularly energy dense sources of energy and have particular costs associated with their intermittency and impact on grid frequency." He added: "If they represented 'free' energy sources then we would already be using them to meet all of our energy needs." [264]
March 12, 2021
The Global Warming Policy Foundation published a press release criticising the government's decision to block a plan for a new coking coal mine in Cumbria. It stated that the controversy over the mine "is just a taster of the public backlash the government and MPs can expect once voters feel the pain of the planned bans on petrol cars and gas boilers while millions of homes become unsellable due to Net Zero regulations". [265]
The press release also quoted the Foundation's Director, Benny Peiser, who stated: "The irony of caving in to the green mob is that CO2 emissions are likely to rise as the production of coal and steel are increasingly off-shored to countries with less environmental standards." Peiser also criticised the "self-destructive and largely futile effects of Britain's unilateral climate policies".
March 10, 2021
The Global Warming Policy Forum published a press release which criticised the impact of net zero decarbonisation policies on the British steel industry, stating: "the Global Warming Policy Forum (GWPF) has warned that the steel industry and other energy-intensive industries have no future in the UK, as the Net Zero agenda continues to drive electricity prices upwards." [260]
The press release quoted the Foundation's energy editor, John Constable, who said: "The security of jobs in the steel industry has been sacrificed on the altar of a utopian and incompetent climate policy."
March 5, 2021
The Global Warming Policy Foundation published a press release which claimed that Theresa May's government had misled the public about the cost of reaching net zero carbon emissions by 2050. An email from the Treasury to then-Chancellor Phillip Hammond, published after a two year freedom of information dispute, said it considered an estimate for the annual cost of decarbonisation by the Department for Business, Energy and Industrial Strategy as "more realistic" than the government-backed estimate published by the Climate Change Committee: £70 billion, as opposed to £50 billion. However, it said the cost of transition was "highly uncertain". [258]
An article in The Sun reporting on the disclosure implied this demonstrated the government's hypocrisy, stating: "It comes after Boris Johnson promised Sun readers earlier this week that he wouldn't whack them with extra taxes to pay for the promise to reach a clean planet." The article quoted the GWPF's Deputy Director, Andrew Montford, who stated that the controversy following the email "shows that despite being aware of a more credible higher estimate for the cost of Net Zero, government ministers and officials chose to conceal vital information." [259]
February 23, 2021
A report for the Global Warming Policy Foundation written by its energy editor John Constable criticised a Statutory Regulation which had come into force in April 2019, making it illegal for businesses to misreport their carbon dioxide emissions. Constable stated: "Criminalisation is disproportionate to the magnitude of the breach of regulations, discourages entrepreneurial activity, increases business overheads, and creates a legal pressure point for vexatious 'lawfare.'" [254]
The press release accompanying the report quoted the GWPF's Director, Benny Peiser, who criticised the Conservative Party for implementing this legislation. He stated: "The Conservatives are still widely seen as supporters of entrepreneurial private ownership. In reality they have often pursued a quasi-socialist agenda that puts climate activists first. This legislation is deeply illiberal and a threat to future investment, innovation and economic growth in the UK." [255]
February 19, 2021
The Global Warming Policy Foundation's Deputy Director, Andrew Montford, published a paper which criticised the government's plans to expand offshore wind power to 40 gigawatts by 2030 as part of a "Green Industrial Revolution". The paper disputed that the costs of wind energy were falling, stating: "there is no hard evidence that any change in the cost structure of the industry is under way." It also stated that: "The country's future is therefore being wagered on the basis that offshore wind farms are going to produce cheap electricity in the very near future." [252]
A press release accompanying the paper quoted Montford as saying: "The man in the street believes that wind power is cheap, because that's what the media reports and it's what the government tells him, too. But hard data, from audited financial accounts, shows that it's not true. Environment correspondents and ministers need to come clean with the public." [253]
February 16, 2021
The Global Warming Policy Foundation published a press release requesting that fact-checking website Climate Feedback withdraw criticisms of an article written for Breitbart by columnist James Delingpole, which had cited a report published in the GWPF by science policy researcher Dr. Indur Goklany, after the report was criticised for making false claims about the impact of climate change. [256]
Climate Feedback had stated: "It is also misleading to call the GWPF post published by Dr. Indur Goklany a 'study,' as it does not include any original research nor was it peer-reviewed or published by a reputable scientific organisation." [257]
The press release quoted the Foundation's Director, Dr. Benny Peiser, who stated: "Throughout the so-called fact-check, they deceive their readers about the nature of our work and Dr Goklany's report, building up strawman arguments to knock down. It's a remarkably unprofessional document in many ways."
February 15, 2021
The Global Warming Policy Forum published a press release claiming that the government's decarbonisation policies had driven up electricity prices for low-income families, criticising "the rising burden of the rising cost of green energy policies on electricity bills". [247]
The press release quoted the Foundation's energy editor, John Constable, who criticised Secretary of State for Business, Energy and Industrial Strategy Kwasi Kwarteng's measures intended to offer relief to those experiencing energy poverty, which included the provision of £140 rebates on energy bills for low-income households. Constable stated: "Mr Kwarteng's measures are wholly inadequate, barely scratching the surface of the electricity bill issue, and leaving the cost of living problem caused by his climate policies quite untouched," adding: "As the UK shifts towards electric heating to reduce emissions this problem, already serious, will only get worse." [248]
February 12, 2021
An article in the Global Warming Policy Forum written by Vijay Jayaraj, a researcher for evangelical Christian group The Cornwall Alliance, argued that hypocritical Western nations, having industrialised using fossil fuels, now sought to deny that same opportunity to developing nations such as India. Jayaraj wrote: "The developing countries must not allow their domestic energy policies be dictated by carbon imperialists from the West, especially those from the Biden administration," also stating: "To ask India to forgo fossil fuels is suicidal." [249]
Jayaraj also questioned the viability of renewable energy, stating: "India understands the unreliability of wind and solar, and is leaving no stones unturned when it comes to securing fossil fuel reserves for the present and the future. For example, in 2020, the wind sector could not operate to its potential even in the months that are traditionally considered to be best for operations."
February 5, 2021
The Global Warming Policy Forum released a statement criticising Jonathan Brearley, CEO of energy regulator Ofgem, for failing to warn the public about rising energy prices that Brearley stated would come into force in April, when energy usage had declined. The article quoted the Foundation's Director, Benny Peiser, who referred to the rising energy bills as "effectively a manifest failure of ever more expensive Net Zero policies," adding: "Boris Johnson and his government are risking their political survival if they continue to push up the cost of energy, driving millions of British households into energy poverty." [242] [243]
February 4, 2021
The Global Warming Policy Forum published a report by policy advisor Dr Indur Gokhlany, a press release for which claimed that: "Contrary to popular belief there is little evidence of harmful trends from the impact of global warming." [245] [246]
The report, entitled "Impacts of Climate Change: Perception and Reality", disputed that the impacts of climate change were negative overall, stating: "The detrimental effects of carbon dioxide and fossil fuels are overwhelmed by other concurrent changes that are beneficial." Gokhlany also wrote: "Most extreme weather phenomena have not become more extreme, more deadly, or more destructive."
February 3, 2021
The Global Warming Policy Foundation published an article by the organisation's Science Editor David Whitehouse, which disputed the accuracy of headlines claiming that climate change had caused autumn leaves to fall earlier. [244]
Whitehouse stated: "Now excuse me for being a little pedantic, as scientists and journalists should be, but autumn advancing by 3-6 days over the next 80 years seems to me to be something that would be rather swamped by seasonal variations," adding: "Can we tell if autumn starts a day earlier after more than a quarter of a century? Could we tell if it started two or three days earlier?"
February 1, 2021
The Global Warming Policy Foundation published a report by "independent researcher and writer" Ben Pile criticising the UK's Climate Assembly, a focus group aiming to understand public preferences on how to combat climate change. The report characterised the assembly as "hastily arranged" and "shambolic," stating: "the public is broadly, but only weakly supportive of climate policies. There is no appetite for costly policies that require significant expense and draconian regulation of lifestyle." [233]
January 28, 2021
The Global Warming Policy Foundation published a press release calling for the government to "suspend immediately the green levies on energy bills," stating that: "Lockdown has exposed the UK's electricity system as both technically and economically weak, due to over-dependence on renewables." [234]
The press release quoted the Foundation's energy editor John Constable, who criticised renewable technologies, stating that: "taking the necessary emergency action in the short run, and adopting a longer-term cost-minimisation strategy will mean admitting that the green policies are failing."
January 19, 2021
In an article for the Global Warming Policy Foundation, the organisation's energy editor John Constable criticised the government's plans to build an offshore wind farm off the Norfolk and Yorkshire coasts, claiming that it would lead to the extinction of the Kittiwake bird. Constable stated that environmentalism was "in a state of physical and moral collapse," and that environmentalists had created an "irrational fear of climate change." [230]
The Foundation's Director, Benny Peiser, also wrote a letter to Sir David Attenborough calling for him to intervene to reverse the government's decision, claiming that the government had "set aside the protection afforded by Natura 2000 to the resting and nesting sites of Kittiwake on the East Coast," and that the decision "sets a distorting and irrational precedent. [231]
January 14, 2021
Vijay Raj, a researcher for the anti-environmentalist evangelical Christian group the Cornwall Alliance, wrote an article for the Global Warming Policy Foundation criticising the EU's proposed CBAM (Climate Border Adjustment Mechanism) which would impose carbon taxes on countries exporting to the EU, and then President-elect Joe Biden's plans to achieve a carbon-free power sector by 2035. Raj stated that these proposals would: [232]
"alienate developing countries like India and make them increase their trade relationships with global fossil fuel giants like China,"
adding:
"the CBAM will likely cause industry-level adjustments in major fossil fuel countries like India, which may eventually lead to compromised growth and prolongation of the deadlines to achieve developmental targets. It will eventually impact the consumers and the economy which is already reeling under the impact of COVID-19 lockdown."
January 1, 2021
The Global Warming Policy Foundation published a press release claiming that the Treasury had initially refused to release calculations of the estimated £1 trillion cost of decarbonising the economy in 2019. The release quoted the Foundation's Deputy Director Andrew Montford, who described the Treasury's actions as a "major embarrassment," and " misgovernance on a historic scale." [235]
December 29, 2020
The Global Warming Policy Foundation's Energy Editor John Constable published a paper criticising the cost implications of Prime Minister Boris Johnson's plans to decarbonise the economy by 2050. [220]
Constable criticised the government's plans to expand offshore wind energy, stating: "Even assuming, as the government wrongly does, that offshore wind is already inexpensive and will become still cheaper in coming decades, the abatement costs per tonne of carbon dioxide are many times higher than mainstream estimates of the harms of climate change." Constable also claimed the government's policies would cause "terrible socio-economic harm."
In the press release accompanying the paper, the Foundation's Director Benny Peiser stated: "The failure to be transparent and honest about the actual costs of its Net Zero plans undermines public confidence in the government's climate policy. [221]
December 20, 2020
The Global Warming Policy Foundation announced that power systems engineer Bryan Leyland had joined the organisation's Academic Advisory Council. [219]
December 11, 2020
The GWPF published a paper by 'China Watcher' Patricia Adams entitled "The Red and the Green: China's Useful Idiots," which claimed that Western environmentalist groups had been co-opted by the Chinese state, arguing that: "these environmentalists are the Chinese 'Communist' Party's 'useful idiots'. The Communist government not only monitors their activities in China to ensure their compliance with government policy, it also exercises the ability to direct the agenda that the environmentalists will carry out via the Communist government's de facto control over the use of funds." [222]
A press release accompanying the paper stated that "western greens have effectively become mouthpieces for President Xi," and that environmental groups were "controlled and used" by the CCP. [223]
December 10, 2020
Launching a report on the cost of the UK's net zero target, GWPF director Benny Peiser characterised the Committee on Climate Change (CCC)'s advice to the Government on achieving net zero decarbonisation as "a political suicide note," stating that their claims were "based on fallacious assumptions and magical thinking that is simply not credible." [224]
He said the target "will ruin lives across society, with truly terrible effects on low income households."
The GWPF's energy editor, John Constable, described the CCC as "nothing more than a passive and uncritical sock puppet repeating government nonsense."
December 3, 2020
The GWPF hosted a webinar alongside the Australian Environment Foundation (AEF), focussing on how to reform the quality of environmental research in Australia, which featured climate science sceptics Dr. Peter Ridd, Joanne Nova and Institute of Public Affairs researcher Alan Moran. [218]
November 27, 2020
The GWPF's Deputy Director Andrew Montford wrote a report questioning the cost implications of decarbonising public transport, which stated that: "politicians seem to agree that battery electric vehicles (BEVs) are the way forward, although without apparently having considered the challenges involved." [217]
An article accompanying the report quoted Montford disputing the costs associated with electric vehicles. Montford stated: "Several aspects of EVs make them more costly than petrol cars – the need to renew batteries, the time wasted at charging points, the need to find alternative transport when their range is inadequate. That's only going to get worse as electricity prices soar in future. We could easily see the cost of motoring double. The working classes are going to be driven off the roads." [216]
November 20, 2020
The GWPF published a press release calling for the withdrawal of a Red Cross report which claimed that climate and weather related disasters were increasing. The GWPF's Director, Dr. Benny Peiser, referred to the report as "an intercontinental shambles", stating: "The Red Cross should withdraw its report or face accusations of using unethical practices to mislead the public." [214]
The press release cited another GWPF press release criticising a UN report on climate-related disasters, which Peiser had described as "an embarrassment" and "a catalogue of errors." [215]
November 19, 2020
A GWPF video narrated by zoologist Susan Crockford claimed to provide evidence that David Attenborough's 2019 Netflix Documentary film 'Our Planet' erroneously depicted climate change, rather than polar bear attacks, as the cause of the deaths of walruses. The accompanying press release characterised the film as "a manipulative sham with no resemblance to reality", and "a false narrative constructed to elicit an emotional response from the public." [210] [211]
November 19, 2020
The GWPF's Science Editor David Whitehouse wrote an article disputing research which found that warmer winters were linked to greater risks of drowning. Whitehouse referred to stories reporting this research as "another example of specialist reporters of climate change only reading top lines, and not looking at the data of the stories they are reporting." [209]
November 18, 2020
Former GWPF Chairman Nigel Lawson criticised Prime Minister Boris Johnson's plans to ban the sale of petrol and diesel cars from 2030, stating: "If the Government were trying to damage the economy they couldn't be doing it better. Moreover, the job creation mantra is economically illiterate. A programme to erect statues of Boris in every town and village in the land would also 'create jobs' but that doesn't make it a sensible thing to do." [212]
November 18, 2020
A GWPF article entitled: "Boris' Green Industrial Revolution is economic lockdown, for ever," referred to Prime Minister Boris Johnson's 10-point plan for a "Green Industrial Revolution" as "shallow gesture politics, but a gesture with severely negative economic implications from day one into the foreseeable future", also claiming that "all previous attempts to create a viable green economy have failed." The article also quoted the GWPF's energy editor John Constable, who stated: "These over-reaching proposals are technically absurd, economically deluded and politically disastrous. Does the Prime Minister have any competent advisors? One wonders?" [213]
October 29, 2020
The GWPF wrote a letter to the UK Treasury Committee, questioning the economic benefits of decarbonising the economy by 2050. The blog post accompanying the letter stated that, "the scale of the task, in terms of money and of other resources, made it clear that the Net Zero project was unachievable even before Covid. Now, with the economy severely weakened, it would be foolish to even set out on such a course. To do so would risk setting the country on course to decades of economic stagnation." [208]
October 29, 2020
The GWPF Science Editor David Whitehouse wrote a blog post disputing research concluding that September 2020 was the hottest September on record, stating that, "recently there were many headlines proclaiming that this September was the warmest on record. It was from a report uncritically relayed by many. The reasoning behind the conclusion is worth taking a little time to digest as it demonstrates that temperature statistics are often open to interpretation". [207]
October 12, 2020
The Global Warming Policy Foundation published a press release criticising a UN report entitled "The Human Cost of Disasters," which commented on "the staggering rise in climate-related disasters over the last twenty years". The Foundation's Director, Benny Peiser, described the report as a "shambles" and a "catalogue of errors," citing a tweet by climate policy analyst Roger Pielke Jr, who claimed that the report had misused the source data. [238], [239], [240]
October 12, 2020
The Global Warming Policy Foundation published an article announcing the death of Sir Samuel Brittan, one of the organisation's founding members. It cited an article by Brittan in The Spectator which claimed that "enthusiasts for climate action" were intent on stifling free speech, stating that: "Words such as 'denial' are intentionally brought into the debate and recall those who deny the reality of the Nazi Holocaust." [236], [237]
October 8, 2020
The Global Warming Policy Foundation published a press release announcing the publication of How Dare You," a satirical series of articles also available in book format, by Peter Foster of The National Post which mocked climate activist Greta Thunberg's speech in front of the UN Climate Summit in 2019. [241]
September 29, 2020
The GWPF published a paper entitled, "How Green are Electric Cars?," which featured a debate between frequent GWPF contributor Professor Gautam Kalghatgi of Oxford University and Auke Hoekstra of the Technical University of Eindhoven. The paper criticised the environmental impacts of electric cars, stating: "the production of electric cars generates significant CO2 emissions due to the production of the batteries. These use materials such as lithium, nickel, cobalt or graphite, the mining and extraction of which can be energy-intensive and highly polluting." [225] [226]
The press release accompanying the paper stated that, according to Professor Kalghatgi, "since much of the world's electricity comes from fossil fuels, carbon dioxide emissions are simply being moved from driving electric cars to charging their batteries." [227]
September 23, 2020
In a commentary on the GWPF's website, Science Editor David Whitehouse discussed a paper published in the Journal of Earth Science, which claims to "provide new evidence for the recent global warming hiatus". The paper "cast light on the much debated recent hiatus in global temperature", the post said. [206]
September 13, 2020
The GWPF published a report entitled 'The Hidden Cost of Net Zero: Rewiring the UK', which claimed that, "Under pressure from a powerful environmental lobby, politicians pay lip service to the need for drastic decarbonisation of developed-world economies and commit to increasingly unrealistic targets". The report advocated for eschewing government intervention in favour of market – based solutions to climate change, arguing that: "it is far better to focus resources on developing energy generation and storage technologies (plus, potentially, carbon capture technologies) that industry and domestic consumers would choose without compulsion or subsidies." [205]
September 8, 2020
The GWPF published a press release entitled, "Britain's net zero utopia is a futile exercise", which claimed that, "there is no realistic chance that the developing world will be following this costly approach in the next 20 years or so." It linked to a report by Martin Livermore which claimed that politicians were under the influence of a "powerful environmental lobby". [204]
July 31, 2020
The GWPF published a comment article critical of the government's approach to wind power by by Gordon Hughes and other authors which stated that, "the UK Government is being pressed by lobbyists to adopt low-carbon policies, justified by reference to CfD auction prices that are patently unsustainable on the terms presented, but which are really a one-way option on higher market prices in future", taking a sceptical approach to the efficacy of wind power. [199]
July 29th, 2020
The GWPF published a press release entitled, "Banning the sale of Petrol Cars would be a colossal error", in which it was stated that: "Banning the sale of new petrol and diesel cars simply means abandoning the possibility of future emissions reductions in this sector by freezing the technology of a vast majority of vehicles running U.K. transport for decades to come", also claiming that EVs are not capable of achieving considerably lower levels of CO2 emissions than petrol cars. [197]
July 16th, 2020
The GWPF published a report claiming that, "the UK faces a £200 billion bill to rewire the country if the government follows through on plans to electrify the country's homes and transport systems. That's because installation of electric car chargers and heat pumps will push up demand for power beyond the capacity of the existing wiring." [198]
June 30th, 2020
GWPF published a press release welcoming what it described as "Newfound Realism Among Prominent Green Campaigners", in which it commended former Extinction Rebellion campaigner Zion Lights for her embrace of nuclear energy. GWPF Director Benny Peiser stated, "It's great to see these prominent green campaigners disavowing the eco-extremism that has done such damage to the world."
Peiser also aligned the GWPF with the views of US commentator Michael Shellenberger, saying that when he says "that climate change isn't even the biggest environmental problem the world faces, he's echoing a view that the GWPF has highlighted since our inception." [200]
June 29, 2020
The GWPF launched Energy Justice, a website that seeks to "highlight how reliable energy access is central to the problems of people and businesses in the developing world". [190], [191]
The organisation also published a new report, titled "Heart of Darkness: Why energy poverty is a security issue" (PDF), arguing that fossil fuels are the solution to energy poverty in Sub-Saharan Africa. The report's author, Geoff Hill, cited various academics who have a vested interest in clean coal technology and the continued use of fossil fuels. [192]
Hill is a Zimbabwean journalist who spent a large portion of his early career working for Rupert Murdoch's The Australian and doesn't appear to have an academic background in climate science or energy policy. [192]
Subsequently the report was dismissed by climate and energy experts working in the region. [193]
June 20th, 2020
The GWPF published a press release criticising the Environment Agency for saying climate change may drive future water shortages. The GWPF said, "there are undoubtedly good reasons why water shortages may occur in future, such as population growth and increased demands. Spurious claims about climate change will simply serve to draw attention away from these very real issues and the failure to expand storage and deal with water leaks". [201]
June 19th 2020
The GWPF published a press release entitled: "Green Haste Will Trash The Promise Of Hydrogen", citing a study by its Energy Editor John Constable which claimed that "Hydrogen has genuine long term potential as a universal energy carrier to supplement electricity, but current methods of production are hugely expensive and will stress fresh water supplies. Target-driven haste is already resulting in accidents. Counterproductive and naive policies are compromising the hydrogen future." [202]
June 17th, 2020
The GWPF published a press release entitled: 'Dangers Of Nuclear Energy 'Much Less Than Previously Thought', which stated that "nuclear radiation seems to be relatively harmless at low levels. If correct, it means that the nuclear energy industry is being grossly over-regulated for no reason at all", aiming to discredit scientific studies that had emerged in the aftermath of WWII claiming that nuclear radiation was dangerous, even at low levels."
Benny Peiser, Director of the GWPF, argued that an "environmental bureaucracy" was attempting to dissuade the government from adopting nuclear energy. [203]
June 11, 2020
The Global Warming Policy Foundation tweeted that the government's goal of achieving Net Zero carbon emissions by 2050 would mean "Net zero emissions, net zero growth, net zero recovery."
June 10, 2020
The Global Warming Policy Foundation published a press release quoting the organisation's energy editor, John Constable, who disputed the effectiveness of renewable energy sources in decarbonising the economy. Constable stated: [250]
"Renewables have been undermining the UK electricity system for years, with National Grid propping up a tottering system with vast piles of consumer cash. The Covid-19 lockdown has caused a balancing cost surge and revealed this green appeasement policy as unsustainable. The UK's fragile renewables-based system can barely deal with the expected; a surprise causes a crisis."
Constable also stated that: "the national interest demands a cost minimisation strategy for electricity, based on gas and nuclear".
The press release linked to a report written by Constable which contended that: "the electricity system of the United Kingdom is becoming weaker as progressively larger volumes of electricity from renewable sources such as wind and solar are forced into the system by regulation," a process which Constable described as "systemic enfeeblement". [251]
June 9, 2020
The GWPF published a press release commenting on the results of a YouGov poll on public concerns about coronavirus and climate change, which it had commissioned. [195], [196]
The press release focused particularly on the results of the question, "Regarding the overall impact on humanity, are you more concerned about the impact of coronavirus or climate change?" – in which "coronavirus" had the highest number of votes. [195], [196]
The organisation claimed that the public had "yet to form a strong view about what the implications of Net Zero" were, even though the highest number of votes favoured the opinion that achieving net-zero emissions would have a "total positive effect" on the economy. The press release wrote: [195]
"For a Conservative government that has committed the objective of Net Zero emissions to legislation, and which is now touting a 'green recovery', these results could be interpreted as a warning that voters will be reluctant to tolerate decarbonisation policies that hit growth." [195]
May 5, 2020
The Global Warming Policy Forum hosted a webinar discussing the role of science in public policy, featuring climate science sceptics Toby Young, Harry Wilkinson, Matt Ridley and writer and campaigner Inaya Folarin Amin. [229]
April 20, 2020
During the coronavirus pandemic, the GWPF reshared a news story, originally published by Reuters, about how participants from Climate Assembly UK had said that lockdown measures, put in place to prevent the spread of the virus, were a "test run" for ways to address climate change. [187], [188]
In the repost, the GWPF included an original graphic, with the text "Net Zero Like lockdown but PERMANENT" on what appeared to be an image of a crying woman. [187]

April 14, 2020
The GWPF reposted an article published on the Koch-funded online magazine Spiked which claimed that scientific forecasting had "never been less credible", giving examples about COVID-19, heath, and climate change. [194]
February 24, 2020
The GWPF posted a press release on their website claiming there could be "astronomical" costs of reaching the government's net-zero target for the UK economy. Drawing on four papers published on the same day by the GWPF, the post claimed that the final sum for reaching the 2050 target would "surpass £3 trillion, or £100,000 per household". These estimates have been strongly disputed by policy analysts at Carbon Brief. [176] [186]
Introducing the reports, a briefing paper titled "£3 Trillion and Counting" (PDF) was published and authored by Andrew Montford, deputy director of GWPF. The report claimed that attempting to meet the 2050 net-zero target in the way the Committee on Climate Change and National Grid envisaged will "do more harm than good" and concluded by suggesting that renewables "represent a monumentally expensive dead end". [177]
A number of media outlets and other well-known climate science deniers cited the reports, including James Delingpole who, in a Breitbart article, said that Boris Johnson's net-zero targets were an "uncosted, ill-considered, virtue-signalling disaster" and that the British economy will commit "energy suicide" to reach the target. [178]
Charles Moore, a former editor of The Spectator who once said "people obsessed with climate change have a sort of project fear", referred to the GWPF reports in a piece for the Telegraph, suggesting that it was "time to come clean about the cost of going green". Other individuals who shared the report included Steve Baker, conservative MP for Wycombe and former chairman of the hard-Brexit lobby group the European Research Group, and political blogger Guido Fawkes, (Baker's tweet and Fawkes tweet) as well as the Canada-based climate science denial campaign group, Friends of Science, who shared the reports in a Facebook post. [179], [180], [181], [182], [183], [184]
On the same day, the GWPF's Harry Wilkinson and Benny Peiser made an appearance on Julia Hartley-Brewer's talkRADIO show to discuss the reports and promote the claim that going net-zero would cost £3 trillion, a situation Peiser said was "bonkers". [185]
January 27, 2020
The GWPF released a video claiming nature broadcaster Sir David Attenborough had been misleading the public about the state of the Arctic and the impact of climate change on wildlife populations, in particular polar bears. The video, entitled "Attenborough's Arctic Betrayal", is narrated by prominent climate science denier Susan Crockford, a zoologist who has not published any peer-reviewed papers on polar bears. During the video, Crockford accuses Attenborough and his producers of advancing a "message of escalating doom about the Arctic", claiming that "polar bears and walrus are currently thriving, despite recent sea ice declines". According to a press release posted by the group, she argues that Attenborough "bears the brunt of responsibility for the recent epidemic of 'eco-anxiety' among children and young adults". [172], [173]
The GWPF also announced it would be sending the video to all headteachers in the UK, along with a letter "telling them that they are responsible for the mental health of their pupils and that they have a responsibility to provide their pupils with accurate information about the state of wildlife in the Arctic".
January 20, 2020
The Global Warming Policy Forum published polling on public attitudes to climate change in the UK, with questions pitting "stronger climate change targets" against "reducing energy bills". The research, conducted by YouGov, highlighted divisions between poorer and wealthier respondents, as well as between pro-Remain and pro-Brexit voters, and supporters of different political parties. A press release about the polling claimed that "working class and Leave voters favour lower energy bills over climate action" and called on the government to "pay more attention to its voters' concerns about energy prices". [170]
The same day, the Foundation published an article on the El Nino climate cycle in the Pacific Ocean by its Science Editor, David Whitehouse, in which he claimed that the "last decade was the warmest mainly because of what happened in the latter part of it". He argued that this was "driven by El Nino conditions" and that "El Nino effects are currently much stronger than long-term global warming". [171]
November 27, 2019
The GWPF paid tribute to the writer and journalist Clive James, republishing an essay James wrote for the group in 2017 entitled "Mass Death Dies Hard". James argued in the essay: [168]
"…this particular area has a knack of raising questions that get more and more complicated in the absence of an answer to the elementary ones. One of those elementary questions is about how man-made carbon dioxide can be a driver of climate change if the global temperature has not gone up by much over the last twenty years but the amount of man-made carbon dioxide has. If we go on to ask a supplementary question – say, how could carbon dioxide raise temperature when the evidence of the ice cores indicates that temperature has always raised carbon dioxide – we will be given complicated answers, but we still haven't had an answer to the first question, except for the suggestion that the temperature, despite the observations, really has gone up, but that the extra heat is hiding in the ocean."
The essay also featured in a series of essays called "Climate Change: The Facts 2017", published by the Australian climate science denial think tank, the Institute of Public Affairs.
November 11, 2019
The GWPF's annual lecture in London, entitled "Energy Utopias and Engineering Realities", was given by one of the group's newly-appointed trustees, former engineering professor Professor Michael Kelly. According to a press release about the event, Kelly argued the UK's commitment to reach "net zero" emissions by 2050 was "beset by superficial thinking that ignores engineering reality" and would be "unachievable without major social disruption", calling the Committee on Climate Change's cost estimates "pie in the sky". [167]
October 23, 2019
The GWPF shared a poll on Twitter showing a majority of respondents felt more sympathy with commuters who dragged Extinction Rebellion protesters off a commuter train during two weeks of protests in London than the protesters themselves. The tweet suggested the commuters' actions demonstrated "people power". [163]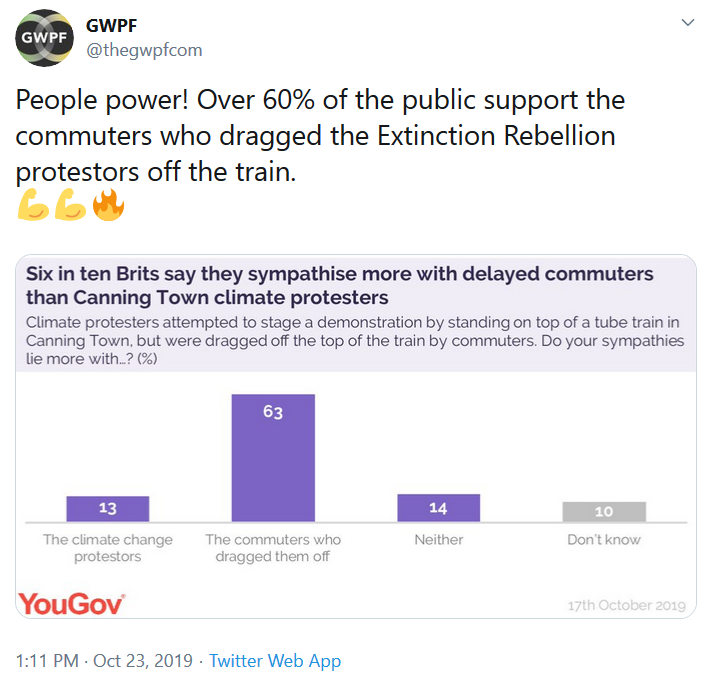 October 21, 2019
The GWPF hosted a presentation by zoologist Susan Crockford entitled "The Polar Bear Catastrophe That Never Happened" in which she argued that polar bears are not under threat as a result of climate change and can adapt sufficiently to Arctic sea ice loss. Crockford, a specialist on dog evolution who has never published a peer-reviewed paper on polar bears, has written for and given speeches to the GWPF multiple times in the past. [164]
October 15, 2019
The GWPF's Deputy Director Andrew Montford wrote an article for the right-wing blog site the Conservative Woman claiming that renewables subsidies were costing UK households an average of £340 each year. The article was based on a recent post by the GWPF's Energy Editor John Constable. [160], [161]
He ended by saying:
"It's worth remembering why we are doing this. It's certainly not going to make any difference to the Earth's temperature: our carbon dioxide emissions are a tiny fraction of the global total, and smaller than annual increases in China and India. No, we are doing this as a gesture: a way to show our leadership on climate change, setting an example to the rest of the world."
In August, the GWPF announced one of the editors of the Conservative Woman, Kathy Gyngell, had joined its board of trustees. [162]
October 11, 2019
The GWPF wrote to the IPCC, asking it to correct "serious errors" in its recently published Special Report on the Ocean and Cryosphere in a Changing Climate. GWPF director Benny Peiser said the IPCC's conclusion that ocean heat uptake had been increasing was based on a retracted academic paper, writing: [159]
"While the [IPCC's] conclusion that the rate of ocean heat uptake has increased in recent years may probably be right, the evidence you cite for there being 'high confidence' and 'high agreement' is rather doubtful due to your inclusion of flawed evidence of the retracted paper by Resplandy et al. (2018)." [159]
September 27, 2019
The GWPF published a report by blogger and retired accountant Paul Homewood entitled "Plus ca change: The UK climate in 2018". The report rejects findings by the Committee on Climate Change and the Environment Agency that extreme weather events are increasing. The introduction ends: [158]
"In short, although it is slightly warmer than it used to be, the UK climate has actually changed very little. In particular, there is no evidence that weather has become more extreme. Heat-waves have not become more severe, nor droughts. Rainfall data offers no evidence thatfloods have become worse either. Neither is there any evidence from past trends that theclimate will become significantly hotter, wetter or drier, or that sea-level rise will accelerate." [158]
September 25, 2019
The GWPF posted a press release on its website from a newly-launched Dutch climate science denial group called the Climate Intelligence Foundation (CLINTEL), promoting a letter sent to UN leaders that claims "there is no climate emergency". Several members of the GWPF's "Academic Advisory Council" are signatories to the letter, entitled the "European Climate Declaration", which states: "There is no statistical evidence that global warming is intensifying hurricanes, floods, droughts and suchlike natural disasters, or making them more frequent." [155]
It also said: "CO2 is not a pollutant. It is essential to all life on Earth. Photosynthesis is a blessing. More CO2 is beneficial for nature, greening the Earth: additional CO2 in the air has promoted growth in global plant biomass."
The campaign's "ambassadors" include long-running climate science deniers, such as Richard Lindzen, Viv Forbes, Christopher Monckton and Fritz Vahrenholt. [156]
A draft of the letter was leaked to DeSmog at the beginning of the month. [157]
July 27, 2019
The GWPF published a report claiming that electricity prices in the UK could double to "bail out" new offshore wind farms. The report, entitled "Who's the Patsy? Offshore wind's high-stakes poker game", was featured on the front page of The Telegraph. [151], [152]
The research was produced by Professor Gordon Hughes, a former Professor of Economics at Edinburgh University who has previously written reports for the GWPF, as well as for the anti-wind energy campaign group the Renewable Energy Foundation (REF). John Constable, Energy Editor of the Global Warming Policy Forum, was previously Director of Policy and Research at the REF. [153]
July 5, 2019
The GWPF appointed Dr Jerome Booth, an economist, investor and chairman of Anglia Ruskin University, as a trustee. [147]
May 11, 2019
The Global Warming Policy Forum published an article by its energy editor John Constable entitled "Is the Long Renewables Honeymoon Over?" Constable argued that the renewables industry was suffering "deep-seated structuro-physical weakness," outlining problems being experienced in the wind energy industry. He ended the article by saying: "One explanation, the sole necessary one in my view, is that the physics is against this industry, and that the physics is beginning to tell." [145]
May 8, 2019
The US-based atmospheric scientist, Dr John Christy, who rejects the consensus on climate change, gave a presentation to the GWPF, a transcript of which was published on its website under the title "Putting Climate Change Claims to the Test". In the talk, Christy said: [146]
"The weather we really care about isn't changing, and Mother Nature has many ways on her own to cause her climate to experience considerable variations in cycles. If you think about how many degrees of freedom are in the climate system, what a chaotic nonlinear, dynamical system can do with all those degrees of freedom, you will always have record highs, record lows, tremendous storms and so on. That's the way that system is." [146]
April 3, 2019
The GWPF published a report by Professor Ole Humlum, a Norwegian geologist, called "State of the Climate 2018." The report claims that the World Metereological Organisation is "misleading the public" and that "since 2016 global average temperature has continued to decline," according to the GWPF's press release. [139]
An article based on the report was published the following day by Kathy Gyngell, editor of The Conservative Woman. In the article entitled "Global warming? Only in the BBC's imagination," Gyngell writes that "the BBC, whose mission was once to inform, educate and entertain, now has overriding goals – to blame and to frighten. Especially when it comes to climate." The Conservative Woman has close ties to News-watch, an anti-BBC research group whose predecessor organisation Gyngell co-founded. [140]
March 19, 2019
The GWPF published a book called "The Polar Bear Catastrophe that Never Happened" by Dr Susan Crockford. Crockford discussed the book on the Glenn Beck Programme the same day and an official book launch is set to take place as part of an annual event on April 10 organised by the Canadian climate science denial group, the Friends of Science. [137], [138]
March 11, 2019
The GWPF published a report called "Force Majeure – The Sun's Role In Climate Change" by Danish physicist Henrik Svensmark, who accepts that CO2 is affecting the climate but believes that "cosmic rays" have a more significant impact. Svensmark spoke at a Heartland Institute conference in November 2018. In a GWPF press release for the new report, he said: [133], [134]
"Galactic cosmic rays seem to be very important drivers of the Earth's climate. But they are mostly being ignored at the moment because they are seen as distracting from conventional global warming research. Science needs to do better if we want to make progress in understanding the actual impact of natural factors of climate change." [134]
February 27, 2019
The GWPF published a report by Dr Susan Crockford, a zoologist, claiming that polar bears are "continuing to thrive," while acknowledging that sea ice levels have reduced, with summer sea ice in 2018 being "again at a low level not expected until mid-century." [136]
February 14, 2019
The GWPF published a paper entitled "Transition to Reality: The Prospects For Rapid Global Decarbonization," which calls rapid decarbonization a "delusion" and questions the feasibility of widespread renewable energy. In a press release for the report, the author Robert Lyman said: [124], [125]
"To show that rapid decarbonisation is possible, you have to show that the technologies work at scale, that they are reliable and affordable and don't damage the environment, and that they can be deployed on the timescales envisaged. Advocates of renewables simply don't even try to do this." [125]
Robert Lyman runs an energy and transport consultancy called ENTRANS Policy Research Group, having held leading roles in Canadian government departments with an oil and gas remit earlier in his career. [126]
Lyman has written for and given speeches at the Alberta-based group Friends of Science in recent years. According to its website, the group believes that "The Sun causes climate change" and that "Violent weather isn't getting worse." [127]
January 2, 2019
Anastasias Tsonis, GWPF advisory board member, wrote an article for the Washington Times entitled "The overblown and misleading issue of global warming," in which he cast doubt on the extent to which human activity is responsible for climate change. Tsonis claimed that many other factors are at play, including "extraterrestrial forces" such as "solar activity and cosmic rays," and argued that other global issues like overpopulation and poverty were "far more urgent problems." He went on to ask: [128]
"Is [the use of fossil fuels and other pollution-producing agents] enough to ruin the planet by altering the climate system, a system that has undergone major changes throughout the ages?" [128]
Tsonis is emeritus distinguished professor of atmospheric science at the University of Wisconsin-Milwaukee who has focused on the issue of "natural variability" in the climate. [129]
December 20, 2018
The GWPF published a paper by Ray Bates, co-founder of the Irish Climate Science Forum, criticising the UN IPCC's "SR1.5" report on the difference between 1.5 and 2°C of global warming. The paper claimed the IPCC's report was "deficient in scientific rigour" in a number of respects. [143]
A foreword to the paper was written by Dr Edward Walsh, founding president of the University of Limerick and former chairman of Ireland's National Council for Science, Technology and Innovation, warning that: "Policymakers should carefully reflect on the significant deficiencies identified in the report before considering implementing its recommendations." [143]
November 23, 2018
DeSmog revealed that the GWPF's US fundraising arm, the American Friends of the GWPF, had received $177,001 from donors during the previous year, a significant increase on the year before. Republican donor David Herro, who has also financially supported the Heartland Institute and Cato Institute, was listed as the group's Treasurer at the time, with Lord Lawson as Chairman. [175]
November 21, 2018
The GWPF organised an event in the House of Commons to mark the 10 year anniversary of the UK's Climate Change Act, which it claims "burdens consumers with extraordinary costs". [130]
For the occasion, the GWPF launched a report which blames the Climate Change Act "and other anti-fossil-fuel policies" for worsening fuel poverty in the UK and describes the Act as "history's most expensive virtue signal". [131]
It claims that "rather than solving climate change, the only detectable effect of the Climate Change Act has been to sustain levels of energy poverty that politicians from all parties had promised to abolish". The report was written by climate science denier Ruper Darwall. [131]
Former Conservative MP Peter Lilley and current Tory MPs Christopher Chope and Philip Davies — three of the five MPs who voted against the Climate Change Act in 2008 — attended the event. [132]
October 8, 2018
GWPF advisor and retired meterology professor Richard Lindzen gave the group's annual lecture at the Institute of Mechanical Engineers. During his speech, Lindzen described climate change as "an implausible conjecture backed by false evidence and repeated incessantly" and said the use of renewable energy would lead to a bleak future with "a landscape degraded by rusting wind farms and decaying solar panel arrays." [174]
October, 2018
Professor Valentina Zharkova, based at Northumbria University, gave a lecture to the GWPF entitled "The Solar Magnetic Field And The Terrestrial Climate" in which she outlined her theory that climate change is caused by natural solar cycles. [148]
In June 2019, Zharkova published a study on the subject in Scientific Reports, an open access journal run by Nature Research, which also publishes the prestigious Nature journal, the New Scientist reported. The paper was criticised by scientists for containing "very basic errors" about how Earth moves around the sun and an investigation was launched by the journal into how it came to be published. [149]
Zharkova, along with her three co-authors, Professor Simon Shepherd, Dr Elena Popova and Dr Sergei Zharkov, published research in 2015 claiming that a "Little Ice Age" could hit Earth in 2020, based on analysis of solar activity. [150]
May 7, 2018
The Sierra Club released a set of over 24,000 pages of EPA documents via a Freedom of Information Act (FOIA) request. DeSmog UK reported one document was a GWPF invitation to EPA Administrator Scott Pruitt, requesting he speak at the group's annual lecture. Pruitt either rejected or ignored that invite. [121], [122]
The initial invitation was sent via the U.S. law firm Lantham & Watkins, which also runs the GWPF's US fundraising arm. That subsidiary is represented by Paul Tosetti, a Los Angeles lawyer who registered the GWPF at a PO Box in Delaware. Later, a representative from Midfirst, a U.S. bank, lobbied Pruitt on GWPF's behalf. [122]
According to the GWPF email, first revealed by New York Times journalist Lisa Freidmann on Twitter, Midfirst's CEO is a "good friend" of Tosetti's and while he said he did "not know the organization", he agreed to try and "ensure Scott at least received and considered the invitation." [122]
"While there's nothing controversial in the letter, please keep it in confidence" a Latham & Watkins writes, forwarding a signed invitation by Nigel Lawson for Scott Pruitt to address the U.K.'s premier climate skeptic group.
via @SierraClub pic.twitter.com/jCqCRbOfpn

— Lisa Friedman (@LFFriedman) May 7, 2018
February 21, 2018
Booker wrote a GWPF report titled "Global Warming: A case study in groupthink," which was subsequently promoted by a range of climate change denial blogs including JoNova, Watts Up With That?, and Climate Depot. Booker also wrote about his study at the Foundation for Economic Education. [115], [116], [117], [118]
The GWPF released a promotional video for Booker's paper:
Daily KOS reported that Booker's report "debunks itself," pointing to "many self-contradictions Booker makes throughout the report that undercut his contention that climate science is groupthink." [119]
When Booker introduced his report at the GWPF, he wrote: "Since we've now been living with the global warming story for 30 years, it might seem hard to believe that science could now come up with anything that would enable us to see that story in a wholly new light." [120]
Booker's statement would suggest the "debate" started in 1987, Daily KOS noted. However, Booker later wrote that "the story began in obscurity in the late 1970s," making it 40 years ago. He further modified this date when he suggested that Richard Revelle's measuring of CO2 in the 1950s was what "more than anything else that helped to set the great alarm over global warming on its way." [119]
The key to Booker's argument is that a groupthink belief is accepted "without a proper appraisal of evidence." [119]
"Curiously, the report notes how 'countless billions of dollars' have been spent testing the theory of climate change, including $2.8 billion appropriated for federal research by George H. W. Bush over four years. Billions of dollars of research sure sounds like an appraisal of evidence, but that's just the first of many self-contradictions Booker makes throughout the report that undercut his contention that climate science is groupthink," DailyKOS reported. [119]
November 23, 2017
GWPF published a book by Bernie Lewin titled "Searching for the Catastrophe Signal: The Origins of The Intergovernmental Panel on Climate Change." [112]
"It was only when the IPCC was threatened with alienation from the climate treaty process that it suddenly concluded "a discernible human influence on global climate," the GWPF press release reads. [113]
GWPF's Deputy Director Andrew Montford, of the skeptical blog Bishop Hill, interviewed the book's author in a GWPF video (see below). [114]
October 30, 2017
As reported at DeSmogUK and the Guardian, the BBC officially acknowledged that GWPF's Nigel Lawson "should have been challenged" over the statements he made in his August 2017 appearance on the Today program. [108], [109]
The BBC complaints units said that the interview had breached editorial guidelines and that Lawson's claims "were, at the least, contestable and should have been challenged," The Guardian reported. [109]
Bob Ward, policy director of the Grantham Institute at the London School of Economics, told the Guardian: "There needs to be a shift in BBC policy so that these news programmes value due accuracy as much as due impartiality. [109]
"As well as taking account of the rights of marginal voices like Lord Lawson to be heard, the BBC should also take account of the harm that its audiences can experience from the broadcast of inaccurate information." [109]
October 9, 2017
As reported by DeSmog, former Australian Prime Minister Tony Abbott gave a speech to the GWPF in London. During his speech, Abbott suggested that an increase in carbon dioxide could be beneficial: [110], [111]
"Then there's the evidence that higher concentrations of carbon dioxide (which is a plant food after all) are actually greening the planet and helping to lift agricultural yields," Abbott said. He also claimed that "other factors such as sun spot cycles and oscillations in the Earth's orbit are at least as important for climate change as this trace gas – which, far from being pollution, is actually essential for life to exist." [111]
View the video below:
Professor Steven Sherwood of the Climate Change Research Centre at the University of New South Wales refuted Abbott's claims regarding climate models: [110]
"In fact models are nearly dead-on in predicting overall global warming so far. They don't predict every detail, but were never expected to," Sherwood said. [110]
Professor Andrew Pitman, director of the Australian Research Council's Centre of Excellence for Climate Extremes, also said many of Abbott's claims were misleading or irrelevant. For example, regarding Abbott's claim that ancient climate change before humans could mean that more recent changes are natural, Pitman said: [110]
"This is misleading. The fact that climate changed in the past due to cause 'A' does not mean it can only change through cause 'A.' [110]

"The fact is that it is changing now due to increasing CO2 on very rapid time scales. When climate changed in the past more slowly, it still caused mass extinctions. Not a happy thought!" [110]
The claim that increased CO2 concentrations would also be beneficial was also misleading, according to Pitman. While increased CO2 levels could result in bigger plants, ""the nutrients in the plant decline." [110]
"So you do not actually get more food," said Pitman, "you just get a bigger plant, so it's a myth that higher CO2 helps lift yields, in the sense that those yields reflect food." [110]
August 10, 2017
The GWPF's Nigel Lawson appeared on BBC Radio 4 in a five-minute-long interview, asked to respond to an earlier interview with Al Gore where Gore had introduced his new film. Carbon Brief reported that Lawson, who has appeared on the program before, made several inaccurate claims during the interview. [90]
According to the transcript, via Carbon Brief, Lawson claimed that England had some of the highest energy costs in the world: [91]
Webb: What do you make of that point? That people like you, who have been saying the costs are too great, are now on the back foot, because the costs of doing what Al Gore wants us to do are fast reducing.

Lawson: Well, look, the point is not, just the costs – although we do have in this country, in England, one of the highest energy costs in the world, which is very hard on the poor and hard on business and industry, which is because of our absurd climate-driven energy policy. The energy in – renewable energy, so-called – is heavily subsidised, and, if they say it's economic, well then, let's get rid of the subsidies…[crosstalk]" [91]
Carbon Brief noted that England has some of the lowest gas prices in the EU, based on data from the Committee on Climate Change (CCC), as well as below-average domestic electricity prices. [91]
Lawson disputed points on fossil fuel subsidies: [91]
Webb: But the point Al Gore makes is that we subsidise all energy, including fossil fuels…[crosstalk]

Lawson: No, we don't. That's not true. We tax fossil fuel energy. Anyway, we subsidise renewable energy. But the main point is that the conventional energy is reliable and cheaper, and that is important. What is the reason for Al Gore, I listened to the interview you had with him, and he was talking complete nonsense. I'm not surprised that his new film bombed completely, it's a complete fiasco…" [91]
Lawson said that the section on Extreme weather in Al Gore's interview was "nonsense": [91]
Webb: Which bit of [Gore's interview] was nonsense?

Lawson: What?

Webb: Which bit…

Lawson: For example, he said that, er, there had been a growing increase, which had been continuing, in the extreme weather events. There hasn't been. All the experts say there haven't been. The IPCC, the Intergovernmental Panel on Climate Change, which is sort of the voice of the consensus, concedes that there has been no increase in extreme weather events. Extreme weather events have always happened. They come and go. And some kinds of extreme weather events of a particular time increase, whereas others, like tropical storms, diminish… [91]
Climate Feedback also analyzed Lawson's statements. With regards to his claims on extreme weather, they consulted Andreas Prein of the National Center for Atmospheric Research who said, "This is a false statement since the IPCC AR5 even states in its Summary for Policymakers that 'Human influence has been detected [… ] in changes in some climate extremes'. […]" (View their full review of Lawson's claim here.) [92], [93]
On the global temperature record, Lawson had this to say:
"And as for the temperature itself, it is striking, [Gore] made his previous film 10 years ago and—according, again, to the official figures—during this past 10 years, if anything, mean global temperature, average world temperature, has slightly declined." [92]
As DeSmog UK reported, the Global Warming Policy Foundation shared what it later admitted was an "erroneous" temperature dataset to support Lawson's claim. GWPF later Tweeted that it was "happy to correct the record" and since removed the tweet after a request by climate scientist Ed Hawkins. [94]
June 1, 2017
GWPF sent out a press release shortly after Donald Trump announced withdrawal from the Paris Climate Agreement in which it included the following statements by GWPF director Benny Peiser and chairman Lord Lawson. [88], [89]
Benny Peiser said:
"The Paris climate agreement was pushed through against the declared will of America's elected representatives. US leaders and critics had warned international leaders repeatedly that the US Senate rejected Obama's deal and that a Republican president would shred it to pieces. Now the Paris accord faces the same fate as the Kyoto Protocol which also ended in failure." [88]
Lord Lawson said:
"US industry already enjoys a huge energy cost advantage over the UK and other EU countries, so the US move can only make things harder for us in Europe. The next government must take a long, hard, look at whether we can afford our own Climate Change Act any longer. It is clear that the costs imposed on British businesses and households are now entirely unsustainable." [88]
December 11, 2016
The Global Warming Policy Foundation (GWPF) released a new report (PDF) claiming that Britain's Climate Change Act would cost £319 billion. [78], [79]
"Britain has been gulled by false assurances that decarbonising our economy would be costless into signing up to a stupendous bill of over £300 billion up to 2030," said Peter Lilley MP, the study's author. Lilley had voted against the Act in 2008.
According to the GWPF press release, "the Government can no longer be complacent about the rising cost of Britain's unilateral climate policies." [78]
Lilley contends that the costs of the act have been concealed. ""A sensible debate," Lilley writes, "has been averted by pretending that the Climate Change Act is virtually costless, that there are not more cost-effective ways of meeting these targets and that the climate risks averted are imminent, not centuries hence." [80]
Carbon Brief outlined the path of the report, noting that it was first reported on by the Mail on Sunday's David Rose, who appeared the next day on GWPF TV to note he was "proud to be a friend" of GWPF. It was subsequently shared in a Telegraph editorial that claimed that the cost of meeting UK's climate goals was "not possibly sustainable." It was also promoted by climate change denier Matt Ridley in his regular Times column, which did not note his position on the GWPF's academic advisory board. Carbon Brief writes that the connection had been edited out of a letter to the Times prior to publication. [80], [81], [82], [83], [84]
A final website to cite the paper was the right-wing Breitbart, where James Delingpole used it as support for climate policy being "Pointless." Carbon Brief noted that Delingpole had sat down with Rose at the GWPF's annual lecture, which was given by Ridley. [85]
October 17, 2016
At the Annual GWPF Lecture at The Royal Society in London, Matt Ridley accused Professor Ranga Myneni of Boston University and his 31 co-authors of delaying publication of a paper in order to avoid it being taking into account by the Fifth Assessment Report of the Intergovernmental Panel on Climate Change. [95], [96]
The Independent reported that climate scientist Michael Mann responded to the lecture by accusing Lord Ridley of buying "into the sort of conspiratorial thinking uttered by Donald Trump." Mann also criticized the Royal Society for allowing the presentation: [97]
"The Royal Society's decision to host the speech was 'presumably as a gesture of 'open-mindedness'', Professor Mann told The Independent.

"The motto of the Royal Society is 'Nullius in verba', which translates to 'take nobody's word for it'. It is an affirmation of legitimate scepticism, but not the sort of pseudo-sceptical, anti-scientific, bad-faith contrarianism displayed by the Matt Ridleys of the world," he added. [97]
Mann also said that Matt Ridley's suggestion that scientists were deliberately exaggerating the danger of climate change was "classic projection": [97]
"It is the technique of accusing your 'opponent' of doing the very same thing you are doing, in the hope of confusing honest observers and deflecting attention from the awful things you are doing," he said.

"Matt Ridley is a coal baron who profits directly from the sale of fossil fuel reserves while the rest of us suffer the consequences. You couldn't invent a better climate-change-denier villain."
Video of Ridley's presentation below.
According to Ridley's lecture:
"Myneni's results, however, remained unpublished. I was puzzled by this. Then I realized that one of the IPCC's periodic assessment reports was in preparation, and that probably Dr Myneni and colleagues might delay the publication of their results until after that report was published, lest 'the skeptics have a field day' with it.

That last phrase, by the way, is from one of the Climategate emails, the one on 22 September 1999 in which Dr Michael Mann approves the deletion of inconvenient data.

Sure enough, Myneni's results were eventually published three years later in April 2016 in a paper in Nature Climate Change, with 32 authors from 24 institutions in eight countries – when the IPCC report was safely in the public domain and the great Paris climate jamboree was over."
Bob Ward of the Grantham Research Institute on Climate Change and the Environment at the London School of Economics and Political Science notes that this is a serious allegation against Professor Myneni and his co-authors. However, he also notes that "Viscount Ridley misrepresented Professor Myneni's work in order to make this claim." [98]
Ward notes that Matt Ridley had stated in his lecture that he had first heard of Professor Myneni's work in December, 2012, by someone who directed him to a video of a lecture that was delivered on 19 July 2012. [99]
The original video Ridley referred to showed that Myneni was reporting 20.5% of the Earth's vegetated land had 'greened' — Something that Ridley himself had indicated in a January 4, 2013 article in the Wall Street Journal. [100]
Ridley claimed to have reproduced two slides from that July 2012 lecture showing the main results. Ridley claimed that Myneni had found that 31% of the Earth's vegetated land had 'greened' between 1982 and 2011, and that there had been an increase in gross productivity by 14%, about half of which could be attributed to carbon dioxide fertilization.
Ward notes that, in Professor Myneni's video, this is not the case. The video clearly shows Myneni reporting 20.5% of the Earth's vegetated land had 'greened' (As Ridley reported in the Wall Street Journal). In additionl, the slides Ridley reproduced were not from the July 2012 lecture, but rather from a different lecture delivered at a meeting on July 4 – 5, 2013 (PDF). [101]
In addition, Ridley does not make it clear that Myneni had suggested that 42% of the 14% increase in annual productivity "can be attributed to relaxation of climatic constraints to plant growth," with "57% to other 'anthropogenic factors'," whereas the paper published in the journal 'Nature Climate Change' in April 2016 did not present a figure for annual productivity, instead concluding that 25% to 50% of the Earth's vegetated area had greened, with about 70% of this trend attributable to carbon dioxide fertilization. [98]
Ward writes:
"Crucially Viscount Ridley also failed to mention that Professor Myneni states clearly at about 42 minutes during his recorded 2012 lecture that "The attribution to fertilisation is somewhat speculative and not on very solid ground and we have to further refine this before this paper goes out to publication".

"Hence, despite Viscount Ridley's false claims, it is clear that Professor Myneni presented only preliminary results in July 2012, and so there is no justification for the allegation that he and his co-authors delayed publication in order to avoid its inclusion in the Fifth Assessment Report of the Intergovernmental Panel on Climate Change (IPCC).

Indeed, it appears that Viscount Ridley obscured the truth about Professor Myneni's work by showing slides from his July 2013 lecture, but claiming they were part of his earlier 2012 lecture." [98]
Ward also notes that, to be considered for contribution by the IPCC working group I to the Fifth Assessment Report, papers had to be submitted by no later than July 31, 2012 and accepted by March 15, 2015 (PDF). Professor Myneni's preliminary results were presented on July 19, 2012—just 12 days before the deadline for submission—and his July 2013 lecture was long past the cutoff date. [102]
Notably working group I's report, Published in September 2013, does explicitly address the issue of carbon fertilization (pages 501-2, Chapter 6 — PDF):
"Warming (and possibly the CO2 fertilisation effect) has also been correlated with global trends in satellite greenness observations, which resulted in an estimated 6% increase of global NPP, or the accumulation of 3.4 PgC on land over the period 1982–1999 (Nemani et al., 2003)." [103]
Despite this, Ridley chooses to ignore the contribution of IPCC working group I. According to Ward, It is apparent, therefore, that the allegations Viscount Ridley made against Professor Myneni and his co-authors, and against Professor Betts, are entirely untrue and based on misrepresentations of the facts." Myneni himself published a statement directly refuting the allegations Ridley made against him. [104]
Despite this, Ridley since published another artilce in The Spectator titled "The world is getting greener. Why does no one want to know?" based on his original GWPF lecture:
"Global greening is the name given to a gradual, but large, increase in green vegetation on the planet over the past three decades. The climate change lobby is keen to ensure that if you hear about it at all, you hear that it is a minor thing, dwarfed by the dangers of global warming. Actually, it could be the other way round: greening is a bigger effect than warming," Ridley writes. [105]
March 30, 2016
The Global Warming Policy Foundation called on the government to scrap the 5th Carbon Budget, intended to achieve a 57% reduction in the UK's annual emissions between 2028 and 2032, and Britain's Carbon price floor, a carbon tax intended to disincentivise fossil fuel investments. [261] [262]
The post quoted the Foundation's Director, Benny Peiser, who said: "Energy intensive industries – including UK steel – are facing a growing competitiveness crisis. Britain's unilateral climate policies are racking up electricity prices and are adding to the cost burden."
February 3, 2016
The Independent revealed that a number of inter-related groups, many with direct connections to the "Brexit" ovement, all share a 55 Tufton Street address with the Global Warming Policy Foundation: [75]
Global Warming Policy Foundation
Global Vision
The European Foundation
Civitas
Taxpayers' Alliance
Business for Britain
Big Brother Watch

UK2020
DesmogUK tracked the connections between climate science deniers and those compaigning for Britain to leave the European Union, and created the interactive map below. [76]
(Zoom in and out to see the web of relationships between the residents of 55 Tufton Street and its neighbours. Hover over the lines to see the type of relationship between the two entities, and click on the person or organisation's name to find out more (this will open up a new tab where you can find out more information about all of this entity's various relationships and stance on climate change):
December, 2015
An undercover Greenpeace investigation revealed details on the Global Warming Policy Foundation's peer review process. Professor William Happer, who sits on the Academic Advisory Council of the GWPF, was asked by undercover reporters if he could put a (fictional) oil-industry-funded report through the same peer review process as previous GWPF foundation reports that had been called "thoroughly peer reviewed." [70]
Happer said the GWPF's peer review process consisted of members of the Advisory Council and other selected scientists reviewing the work, rather than presenting it to an academic journal.
"I would be glad to ask for a similar review for the first drafts of anything I write for your client. Unless we decide to submit the piece to a regular journal, with all the complications of delay, possibly quixotic editors and reviewers that is the best we can do, and I think it would be fine to call it a peer review," Happer wrote in an email to undercover reporters. [70]
While Happer claimed that the review of the paper was "more rigorous than the peer review for most journals," he also told undercover reports that most members of the Academic Advisory Council were too busy to comment:
"I know that the entire scientific advisory board of the Global Warming Policy Foundation (

GWPF

) was asked to submit comments on the first draft. I am also sure that most were too busy to respond," he said.

[70]
Happer also noted the challenges in submitting a paper promoting
CO2
benefits to a more mainstream journal would be a challenge:
"That might greatly delay publication and might require such major changes in response to referees and the journal editor that the article would no longer make the case that

CO2

is a benefit, not a pollutant, as strongly as I would like, and presumably as strongly [as] your client would also like," he said.

[70]
July, 2015
Internal documents released under the Freedom of Information Act show that the Global Warming Policy Foundation (GWPF) may have been "wasting taxpayers' money through the inappropriate use of parliamentary questions," DeSmog UK reports. [30]
Lord Donoughue, a member of the GWPF board of trustees, put forward a total of 25 questions over 15 months to the Department of Energy and Climate Change (DECC) relating to obscure climate models. [31]
June 30, 2015
The Global Warming Policy Foundation's Indur Goklany (member of their Academic Advisory Council) authored a GWPF paper titled "The Pontifical Academies' Broken Moral Compass" (PDF) in response to Pope Francis's Encyclical on the Environment. [32]
According to the GWPF's press release, the paper "finds the Vatican is being led astray by its advisors by statements on climate change that are scientifically lacking and ethically dubious." They also conclude that using fossil fuels is beneficial to the environment "the beneficial impact of fossil fuels has not only been on human well-being but also on nature, because fossil fuel use has allowed more intensive use of land, thus reducing the amount of wilderness that has to be diverted to agricultural use. This means that the Vatican's backing of reductions in fossil fuel use would actually reduce human well-being and increase the human impact on the planet" [33]
Goklany said, "The academies say that sustainability and resilience are being destroyed by over-consumption and that fossil fuels are to blame, yet almost every indicator of human well-being from life-expectancy to health to standard of living has improved beyond measure largely because of our use of fossil fuels."

"[…]Climate change is a moral and ethical issue, but it is a strange ethical calculus that would justify wiping out the gains we have made in human well-being over the last few centuries at the same time devastating the natural world. The Vatican's advisors appear to have lost their way."
June 15, 2015
The Global Warming Policy Foundation invited climate change skeptic Judith Curry to speak at the House of Lords about climate change, reports DeSmog UK. [34]
According to her presentation notes (PDF), her main message was to emphasise the uncertainty in the climate change science: "The punch line is this," she said in the House of Lords, "Any impact of human caused global warming is lost in the noise of climate variability."
June, 2015
According to
the

GWPF

press release
, the paper "accuses scientists of systematically misleading the public, saying that they are blaming changes in polar bear populations on global warming despite overwhelming evidence to the contrary."
[36

]
April 26, 2015
Kealey said:
"Many people have found the extent of adjustments to the data surprising. While we believe that the 20th century warming is real, we are concerned by claims that the actual trend is different from – or less certain than – has been suggested. We hope to perform a valuable public service by getting everything out into the open."

[37

]
Terence Kealey (chairman)

Richard McNider
Roman Mureika
William van Wijngaarden
March 1, 2015
The Global Warming Policy Foundation (GWPF) issued a briefing paper titled "The Small Print: What the Royal Society Left Out" (PDF) that accuses the Royal Society of "presenting a misleading picture of climate science." [39]
"As an example, the Royal Society addresses the question of why Antarctic sea ice is growing," says Prof Ross McKitrick, the chairman of the GWPF's Academic Advisory Council, "but in doing so they present a recently proposed hypothesis as if it were settled science. Failing to admit when the answer to an important question is simply not known does a disservice to the public. We believe that this new paper does a much better job of presenting the whole picture to the public." [40]
The paper was written/endorsed by the following "experts":
An analysis by DeSmog UK found that Peabody Energy had cited the March, 2015 report at least 16 times in an official submission to the White House addressing the company's concerns regarding new policies on greenhouse gas emissions and climate change. [41]
July, 2014
Global Warming Policy Foundation (GWPF) Chairman Nigel Lawson accused the BBC of silencing the debate on global warming. He wrote his criticisms in an article in the Daily Mail titled "'I've been banned by the BBC!': Ex-Chancellor Lord Lawson, a passionate climate change sceptic, accuses BBC bosses of silencing debate on global warming." [42]
In his article, Lawson wrote: "If there is to be a ban on non-scientists discussing climate change issues (which I do not, of course, support), this should in the best BBC tradition be an even-handed one. That is to say, they should also ban non-scientists such as energy secretary Ed Davey, Ed Miliband, Lord Deben (chairman of the government's climate advisory committee), Lord Stern (former adviser to the government on the economics of climate change and development) and all the others who are regularly invited to appear." [42]
The Guardian reports how BBC rejected Lawson's claims that BBC had been silencing the global warming debate. The BBC statement read: [43]
"Nigel Lawson has not been banned and nor is there a ban on non-scientists discussing climate change. We have also not apologised for putting him on air. The

BBC

is absolutely committed to impartial and balanced coverage, whatever the subject, and would not bow to pressure from any quarter whatever the story. This ruling found a false balance was created in that the item implied Lord Lawson's views on climate science were on the same footing as those of Sir Brian Hoskins.

"Our position continues to be that we accept that there is broad scientific agreement on climate change and we reflect this accordingly. We do however on occasion offer space to dissenting voices where appropriate as part of the

BBC

's overall commitment to impartiality."
May 14, 2014
The Global Warming Policy Foundation released a press release titled, "Lennart Bengtsson Resigns: GWPF voices shock and concern at the extent of intolerance within the climate science community." Three weeks prior to this announcement, Bengtsson had just joined the GWPF, but due to what he wrote in his letter of resignation as "enormous group pressure," and "no limit and end to what will happen," he decided that there was "no other way out therefore than resigning from GWPF." [44]
In response to Bengtsson's letter of resignation, Benny Peiser replied, "The Foundation, while of course respecting Professor Bengtsson's decision, notes with deep concern the disgraceful intolerance within the climate science community which has prompted his resignation." [44]
David Henderson echoed similar sentiments: "Your resignation is not only a sad event for us in the Foundation: it is also a matter of profound and much wider concern. The reactions that you speak of, and which have forced you to reconsider the decision to join us, reveal a degree of intolerance, and a rejection of the principle of open scientific inquiry, which are truly shocking. They are evidence of a situation which the Global Warming Policy Foundation was created to remedy." [44]
May 7, 2014
A Global Warming Policy Foundation (GWPF) report by Willem de Lange and Bob Carter suggest that, with regards to sea level change "adaptation is more cost-effective than mitigation." [45], [46]
November, 2013
John Howard, former prime minister of Australia, spoke at the GWPF's Annual Lecture, contending that those who believe that global warming could be catostrophic have adopted a "substitute religion." [47]
September, 2012
The Global Warming Policy Foundation published a pamphlet critical of the Stern Review (PDF) — an influential report on the economics of climate change published in October 2006. The GWPF pamphlet, titled "What is wrong with Stern?" was written by Peter Lilley, the Conservative Party Member of Parliament. Peter Lilley was one of 5 MPs (out of 646) who voted against the UK Climate Change Bill in 2008 which would have set legal targets for reducing emissions. [48]
According to a critical review (PDF) by Bob Ward at the London School of Economics and Political Science, the GWPF pamphlet uses a "combination of misrepresentation, bad economics and fundamentally flawed science, and simply recycles erroneous allegations that were made, and debunked, six years ago." A number of experts agree that Lilley's pamphlet makes a number of errors and assumptions in an attempt to make a case against the Stern report. [49]
May, 2011
The GWPF distributed a leaflet (PDF) written by their "Academic Advisor" Matt Ridley (with a forward written by AGW skeptic Freeman Dyson) promoting the supposed benefits of shale gas. According to the report's summary, the development of shale gas would be superior to the development of renewable resources.
Ridley writes that "A surge in gas production and use may prove to be both the cheapest and most effective way to hasten the decarbonisation of the world economy, given the cost and land requirements of most renewables."[50]
April 14, 2011
The GWPF presented "900+ Peer-Reviewed Papers Supporting Skepticism Of 'Man-Made' Global Warming (AGW) Alarm." [51]
The blog Carbon Brief analyzed these papers and found that nine of the top ten authors had ties to ExxonMobil. They also discovered that prominent scientists featured on the list didn't agree that their work supported skepticism about anthropogenic global warming. [52]
Additionally, the most-cited journal on the list was Energy and Environment, a journal with a very low impact factor, and whose editors are AGW skeptics. [52]
December 2010 – February 2011
According to records of the Public Relations Consultants Association (PDF), the GWPF retained the lobbying services of Bell Pottinger, a group that gas generated controversy for its claims of influence over senior government members. It is unclear what these services were. [53]
November, 2011
Lord Nigel Lawson of the GWPF backed Price Philip after he branded wind farms as "absolutely useless": [54]
"If you tried to devise the most costly and inefficient means of generating electricity imaginable, you would choose wind power," Lawson said. He continues, stating that wind power is "an environmental monstrosity, desecrating ever more of our English landscape. And the cost of all this – to no benefit except to the wind power industry itself – is paid by all electricity consumers, including the poorest, and damages the British economy which is fragile enough as it is."
September, 2010
When the three British Government enquiries into the CRU emails were completed, Dr Benny Peiser of the Global Warming Policy Foundation immediately announced that he wanted to investigate further. Independent reviews had already exonerated the CRU scientists from any misdeads, and found that climate scientists involved in the University of East Anglia's Climatic Research Unit had not "manipulated and suppressed key climate data" as some climate change skeptics had claimed.
Even though the panel concluded that the allegations were unfounded, the GWPF would not accept the findings. Peiser stressed that "the issue would not go away with the report," and that "We (the Global Warming Policy Foundation) have now commissioned our own inquiry into the way these three inquiries have been set up and run." [55]
The GWPF commissioned Andrew Montford, author behind the Hockey Stick Illusion and the man behind the skeptic blog Bishop Hill, to write the "enquiry" into the Climategate emails. Montford was paid £3000 for his efforts. The results were released in September 2010 — See the GWPF's full report here (PDF). [56], [57], [58]
The Guardian noted that the choice of Montford was ironic given the serious inaccuracies in The Hockey Stick Illusion, which has also been criticized by numerous reviewers. [59], [60], [61], [62]
Furthermore the Global Warming Policy Foundation's own funding faced controversy while it enjoyed charitable status, yet Montford himself is critical of what he calls "fake charities." [63]
According to Sourcewatch, Montford criticized the official enquiries for not including known skeptics on their panels. This is not entirely true, however, as the Parliamentary Enquiry included Graham Stringer, a man who has consistently voted very strongly against laws to respond to climate change. [64], [65]
Montford knew this, as evidenced by a recorded conversation he had with Stringer on his blog, Bishop Hill, where he describes Stringer as a "dissenter from the majority opinion represented by the report." [66]
May 12, 2010
After the UK general election in May 2010, the Global Warming Policy Foundation began lobbying the Conservative and Liberal Democrat coalition government to stop subsidies for alternatives fuels and encouraged the government to abandon the UK's emissions reductions targets.
"At the very least, given the financial and economic state we are in, the new Government should phase out all energy subsidies of all kinds, and suspend unilateral targets until such time as all other major nations have signed up to the same course," said GWPF Chairman Nigel Lawson. [67]
November 22, 2009
In an Op-Ed in The Times announcing the GWPF launch, Nigel Lawson called for "A high-level independent inquiry" into the e-mails stolen from the University of East Anglia's Climatic Research Unit (CRU). [68]
Related Organisations
Social Media
Resources
Other Resources